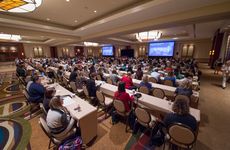 PHOENIX (GenomeWeb) – Targeted gene sequencing is showing promise for diagnosing forms of diabetes caused by single gene mutations, attendees heard here yesterday at the American College of Medical Genetics and Genomics annual meeting.
University of Chicago postdoctoral researcher May Sanyoura outlined efforts underway to assemble and explore a monogenic diabetes registry at the University's Kovler Diabetes Center during a session on pediatric genetics and genomics. The registry currently houses information from nearly 1,400 families with one or more monogenic diabetes-affected family members. It is intended to serve as a resource for studies aimed at everything from finding new diabetes-causing genes or treatments to tracking patient traits, clinical features, complications, and outcomes.
Though the vast majority of diabetes cases are classified as type 1 diabetes (T1D) or type 2 diabetes (T2D), Sanyoura explained, at least 1 to 5 percent of diabetes mellitus cases are due to alterations in single genes that may or may not cause broader syndromes, often leading to diabetes diagnoses early in life.
Some monogenic cases arise in infants under six months or a year old, for example, while Mature Onset Diabetes of the Young (MODY) cases tend to occur in individuals younger than 25, including some lean or non-obese people who may not benefit from insulin treatment.
Because there is some wiggle room on the features used to classify monogenic diabetes cases, though, these forms of the disease can make it tricky to recognize in the clinic — particularly since some aspects of the conditions can overlap with those found in individuals with more common T1D or T2D.
Consequently, Sanyoura explained, monogenic cases are often misdiagnosed or ineffectively treated. She argued that genetic testing is needed to conclusively diagnose monogenic diabetes cases and get a better sense of the prognoses, clinical progression patterns, complications, and treatment options in diabetes cases caused by different single gene mutations.
In their collection of monogenic registry cases, Sanyoura and her colleagues started by doing targeted Sanger sequencing on a handful of diabetes-related genes, turning to high-throughput sequencing on a panel of 100 genes implicated in monogenic diabetes when the initial sequencing did not dig up pathogenic mutations. So far, the approach has uncovered apparent monogenic diabetes-causing mutations in roughly one-third of the registered cases.
In MODY cases, the GCK and HNF1A genes were most frequently altered, for example, while KCNJ11, INS, and ABCC8 genes were mutated in monogenic diabetes cases diagnosed in infants.
By reclassifying monogenic diabetes patients previously misdiagnosed as having T1D or T2D, Sanyoura noted, the team is hoping to improve treatment and symptom tracking for monogenic diabetes. In particular, some monogenic diabetes-causing mutations can be effectively targeted with sulfonylurea therapy, which may be especially beneficial for patients with appropriate mutations who do not benefit from insulin treatment.
"Monogenic diabetes should be considered in any diabetic patient who has features inconsistent with their current diagnosis or presents with additional features characteristic to a specific syndromic subtype of monogenic diabetes," Sanyoura and her co-authors wrote in the abstract accompanying the presentation. "Rapid and cost-effective molecular genetic tests are now readily available to help define the diagnosis, and more importantly alter prognosis and optimize treatment of children, young adults, and their families with diabetes."