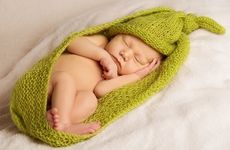 SALT LAKE CITY – A few months after its launch, the GUARDIAN newborn genome sequencing study is seeing high enrollment rates and has already reported back results to more than 700 families.
GUARDIAN, which stands for Genomic Uniform-screening Against Rare Diseases in All Newborns, aims to sign up 100,000 newborns in New York City over four years by approaching pregnant women in their third trimester who plan to give birth at a participating hospital.
The study, a partnership among Columbia University, NewYork-Presbyterian, and the New York State Department of Health, is using genome sequencing to screen newborns for pathogenic or likely pathogenic variants associated with about 250 rare and severe genetic conditions that manifest in childhood, including many that are not part of New York's newborn screening program, which tests for about 50 conditions. The hope is that identifying affected newborns early, even before they develop symptoms, can lead to more timely treatment and improve their outcomes.
The study focuses on 158 conditions that are treatable and 100 others — most of them neurogenetic — that don't have treatments but where other interventions can improve patients' symptoms.
The project is funded by private philanthropy, in addition to sequencing services from GeneDx (formerly Sema4) and in-kind contributions from Illumina.
At an Illumina-sponsored workshop at the American College of Medical Genetics and Genomics annual meeting here on Tuesday, Wendy Chung, principal investigator of the study and a professor of pediatrics and medicine at Columbia University, shared initial results and feedback from parents.
Of 1,348 families approached about participating in the study so far, 1,000 (74 percent) enrolled, a high uptake rate compared to other newborn research studies. The majority of families were consented in person "at the bedside," Chung said, adding that participants are ethnically diverse, with about 50 percent identifying as Latinx (Hispanic or non-Hispanic). In terms of race, almost 30 percent identified as White, almost 20 percent as African American, 10 percent as mixed race, and about 5 percent as Asian.
Almost all of the 722 newborn samples analyzed so far — the study uses dried blood spots — were successfully sequenced by GeneDx.
For the treatable conditions screened, about 4 percent of babies had a positive result. These included 14 cases with G6PD deficiency, a condition that causes breakdown of red blood cells in response to infections, certain drugs, foods, or stress and can be managed by avoiding these triggers. G6PD is not part of standard newborn screening, Chung pointed out.
Other conditions detected were sickle cell disease, hearing loss, and achondroplasia, but these were also picked up by standard screening and care.
There were also a number of false-positive results, Chung said, including several for cystic fibrosis, that were ruled out by follow-up testing. No false-negative cases, where a baby developed a condition that should have been picked up by genome sequencing, have been reported so far.
The researchers also investigated why parents declined to be part of the study and found that their concerns were mostly of a general nature, such as not being interested in research studies or being overwhelmed by a new baby, and not specifically related to the GUARDIAN study being genetic, Chung said.
Of those who decided to participate, most parents wanted the results to be part of their baby's medical record, and pediatricians "have been very pleased" with having this added information available, she reported.
The GUARDIAN team is currently working on updating the list of genes and conditions that will be analyzed for the study, and individuals are welcome to suggest new conditions to be included, Chung said.