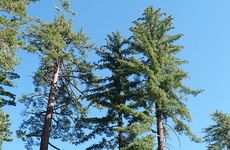 NEW YORK (GenomeWeb) – Researchers at the University of California, Davis, and their collaborators have successfully sequenced the genome of the California sugar pine, they announced this week. The conifer (Pinus lambertiana), which is endangered, has a genome 10 times the size of a human's.
The sugar pine is one of the world's tallest trees and plays key roles in the ecosystem of California's forests and in the economic ecosystem as a source of timber, the researchers said in a statement. Since 1930, however, a fungal pathogen called white pine blister rust has been threatening the sugar pine as well as other species of white pine trees. The species is also under attack from bark beetles and has suffered from the ongoing California drought. The researchers hope that sequencing of the tree will yield information that could help preserve it.
"Having the genome sequence allows us to discover the underlying genetic determinants of disease resistance, which will greatly facilitate reforestation efforts," said UC Davis forest tree geneticist and principal investigator David Neale in a statement. "We can now give forest managers modern, rapid genetic tools to identify resistant trees."
The Davis researchers — who collaborated with the US Forest Service — started with research done by Forest Service emeritus research geneticist Bohun Kinloch in 1970. Over the course of several years, Kinloch detected a rare blister rust resistance gene in sugar pine parent trees, using traditional breeding methods and progeny testing.
Since then, the Forest Service has planted seedlings derived from these resistant parents into the forests. Having the tree's genome sequenced could aid in the development of diagnostic tools that would allow the Forest Service to find resistant trees much more quickly and cost effectively, Kinloch said in a statement.
"Seeds planted from these parents will help protect new generations of sugar pine trees from the devastating blister rust pathogen," he added.
The genome for the sugar pine is available through open access at the Pine Reference Sequences website.