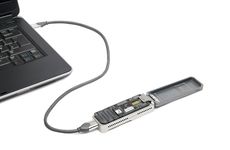 NEW YORK (GenomeWeb) — Oxford Nanopore Technologies released pricing information for the first time last week, for flow cells for its MinIon MkI sequencer, as the company opens its early-access program to larger numbers of users.
In the meantime, early-access customers continue to publish reports, both as preprints and as papers in academic journals, with applications ranging from full-length cDNA sequencing for isoform analysis to rapid pathogen sequencing.
Oxford Nanopore said last month that it plans to make the MinIon sequencer commercially available through the MinIon Access Program. Customers need to join the MAP, which the firm describes as a "developer-style access program," and pay a $1,000 fee, which includes the MinIon MkI device and a starter kit with three flow cells, two reagent kits, software, and "ongoing intermittent free supplies."
Last month, the company launched the MinIon MkI, an update to the first version of the MinIon that has improved performance and ease of use, including better temperature control and an improved way of attaching the flow cells.
Users can purchase additional flow cells in sets of 1, 12, 24, or 48, at a cost ranging from $500 per flow cell to $900 per flow cell, depending on the number of flow cells purchased at a time.
Oxford Nanopore does not specify the maximum yield of each flow cell, which has been increasing with newer versions. Run time is not fixed, so output varies depending on the length of the run. Last year, the company said its internal record was 1 gigabase per flow cell, and some users achieved more than 500 megabases per flow cell.
Last month, the firm said it plans to introduce a fast mode option, which will increase the data output by tenfold, to up to 40 gigabases for the MinIon MkI.
The company currently supports a number of applications for the MinIon, including genomic DNA, cDNA, and amplicon sequencing, but encourages users to develop protocols for new applications.
New Customer Data
Over the past month, early-access customers have added to the growing list of MinIon publications, including applications such as full-length cDNA sequencing and rapid pathogen typing.
A group led by Brenton Graveley at the University of Connecticut Health Center, for example, published a study on the BioRxiv preprint server last month in which it used the MinIon to sequence cDNAs of four Drosophila genes. They identified almost 8,000 full-length isoforms expressed by those genes.
Previously, researchers have used Pacific Biosciences' technology to sequence full-length cDNA isoforms, but "the large capital expense of this platform can be a prohibitive barrier for some users," the authors noted, whereas the MinIon "requires a small initial financial investment, can generate extremely long reads, and has the potential to revolutionize transcriptome characterization, as well as other areas of genomics."
"We anticipate that  nanopore  sequencing  of  whole  transcriptomes,  rather  than  targeted  genes  as  we  have  performed  here, will  be  a  rapid  and  powerful  approach  for  characterizing  isoforms,  especially  with  improvements  in  the throughput  and  accuracy  of  the  technology,  and  the  simplification  and/or  elimination  of  the  time-consuming library preparation," they concluded.
Other groups reported on their use of the MinIon for rapid pathogen analysis. Researchers led by Nick Loman at the University of Birmingham, for example, published a study in Genome Biology last month in which they used both the MinIon and the Illumina MiSeq to investigate a Salmonella enterica hospital outbreak, a project they had briefly mentioned last year.
Both approaches, they concluded, "yielded reliable and actionable clinical information on the Salmonella outbreak in less than half a day," which "may facilitate more informed epidemiological investigations and influence infection control practices."
Another study, led by Charles Chiu at the University of California San Francisco and published on the BioRxiv preprint server this month, focused on the rapid identification of viral pathogens in clinical samples. Chiu had reported on this project at a conference last month.
His group detected chikungunya virus, Ebola virus, and hepatitis C virus from four human blood samples using the MinIon sequencer and a web-based pipeline for real-time bioinformatics analysis called MetaPore. They were able to detect the viruses within four to 40 minutes of data acquisition and with a sample-to-answer turnaround time of less than six hours.
"This technology will be particularly desirable for enabling point-of-care genomic analyses in the developing world, where critical resources, including reliable electric power, laboratory space, and computational server capacity, are often severely limited," they wrote. "As sequencing yield, quality, and turnaround times continue to improve, we anticipate that third-generation technologies such as nanopore sequencing will challenge clinical diagnostic mainstays such as PCR and [transcription-mediated amplification] testing, fulfilling the dream of an unbiased, point-of-care test for infectious diseases."
Another group, led by Matthew Cooper and Lachlan Coin at the University of Queensland in Brisbane, Australia, published their use of the MinIon for real-time strain typing and analyzing antibiotic resistance last month, also on the BioRxiv preprint server. They were able to identify bacterial species and strains within less than an hour of sequencing time, and to devise initial drug-resistance profiles within two hours, and complete resistance profiles within 12 hours. "We anticipate these devices and associated analysis methods may become useful clinical tools to guide appropriate therapy in time-critical clinical presentations such as bacteremia and sepsis," they wrote.