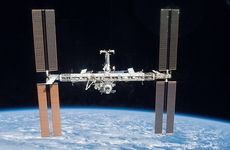 NEW YORK (GenomeWeb) – A team of researchers at the NASA Johnson Space Center is preparing to take the Oxford Nanopore MinIon to the International Space Station as early as next spring, making it the first DNA sequencer in space.
As of now, the MinIon is scheduled to take off in March 2016 on Cygnus CRS Orb-5, the fifth flight of the resupply spacecraft Cygnus to the ISS, but the launch date has not yet been finalized and might be pushed back somewhat.
The project, called "Biomolecule Sequencer," is one of several at the Johnson Space Center funded through an ISS program that aims to get new technology and experiments to the space station quickly. The JSC project team is working with researchers from the NASA Goddard Space Flight Center, NASA Ames Research Center, and Weill Cornell Medical College.
Oxford Nanopore's MinIon appeared to fit the bill for a space sequencer because of its small size and lack of sensitive optics, complex fluidics, and gravity-dependent processes. "They are the only game in town for something that's small enough so we could actually get it to the ISS," said Aaron Burton, an astrobiologist in the Astromaterials Research and Exploration Science Division of the JSC and the principal investigator for the Biomolecule Sequencer project.
Burton became interested in taking a sequencer into space as a postdoc at the NASA Goddard Space Flight Center, with the goal of detecting extraterrestrial life. At the JSC, he teamed up with a microbiology group that has been analyzing microbial cultures from water, air, and surface samples of the ISS and was interested in sequencing those samples directly on the station someday.
Testing the MinIon on a reduced gravity aircraft instead of the ISS would not be good enough because it is does not provide a continuous microgravity environment, he said.
While there are other efforts underway, both at NASA and at the European Space Agency, to put a PCR thermocycler on board the ISS, "to the best of my knowledge, there has been no molecular biology whatsoever done on the ISS" so far, said Sarah Castro, a microbiologist at the JSC and a member of the team. Not even DNA has been extracted at the ISS yet, she said.
Earlier this year, Burton became part of Oxford Nanopore's MinIon early-access program and his team is working with the company "to overcome some of the unique obstacles that the space environment poses."
The biggest concerns are air bubbles in the microfluidic channels, he said, because they cannot be easily removed from the sample by centrifugation like on Earth. In addition, loading the device is likely going to be challenging — the plan right now is to attach the MinIon to the wall of the ISS with Velcro and to load it with a syringe filled with sample, since regular pipettes won't work in space. The team might also test positive displacement pipetters as an alternative, he said.
"We really do think it will work in space because there is nothing apparent right now that's telling us it's not going to work," said Douglas Botkin, a microbiologist at the JSC and another member of the team. "It may have reduced efficiency — there are always certain things that may not work as well — but if it works at all, it's going to be a huge impetus for people to further develop it on the ground for space applications."
The target mass for the Biomolecule Sequencer payload is under five pounds, Burton said, including two MinIons, which each weigh about four ounces; a Microsoft Surface Pro 3 tablet, which weighs about two and half pounds; nine MinIon flow cells; and nine syringes, each filled with 0.5 ml of frozen sequencing library.
On its first mission, the MinIon will carry out a few test experiments — sequencing phage lambda, bacterial, and mouse DNA — to demonstrate that sequencing in space is feasible. All libraries will be prepared on Earth, which "cuts out some of the hurdles of having to prep samples in space," Castro said.
Identical experiments will be performed in parallel at the JSC to be able to compare data quality and other metrics. Another goal will be to test how well the astronauts can operate the instrument in space. One of the astronauts scheduled to be at the ISS at the time of the MinIon's visit is Kate Rubin, an infectious disease biologist and former principal investigator at the Whitehead Institute for Biomedical Research. "She is really excited about this project and has been to some of our meetings," said Kristen John, an aerospace engineer at JSC and Oak Ridge Associated Universities and another member of the team.
After each run, the sequence data will be transmitted wirelessly to Earth, John said, which will take a couple of hours or less, where it will be analyzed within days to provide feedback before the next run starts. In the future, ISS crew members could be trained to perform the data analysis on board, but right now, crew time is extremely precious so it is easier to analyze the data on the ground, she said. This might change when sequencing is performed on missions farther out in space and sending back data becomes more of a challenge.
In the long run, the plan is to extract and prepare DNA as well as sequence it on the ISS, so that microbes can be characterized immediately. The sequencer could also be used to measure biomarkers of radiation or to perform other diagnostic tests on crew members.
To that end, the team plans to develop microgravity-compatible collection and processing methods. "We're looking to design a swab-to-sequencer path, so you could take samples, make the libraries, and load them onto the instrument all during space flight," Botkin said. This could be based, for example, on the Voltrax automated sample prep device that Oxford Nanopore announced in May.
Even longer term, sequencing in space could be used to search for traces of life on the moon, on Mars, or elsewhere. Oxford Nanopore is currently focused on sequencing DNA, but its technology could in principle analyze other biomolecules, such as RNA, protein, or even atypical nucleic acids that do not occur naturally on Earth, Burton said. And while no one knows whether life elsewhere will be based on the same biomolecules as here on Earth, "as far as we know, DNA, RNA, and proteins are the only system that works, so it makes sense to start there, or with closely related molecules," he said. 
For life detection missions that take place outside the Earth's magnetosphere, where radiation is higher, the device might need to be shielded. Two years ago, a group led by Gary Ruvkun at Harvard Medical School published a paper in which they tested the effect of radiation on the Ion Torrent PGM and found that it had no substantial effect on the quality of the sequence data. For the MinIon, "one nice thing about the size being so small is that even if you do have to do make a more robust shielding, you are still not going to get as large as these other platforms start out," Burton said.
Getting a sequencer to work in space could also help users back home. "If you can get something to work in space, then you can take it out basically anywhere in the field on Earth," he said, for example in areas where power is in scarce supply. "This is all stuff that Oxford Nanopore is working on anyway, so there is a nice synergy there."
So far, the team has conducted preliminary experiments on the MinIon to get a feel for the technology. "Most of our time right now is being eaten up by certifying it for flight," Burton said.
To obtain flight certification, which is required for any type of hardware that goes to the ISS, the team has to demonstrate that the equipment is safe for the crew members, Castro explained. For example, the device must not get too hot, and the sample buffer must not be toxic. The frozen samples also have to undergo cold storage and vibration testing. The goal is to become certified for flight by November, which is "really, really quick in terms of NASA getting something to the space station," Castro said. "I have no doubt that we will meet those timelines and that we will be able to fly."