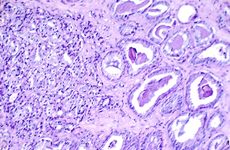 NEW YORK (GenomeWeb) – Massachusetts General Hospital and Harvard University researchers have demonstrated that single-cell transcriptome sequencing of circulating tumor cells can identify mutations that lead to drug resistance in prostate cancer patients.
Reporting their results today in Science, the researchers wrote that single-cell RNA-seq of CTCs "reveals heterogeneity in signaling pathways that could contribute to treatment failure."
The MGH team evaluated the transcriptomes of 77 circulating tumor cells from 13 prostate cancer patients, 30 single cells derived from four primary prostate cancer cell lines, bulk primary prostate tumor samples from a separate cohort of 12 patients, and five patient-derived control leukocytes.
The researchers used a microfluidic approach to isolate and amplify DNA from single cells and then performed transcriptome sequencing.
The researchers found 711 genes that were highly expressed in CTCs compared with primary tumors. The most differentially expressed genes were HSP90AA1, a molecular chaperone that regulates the activation and stability of the androgen receptor gene, and the noncoding RNA transcript MALAT1, which has been implicated in alternative splicing and control of gene expression.
Looking at specific pathways, the researchers identified 21 pathways that were enriched in prostate cancer CTCs, primarily involved in growth factor, cell adhesion, and hormone signaling.
The androgen receptor pathway is the target of prostate cancer therapies, and mutations in the AR gene have been implicated in acquired drug resistance. In 60 out of 78 CTCs from 12 of the 13 patients, the AR transcript was expressed and few mutations were found. A known resistance mutation in AR was found in five out of nine CTCs from a single patient with metastatic castration-resistant cancer, while a second mutation known to cause resistance was not found in any of those patients.
However, analysis of RNA splice variants in the AR gene "revealed far more complex and heterogeneous patterns," the authors wrote. From the patients with castration-resistant prostate cancer, at least one type of AR splice variant was expressed in 33 out of 73 CTCs from eight of the 11 patients, and multiple splice variants were expressed in 13 CTCs from seven patients. By contrast, no AR splice variants were found in 12 primary prostate tumor samples. And, examining four CTCs from two patients who had castration-sensitive prostate cancer, the researchers identified one CTC with low-level expression of one splice variant.
Next, the researchers looked retrospectively at CTCs to try to identify mechanisms of resistance to an approved AR inhibitor for prostate cancer, enzalutamide.
They compared the transcriptomes of 41 CTCs from the eight patients with metastatic prostate cancer who had not received the drug and with 36 CTC transcriptomes from the five patients who progressed while on the drug.
Interestingly, they did not find significant differences in expression of AR splice variants. However, they did find that genes in the Wnt signaling pathway were differentially expressed in the cells of patients who had received the drug. The team then confirmed via cell studies that when genes involved in the Wnt signaling pathway were expressed, those cells were resistant to enzalutamide.
The researchers noted that their findings need to be validated in larger numbers of cells and patient samples. Nonetheless, "the heterogeneity of CTCs in patients with [castration-resistant prostate cancer] stands in contrast to the striking homogeneity of AR signaling in single CTCs from untreated patients," the authors wrote, and "point to complex and heterogeneous drug-resistance mechanisms in advanced prostate cancer, which may affect therapeutic efficacy."