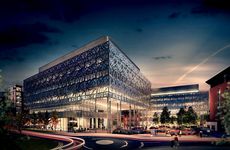 NEW YORK (GenomeWeb) – The city council of Manchester, UK, today approved a £21 million ($27.9 million) investment as part of a public funding package to support the creation of a precision medicine campus in the city's health innovation district.
Qiagen, in partnership with economic development engine Health Innovation Manchester, will create a genomics campus in the district anchored by the firm's European Centre of Excellence for Precision Medicine and diagnostics development hub. The campus aims to attract a cluster of companies collaborating with academic and clinical organizations to drive research and development.
According to Manchester City Council and Health Innovation Manchester, research at the new campus will focus on the prediction and prevention of disease through the development of new diagnostic tests and personalized treatments. In addition, the development is expected to directly create about 250 jobs and safeguard an additional 215, while indirectly supporting more than 1,000 jobs and adding an estimated £140 million to Manchester's economy over the course of a decade.
The Greater Manchester Combined Authority has also agreed to provide £3 million in loan funding for the project, the organizations said.
"This is a hugely important step change for Greater Manchester's already strong life sciences sector," Rowena Burns, chair of Health Innovation Manchester and Manchester Science Partnerships, said in a statement. "The new health innovation campus, with Qiagen at its heart, will support the continued growth of businesses which are driving the future shape of medicine and health care, and cement our position as a world leader in precision medicine."
Qiagen's genomics campus will be built on the Manchester University NHS Foundation Trust's clinical site in the Corridor Manchester innovation district — adjacent to hospitals, the University of Manchester, and other research and commercial assets, Qiagen said in a statement. The company already has about 270 employees at its existing Manchester subsidiary, and plans to move into the new Citylabs 2.0 facility in 2020.
"We expect this collaborative initiative to serve as an innovation incubator to support translating genomic biomarkers into clinical use and ultimately to yield benefits for our customers and patients everywhere who need advanced diagnostic insights," Qiagen CEO Peer Schatz said in a statement.