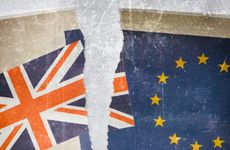 NEW YORK (GenomeWeb) – Turmoil. Disappointment. Anxiety. Uncertainty. These are the words that some British researchers used to describe the state of genomics in the UK following the country's referendum to leave the European Union nearly one month ago.
Interviews conducted with leading UK researchers in recent weeks about the so-called Brexit revealed apprehension about losing access to European funding, limitations on freedom of movement, and a potential exodus of biotechnology companies to the EU.
Despite this uncertainty, those interviewed appear determined to press their government to safeguard the interests of the scientific community, and on a personal level to preserve the contacts and collaborations that British scientists have with other European researchers.
"There is no doubt that this is a time of significant turmoil for everybody who lives and works in the UK and scientists are no exception," Amanda Fisher, head of the Institute of Clinical Sciences at Imperial College London, told GenomeWeb.
"It's worth remembering that one of the reasons why science in the UK is world class is the connections and collaborations on which it has been built, with our European partners and those from the rest of the world," said Fisher, whose work is focused on lymphocyte development.
"Our priority now is to preserve those connections and collaborations so we can be confident that UK science will continue to be world class," she added.
"It's hard to predict what the actual outcome of this will be," said Ewan Birney, joint director of the European Bioinformatics Institute in Hinxton. "It could be that this is business as usual in a year's time, or it could be that there is a harsh immigration policy imposed by the British government that is unworkable, that would be concerning and would damage UK science," Birney told GenomeWeb. "That is what we have to find an argument against."
While EBI, which is governed by a 1973 treaty separate from the UK's relationship with the EU, will not be impacted by the UK leaving the EU, Birney said that roughly 70 percent of EBI's 600 employees are foreign nationals who are concerned about any changes to immigration policies.
There is absolutely no point in being one of the best geneticists in Britain if you are not one of the best geneticists in the world.
On the Monday following the vote, EBI held a meeting to reassure jittery personnel, particularly in light of Leave campaign messages that had focused on immigration as a contentious issue.
"One of the things we stressed at the meeting was that science is international," said Birney. "There is absolutely no point in being one of the best geneticists in Britain if you are not one of the best geneticists in the world." Like others, Birney did not distinguish genomics from other sciences. Instead, he argued that in the context of the Brexit, genomics now faces the same prolonged uncertainty as any other discipline, be it astronomy or particle physics.
"I don't think there is anything special about genomics versus other sciences," said Birney. "It's incredibly international. And things that get in the way of that will interfere with science."
Core concerns
Genomics researchers in the UK appear to have several core concerns. The first two — access to EU funding and the free movement of scientists to and from the UK — are more concretely tied to EU membership and any negotiations that take place as part of Brexit.
Yet from a broader perspective, the UK genomics community is also concerned about losing the country's leadership status within European consortia, and that biotechnology startups founded to commercialize technologies invented in Britain will headquarter themselves in the EU to take advantage of direct access to the common market and various financial perks and incentives.
"Biotechs of all shapes and sizes are likely to create a legal entity in other EU countries, without necessarily leaving the UK," predicted Claire Skentelbery, secretary general of the European Biotechnology Network, a scientific organization devoted to building research-business partnerships around the continent. "They will need an EU base through which they can apply for EU funds and safely access the single market," she said.
The country that gave the world Oxford Gene Technology microarrays, Solexa next-generation sequencing, and Oxford Nanopore Technologies therefore might see its next great omics technology commercialized elsewhere.
EBI's Birney noted that the decision of British voters to leave the EU has also affected scientists at EBI and perhaps at other institutions at a more personal level. "In terms of the emotional response and living in the UK, there has been a big impact," said Birney. "I think a lot of it is short-term and some of it is about managing change," he said. "The emotional balance is tough."
Scientists in the UK were inarguably in favor of remaining in the EU. Nature polled 900 British researchers in March and reported that 83 percent of those surveyed favored Remain. Scientists for EU, a year-old campaign to keep the UK in the European Union, has over 140,000 members.
"I think the mood in science is one of disappointment," said Alison Woollard, a professor of biochemistry at Oxford University. Woollard, who works in her department's genetics unit, said that UK scientists "feel quite anxious about the future, not just in terms of the funding but in terms of a reduction in our access to collaboration and the fact that science is so international."
Wellcome Trust Director Jeremy Farrar said in a statement that the June 23 referendum result had caused "uncertainty and disquiet" among friends and colleagues and said the outcome was "not what I was expecting." At the same time, he sought to reassure grant holders that their awards were sound and that the trust's funding schemes are not dependent on EU funding.
We must accept the world as it is, look forward, and make a positive case for our core values.
"We must accept the world as it is, look forward, and make a positive case for our core values," Farrar said. All queries to other Wellcome Trust scientists for comment were referred to Farrar's statement.
"The majority opinion [of scientists] is that Brexit has the chance of negatively impacting research and innovation in the UK," said Rob Davidson, a data scientist for online academic journal Gigascience and co-founder of Scientists for EU. Davidson, who is a bioinformatician, said that the group's mission has altered since the referendum, from a focus on boosting support for remaining in the EU to detailing the impact of Brexit on science as it unfolds.
"Now that the vote has gone in the other direction, we immediately set up a monitoring process so that we could record the effect of that vote," Davidson told GenomeWeb. "Almost 400 people have submitted so far and we see a distinct pattern," he added. "People who were being offered jobs have declined the positions, and in declining to do so they have cited uncertainty about the Brexit, not feeling welcome here, not being sure if they can stay for the long term," Davidson continued. "Brexit is already affecting our ability to attract talent."
The Guardian carried out a survey of British universities earlier this month and found that some researchers have already been asked to step down from leadership positions of EU-funded projects or leave projects all together. The findings seem to corroborate Davidson's observations.
Such trends may be detrimental to UK genomics, in particular, Davidson speculated. He cited the UK's "strong position" in bioinformatics, noting that while EBI and other institutions are not directly connected to the EU, a "large percentage" of their staff comes from EU countries.
"They are likely to be impacted by any restriction on free movement that the British government might bring in," he said. "It would be devastating for genomics and bioinformatics in the UK."
'Very, very cloudy'
Decoupling the diverse issues facing British genomics in light of Brexit is challenging because they are so interconnected: not only do scientists worry about taking part in EU Horizon 2020 projects, they also stand to lose their leadership roles within those projects.  Researchers seeking Marie Skłodowska-Curie actions — EU fellowships for scientists — may look for appointments outside of the UK, given the uncertainty surrounding its relationship with the EU. And with Nicola Sturgeon, the first minister of Scotland, vowing to revisit the question of Scottish independence following the June vote, even the future borders of the UK are uncertain.
Brexit is already affecting our ability to attract talent.
"Most scientists in the UK were in favor of remaining in the EU," said Davidson, who is originally from Scotland. "If we have a second referendum in Scotland, in remains to be seen which way scientists in Scotland will go," he said. "Will we remain part of the local union, or shall we remain part of the larger international union? It's going to be a case of weighing up which union is the better union for Scotland. It's unknown at the moment, but it's fascinating."
James Hadfield, facility manager of the genomics core at the Cancer Research UK Cambridge Institute, noted that "the outlook is very, very cloudy right now, and it is incredibly hard to determine what will happen with EU funding into UK science, or with collaborative science programs that the UK is involved with now or might like to be involved with in the future. Until we know what Brexit negotiations are leading towards, and whether the UK government will replace funding lost, then anyone's guess is on the cards."
Given that uncertainty, it is also unclear what amount of EU funding scientists in the UK stand to lose. EBN's Skentelbery noted, though, that the UK has been a "significant participant" in the EU's collaborative Framework Programmes. In the last such program, FP7, which ran from 2007 to 2014, the UK provided over 17,000 participants, and received $6.8 billion in financing, second only to Germany in both categories. More recently, Skentelbery said, UK scientists have been named as coordinators on 34 percent of projects funded through the current Horizon 2020 program, ahead of Germany, which has furnished 29 percent of Horizon 2020 coordinators.
As an example of what could happen to the UK should it lose access to EU funding opportunities, Skentelbery noted that Swiss research participation in Horizon 2020 projects has been down 75 percent since the country lost direct access to the program after it implemented an immigration policy at odds with the EU's freedom of movement accord.
The Swiss have since had to plug the gaps in their science budget and create a new, parallel system of administering EU grants, which she called "expensive" and said had reversed the Swiss' position as a net beneficiary of EU funding. While not an EU country, Switzerland has had access to the EU market and programs following a series of 1992 agreements.
Hadfield noted that CRUK-CI receives a "good amount of funding" from the EU, and said that junior faculty especially have been successful in securing European Research Council grants. The future of this backing is up in the air, though, as the UK negotiates its Brexit.
"The impact on new programs is already being talked about and there are mumblings that UK researchers are already getting the cold shoulder [though] I've not experienced anything myself and don't know anyone directly affected," said Hadfield. "There has already been an impact on our non-UK scientists, PhDs, post-docs, et cetera," he added. "Two of my staff have asked if there is likely to be any additional risk to their positions."
In terms of a direct impact on genomics, Hadfield said it is most likely being felt at the exchange rate, which peaked at £1.50 per dollar on the evening of June 23 before polls closed before diving to about £1.30 immediately following the announcement of the referendum results, where it has stayed, fluctuating slightly, ever since. "I suspect there will be an impact on some of the larger projects because of this, but most projects will proceed as planned," said Hadfield.
Hagan Bayley, a professor of chemical biology at Oxford and a founder of Oxford Nanopore Technologies, said that given these questions, it is now incumbent upon the British government to staunch any loss of funding and to draft an immigration policy that continues to support the free movement of scientists into and out of the UK.
"The danger now is that the EU won't sign off on EU grants or Marie Curie fellowships that last more than two years," said Bayley. "If they do that, the UK will have to step in, or else we will start losing our best scientists," said Bayley, who noted that he collaborates with 14 different nationalities in his research group. "If they stop signing off on those grants they will lose a lot of top postdocs in the UK," he said. "These people are often thinking of staying long-term, too — of becoming professors or having a family — not just two years."
All of the issues that stem from any loss of funding, leadership, or movement of people could eventually stifle both technology innovation in the UK, as well as the establishment of successful biotechs to commercialize those discoveries, according to EBN's Skentelbery.
Unlike UK academia, small- and medium-sized enterprises have not been as successful as other large European countries in winning financial aid from the EU, Skentelbery acknowledged. She reported that UK companies received €64 million ($71 million) in FP7 funding, third behind France (€90 million) and Germany (€134 million). She said that UK companies have, however, "always attracted a greater amount of private investment" and tend to see EU funding as secondary.
Despite this lack of dependence on EU funding, Skentelbery predicted a "flurry" of UK biotechs will set up locations in EU countries in addition to their UK bases. "This is easy to do, and it will be a bonus for countries such as the Netherlands, Germany, France, and Belgium, who will roll out the red carpet for incoming SMEs," she said.
According to Skentelbery, should the UK implement an immigration policy that results in a reduction in access to various EU funding schemes, it stands to lose out ultimately when it comes to innovation. "It is not only a reduction in money but also access to skilled partners," said Skentelbery. "Anything that reduces the ability of UK universities to generate technologies and patents that underpin startups is going to reduce the number and competitiveness of startups."
"We are bound to lose control of commercialization into the EU market," said Oxford's Woollard. "There is no point in being in a state of despair, but we have to get the best deal we can" with the EU, she said. "But it's not going to be easy to get back all of that funding."
Given the uncertainty surrounding Brexit, Oxford's Bayley said that the UK must do its best to preserve its existing research environment in the UK in order to continue the country's tradition as a technology innovator in the biological sciences.
"We need to have the best people, be given the resources to carry out innovative science, and to do open research with no strings attached," said Bayley, noting that some breakthroughs in the life sciences were not necessarily the outcome of larger European, or indeed, British projects but were often mere happenstance. "Most innovation really comes out of nowhere," said Bayley. "It comes from having creative people and giving those people resources to carry out the research."