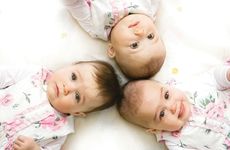 NEW YORK – Providers of cell-free DNA-based noninvasive prenatal testing (NIPT) have been differentiating their offerings by adding new conditions or improving the performance of their tests. LabCorp's Integrated Genetics, for example, recently demonstrated that its MaterniT21 Plus test, originally developed by Sequenom, has become more reliable for multifetal pregnancies over time, including triplet pregnancies.
In August, the company published a retrospective study of test results from more than 30,000 multifetal pregnancies in PLOS One, including more than 700 triplet gestations. The data on triplets "is particularly significant because there are currently no other noninvasive prenatal laboratory screening options available in these pregnancies," the company said in a statement.   
"This study is important because it's the largest that I'm aware of that looked at multiple gestations, the majority twins but also triplets and quadruplets," said Vivian Weinblatt, director of clinical education at Integrated Genetics. Multifetal pregnancies have become more common over time, she said, because of in vitro fertilization and increased maternal age, and the study shows that NIPT is an option for these. 
According to the US Centers for Disease Control and Prevention, there were more than 128,000 twin births, almost 3,700 triplet births, and almost 200 quadruplet births in the US in 2017. However, the number of US twin births declined by 2 percent between 2014 and 2018.
One of the key findings of the study, Weinblatt said, is that the non-reportable rate – the percentage of tests that did not yield a result – declined significantly over time as a result of assay improvements.
Next week at the American Society of Human Genetics annual meeting, LabCorp researchers plan to present additional results from a total of about 1,000 triplet pregnancies, she added.
However, critics say that the study provided little outcome data, so other performance metrics, such as detection rate or false-positive rate, remain unclear for multifetal pregnancies.
Sequenom, which was acquired by LabCorp in 2016, has been offering the MaterniT 21 test for twin and other multifetal gestations since 2012, when it published a small validation study in Prenatal Diagnosis demonstrating that the test can detect aneuploidies in twin pregnancies.
For the recent PLOS One study, LabCorp looked at results from 30,826 multifetal samples that were submitted to its laboratory for NIPT testing between October 2011 and December 2017. These included 709 samples from triplet pregnancies and 750 from multifetal gestations other than twin or triplet pregnancies.
For all pregnancies, the non-reportable rate decreased from 6 percent in the first five years of the study to 2.7 percent in the last year. For triplet pregnancies alone, the overall non-reportable rate was 21.3 percent, and it is unclear from the study whether it declined over time.
According to Weinblatt, the decline in non-reportable results is due to assay improvements that Integrated Genetics implemented at the end of 2016. She explained that the non-reportable rate is expected to be higher in multifetal compared to singleton pregnancies because the amount of cell-free DNA of fetal origin, or fetal fraction, needs to be higher for successful testing — twice as high for twin pregnancies and three times as high for triplets. Most of the non-reportable results in the study were caused by a low fetal fraction.
The assay improvements, she said, related to new bioinformatics methods that made it possible to report a reliable result even with a low fetal fraction. "This kind of analysis allowed us to report even when two or three years earlier we would have reported this as a non-reportable because the amount of DNA in the sample was not adequate," she said.
She added that Integrated Genetics made another update to the test in 2018, after the study was concluded, allowing it to perform the assay with less sample.
For the study, the researchers also collected outcome data, which was submitted voluntarily by ordering providers, but they only received it for 50 cases. Among them were 12 false-positive results for trisomies 21, 18, and 13 and 11 false-negative results for trisomies 21 and 18.
"This is one of the limitations of the study," Weinblatt said. "I think it's important to acknowledge that when you're a commercial laboratory accepting specimens, getting the information back on how those pregnancies did, ultimately, is limited by what we're told from our clients."
As a result, the sensitivity and specificity of the test in multifetal pregnancies cannot be determined without making assumptions about the missing outcomes, for example, that providers were more likely to report false-positive or false-negative results than accurate test results.
For some, this is not good enough to endorse NIPT for triplet pregnancies more widely. "I would not recommend routinely offering cfDNA screening in triplet pregnancies given the very high (>20%) failure rate and unspecified detection and false-positive rates," said Glenn Palomaki, a professor in the Department of Pathology and Laboratory Medicine at the Alpert Medical School at Brown University.  
Palomaki, who was involved in Sequenom's 2012 twin validation study, said there are certain issues associated with triplet pregnancies. For example, the total fetal fraction in these sample is often only a bit higher than in singleton pregnancies, so the likelihood of a low fetal fraction in at least one fetus is relatively high, and as a result, the test failure rate will be high.
Weinblatt pointed out that women with triplet pregnancies have had few aneuploidy screening options other than ultrasound so far, and NIPT "allows patients carrying triplets to actually obtain some information around aneuploidy, which has up until this time really been scarce for them to be able to avail themselves of."
LabCorp is involved in several other ongoing studies, she said, both internally and with collaborators, to generate outcome data for hundreds of women with multifetal pregnancies. These studies will provide data around sensitivity, specificity, and positive predictive value, "which is something this study can't tell us," she said.
For twin pregnancies, the picture appears to be a little clearer than for triplets. Earlier this year, a study by Kypros Nicolaides and colleagues of almost 1,000 twin pregnancies with outcome data, published in Ultrasound in Obstetrics & Gynecology, found that the performance of NIPT for trisomy 21 was similar to singleton pregnancies and better than traditional screening.
In the meantime, professional societies don't endorse cell-free DNA NIPT for multifetal pregnancies. The American College of Obstetricians and Gynecologists (ACOG), for example, stated in its 2016 practice guidelines for fetal aneuploidy screening that "because of limited evidence regarding its efficacy, cell-free DNA testing is not recommended for aneuploidy screening in women with multiple gestations."
It also advised against biochemical screening for fetal aneuploidy in triplet and higher-order multiple pregnancies, saying that this type of screening "should be limited to singleton and twin pregnancies."
Weinblatt said Integrated Genetics' recent study could help change practice guidelines in the long run. "We believe this study is going to be one of the steps that will help us get to a place where the medical community will see that this is a commonly done test that is reliable, and help us get to a place where it is a more mainstream test, if you will," she said. "Every piece of the puzzle that we add to the conversation around multiples is going to give more comfort and more support for the use of NIPS in these higher-order pregnancies."
LabCorp has been offering the MaterniT 21 test since 2016, when it acquired Sequenom for approximately $300 million. Following the acquisition, the MaterniT21 Plus and MaterniT21 Genome tests became part of Integrated Genetics, one of LabCorp's specialty testing groups. LabCorp discontinued Sequenom's VisibiliT test, which had been aimed at the average-risk market.
Noninvasive prenatal testing continues to be performed in Sequenom's San Diego laboratory. In addition, Integrated Genetics maintains several other genetic testing laboratories in Massachusetts, New Mexico, and North Carolina.
At the end of September, LabCorp also discontinued its InformaSeq NIPT, which it had developed prior to the Sequenom acquisition and which it had offered in parallel with the MaterniT21 tests for the past three years. According to Weinblatt, the MaterniT21 test had proven to be "more nimble" than the InformaSeq test, offering more choices for conditions tested as well as some bioinformatic advantages.