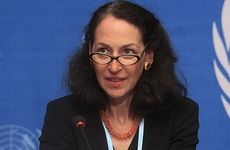 MOUNTAIN VIEW, Calif. (GenomeWeb) – At the Personalized Medicine World Conference on Wednesday, US Food and Drug Administration Commissioner Margaret Hamburg said that the agency will carefully review the public comments it receives in response to its draft proposal to regulate laboratory-developed tests. However, she couldn't predict when the agency would finalize the document.
The FDA in October released draft guidelines outlining a risk-based, phased-in framework for regulating LDTs, tests that the agency has exercised enforcement discretion over for four decades and that have historically been overseen by the Centers for Medicare & Medicaid Services. The FDA's plan has been controversial, and at a public meeting earlier this month many stakeholders voiced their concerns about how LDTs are ill-suited for FDA's device regulations. Lawyers representing the lab industry have even questioned the agency's statutory authority to regulate such tests.
"We're in the process of really getting feedback on our proposed guidance," Hamburg said at the conference. "We will take very seriously all of the different feedback that we've gotten and the various concerns, which have ranged from very specific issues of science and indications for use of these LDTs, to administrative questions of FDA process, whether it should be [done] through guidance or regulation." The deadline for submitting public comments to FDA's draft guidance is Feb. 2.
"We're going to look at all of those comments," she assured. "In terms of timeline, I can't give you a specific for when we will come out with the final guidance."
In moving to regulate LDTs, Hamburg noted that the agency's aim is to ensure that diagnostics that are important to patient care are safe and effective, and physicians and patients can rely on them. "That matters because we want patients to be able to get an accurate diagnosis and get the treatments that they need," she added. "We certainly don't want an inaccurate diagnostic that might result in inappropriate treatment or lack of treatment when treatment might be indicated."
Ensuring the safety and efficacy of diagnostics is also important for advancing personalized medicine research, she said. "As we explore the opportunities for more targeted therapies ... the hub of personalized medicine is getting the target right."
Hamburg said that she's often asked why advances in personalized medicine aren't coming faster. "But a lot of has happened," she reflected, even though it hasn't been that long since the sequencing of the human genome. In the early 1990s, she noted that only 5 percent of approved drugs were targeted treatments, a number that in 2013 rose to 45 percent.
The Personalized Medicine Coalition issued a report to coincide with Hamburg's presence at the conference, in which the organization reported that nine drugs, or 20 percent, of 41 new drugs approved by the FDA last year involved a personalized, biomarker strategy.
The nine biomarker-related drugs approved by the FDA last year include Harvoni (ledipasvir and sofosbuvir) and Viekira Pak (ombitasvir, paritaprevir, and ritonavir; dasabuvir) for chronic hepatitis C infection; Blincyto (blinatumomab) for B-cell precursor acute lymphoblastic leukemia; Beleodaq (belinostat) for T-cell lymphoma; Cerdelga (eliglustat) for Gaucher disease type 1; Zykadia (ceritinib) for ALK-positive non-small cell lung cancer; Cyrazma (ramucirumab) for advanced gastric or gastro-esophageal junction adenocarcinoma for NSCLC; Vimizim (elosufase alpha) for mucopolysaccharidosis Type IV (Morquio Syndrome); and Lynparza (olaparib) for BRCA-positive advance ovarian cancer.
She noted that targeted treatments and the incorporation of genomic and other biomarker information is very much a part of FDA's thinking when reviewing drugs and updating product labels. According to Hamburg, the FDA has been flexible in its approaches to help personalized medicines come to market.
She highlighted the approval last month of AstraZeneca's Lynparza, for which the FDA considered data from a single-arm trial involving 137 ovarian cancer patients with BRCA mutations. In that study, 34 percent of patients saw their tumors shrink after treatment with the drug. With the Lynparza program, the FDA took an appropriate approach, Hamburg said, but one that represents a significant departure from the types of studies the agency would have asked sponsors to do just a few years ago. 
"But it's getting more and more complicated," Hamburg said, highlighting the need for new thinking when it comes to next-generation sequencing technologies. "It's one thing to have one diagnostic for one disease in the old world, but in the modern era that can't be the framework that we use," she said. "We're very much immersed in thinking about how to optimize FDA regulatory oversight of next-generation sequencing."
The FDA has scheduled a public meeting on Feb. 20 to discuss the challenges of regulating NGS technologies. Ahead of the meeting, the agency issued a white paper to lay out its current thinking and provide the basis for future discussion.
In the paper, the agency noted that NGS tests, unlike PCR or array-based SNP tests that look for specific variants, can detect many unspecified variants. As such, it is challenging for the agency to verify the clinical significance of NGS tests that could potentially pick up numerous genetic alterations.
"With whole-genome sequencing, the number of genetic variants are just enormous," Hamburg said, "literally numbering in the millions. We cannot possibly be thinking about having clinical validation of every possible association with those variants, but we have to have a science-based approach that enables us to provide physicians and patients with information that they can really act on."
In clearing Illumina's MiSeqDx platform, for example, the FDA looked at a subset of variants assessed by the test to provide "reasonable assurance that the test would be able to successfully identify relevant variants in the genome," the FDA states in the white paper. As for the two cystic fibrosis assays the FDA cleared that run on the MiSeqDx platform, the agency used Johns Hopkins' curated CF database of variants to establish the test's clinical performance.
The agency suggested in the white paper that in the future it could use similar approaches to clear or approve other NGS-based tests. Another option the FDA is considering is to use a standards development organization to advance guidelines that a lab performing NGS would need to meet in order to demonstrate analytical validity.
The FDA's goal at the meeting on regulation of NGS technologies is to have a "robust discussion" of different regulatory approaches, Hamburg said. "We have got the two challenges … analytic validity and clinical validity, and both are made more complicated in the world of whole-genome sequencing," she said. "But the opportunities to apply that kind of approach to diagnostics is enormous."