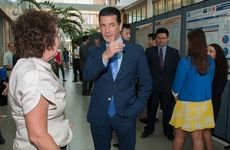 NEW YORK (GenomeWeb) – US Food and Drug Administration Commissioner Scott Gottlieb aims to position the FDA as a facilitator of laboratory test innovation, as agencies and legislators craft a long-term solution for regulation of laboratory-developed tests, he said during a presentation at the American Clinical Laboratory Association conference in Washington DC on Tuesday.
"We have a unique opportunity to set reform and innovate as we consider the right mold for the FDA with respect to laboratory-developed tests," Gottlieb said.
For the long term, Gottlieb said he favors comprehensive legislation that would modernize the agency's approach to approving LDTs. Noting that when the FDA was first authorized to regulate in vitro diagnostics in the 1970s, there were far fewer LDTs and they were much simpler tests, he suggested processes for test evaluation should be redesigned to better suit today's innovations.
"The old posture at the FDA is we have all the authority we need, and we can adapt our current review processes to whatever new technology that comes about. So if it meets the definition of [a] medical device, we can somehow apply the 510(k) construct to it," Gottlieb said. "I think what you are hearing now from FDA is a clearer recognition that even if we could to that, and we tried to do that in the past, it's probably not the right thing to do."
A modern regulatory framework for LDTs might take years to develop, Gottlieb said, and should continue to maintain the current "well-defined roles" between FDA and other regulatory agencies, particularly the Centers for Medicare & Medicaid Services. Through the Clinical Laboratory Improvement Amendment, CMS has become experienced in regulating laboratories while FDA regulates and reviews tests, and FDA aims to leverage CMS' experience, rather than create redundant regulatory vehicles, he said.
In the interim, the FDA is focusing on "creating voluntary pathways" to improve efficiency and reduce burdens in test approval processes. In particular, he noted that a precertification process that was discussed extensively last year related to digital health was first used to review direct-to-consumer genetic health risk tests.
"In the setting of these DTC tests, we realized that if we had enough confidence in the validity of the lab's underlying system, we could exempt from premarket review many individual tests that met precertified standards," he said.
While he did not specifically mention 23andMe during his talk, on Tuesday, the FDA authorized, with caveats, that company's test report for three BRCA gene mutations.
Exempting test manufacturers from having to get every change and update to a test reapproved, encourages more test manufacturers to bring their test for FDA review, Gottlieb explained. In the current fiscal year several more LDTs have come forward with premarket submissions to the agency , and the agency has received more than a dozen presubmission requests, he said.
In addition, the FDA's accreditation of the New York State Department of Health as a third-party reviewer of in vitro diagnostics late last year, ensures that laboratories whose tests have been approved by the New York State Department of Health do not need to submit a separate application to the FDA. This includes labs with advanced, next-generation sequencing based tumor profiling tests, Gottlieb noted.
"Third-party accreditation is designed to reduce the burden on test developers and streamline the regulatory assessment of eligible innovative projects," he said.
Gottleib said the agency hopes to grant third-party accreditation status to other entities in the future, to provide more approval options to test developers.
The agency recently also provided information on a new approach to reviewing NGS oncopanel tests to minimize the burden for test developers, Gottlieb said. The new approach involves communicating with test developers about the flexibility they have in developing clinical evidence to support marketing authorization, depending on the types of claims they are making about their tests. The agency expects to provide final guidance soon on the FDA's approach to all NGS tests, he said.
The agency is also developing policies to allow more tests to be exempt from premarket review, Gottlieb noted.
"We are also looking into new more innovative approaches to demonstrating analytical and clinical validity in the first place," he said. "For example, a developer may be able to demonstrate analytical validity by showing that its test conforms to FDA recognized standards, perhaps including standards established by the scientific community, or standards development organizations," he said.
Last November, Gottlieb noted, Foundation Medicine's FoundationOne CDx test, was approved through parallel review with CMS, which enabled FDA and CMS to concurrently review the test for both marketing authorization and coverage determination.
"The test developer was able to secure FDA approvals, as well as immediate proposed Medicare coverage determination within six months," Gottlieb said.
Foundation Medicine also took advantage of the FDA's Breakthrough Device program through which FDA staff works with product developers to provide guidance on issues such as evidence generation that would be acceptable to the agency's reviewers.
Noting that comprehensive reform of test legislation could be a multiyear effort, Gottlieb said recent efforts at facilitating test approval are aimed at encouraging test developers to seek FDA validation for their tests to ensure safe tests are reaching patients quickly.
"Tests that haven't been properly validated present serious risks," Gottlieb said. "A test with a greater assurance of validity may have advantages both in clinical adoption and gaining coverage by payors."