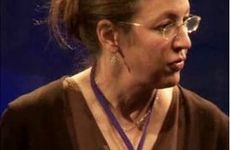 NEW YORK (GenomeWeb) – The US Food and Drug Administration is planning to put the $10 million the agency expects to receive under the President's Precision Medicine Initiative to set up databases that can help inform its oversight of next-generation sequencing tests, and to establish the bioinformatics infrastructure to facilitate the curation and sharing of the information in those repositories, an agency official said today.
"Reliable and accurate next-gen sequencing technologies have a very large promise to accelerate personalized or precision medicine," Elizabeth Mansfield, deputy office director for personalized medicine at FDA's Center for Devices and Radiological Health, said during a briefing today. "We here at the FDA are seriously committed to optimizing our regulatory oversight of this technology, [and] to ensure that the tests developed using it are not only safe and effective but are available for patient use as soon as possible."
The FDA held the briefing to discuss how it plans to use the funds it hopes to receive (following Congressional approval) under President Barack Obama's recently outlined Precision Medicine Initiative. Under the initiative, Obama is seeking $215 million from the US Congress to build a research cohort of 1 million participants, and advance data sharing, regulatory, and privacy standards – resources that are currently lacking but are much needed to advance more molecularly informed personalized treatments. For this effort, the National Institutes of Health is slated to receive $130 million, the National Cancer Institute is budgeted for $70 million, the FDA is earmarked for $10 million, and the Office of the National Coordinator for Health Information is hoping to see $5 million.
The FDA's main charge under the effort is to establish oversight standards for NGS tools, on which it is already working. Such platforms are poised to play a big role in the way diseases are diagnosed and drugs are prescribed in the future. However, NGS tests report vast amounts of data, and currently much of that data is poorly understood in the context of patient care. Mansfield acknowledged that current FDA oversight procedures are attuned to establishing the clinical and analytical validity of tests indicated to be used in the context of a specific disease, and require sponsors to submit clinical trial data to prove the tests' validity in this context.
"The next-gen sequencing technology produces a massive amount of data that could potentially bear on a huge range of disease, conditions, [and] risk factors, and we believe it would be better handled using a different [regulatory] approach," Mansfield said. The FDA in 2013 already applied some novel oversight approaches while reviewing and clearing Illumina's MiSeqDx platform and two cystic fibrosis tests that run on that platform.
In order to clear the platform, the FDA looked at a subset of variants assessed by the test to provide "reasonable assurance that the test would be able to successfully identify relevant variants in the genome," the FDA explained in a white paper the agency released in December on the regulation of NGS-based diagnostics. In order to clear the two cystic fibrosis assays, the agency used Johns Hopkins' curated CF database of variants to establish the tests' clinical performance.
Instead of asking test makers to conduct new studies to clinically validate whether potentially millions of variants identified from NGS tests are linked to diseases, the FDA wants to spend part of the $10 million allotted under the President's initiative to capitalize on reliable databases. "We want to put some money toward advancing the development of high-quality, curated databases that are similar to the cystic fibrosis database that we used for the Illumina test," Mansfield said.
The NIH is already building a public, annotated database of variants across the human genome using standardized classification methods, called the Clinical Genome Resource (ClinGen). Mansfield said this was an excellent start, but "we don't think that has to end there," and noted that the FDA wants to work with the NIH and other stakeholders to advance more databases that can be useful in informing clinical validation of NGS tests.
In a perspective piece published this week in the New England Journal of Medicine, Broad Institute's Eric Lander proposed the FDA might offer "safe harbor" to companies that use data from "recognized databases" to validate their tests, so they wouldn't need to submit additional data from studies. Lander was one of the leaders of the Human Genome Project and is currently a member of the President's Council of Advisors on Science and Technology.
Mansfield acknowledged that the agency's efforts to develop its regulatory approach for NGS tests will be "informatics-heavy." Taha Kass-Hout, FDA's chief health informatics officer, further provided some insights at the briefing about how the agency is thinking about creating an infrastructure for sharing the data in these repositories.
Generally, in building out its bioinformatics capabilities, the FDA is thinking about storing curated data in the cloud, or on a hybrid of cloud and on-premise systems. Kass-Hout also highlighted the need for open-source platforms to facilitate data sharing, even if the data happens to come from proprietary sources, and the importance of advancing "Google-like" search capabilities to enable users to find the clinical validity information they are seeking.
The briefing was held ahead of a workshop the agency is holding on Friday to gather stakeholders' ideas on the regulation of NGS-based tests. While Mansfield believed that the $10 million the President is asking for the agency is "plenty" to get started on its tasks, she said the FDA is committed to advancing regulations for NGS tests even if Congress doesn't okay the full amount.
Even "if the money doesn't' materialize, we think that we have to really move forward here with next-generation sequencing," Mansfield said, adding that public/private partnerships might bring in additional resources toward this end. "We have to really do it in the most scientifically useful way possible. I'm pretty sure we're going to move forward whether that exact $10 million falls in our lap or not."