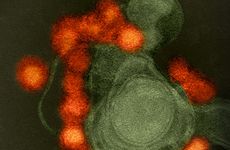 NEW YORK (GenomeWeb) – Roche said today that the US Food and Drug Administration has approved an additional claim for its Cobas Zika test for use on the Cobas 6800 and 8800 systems that enables streamlined screening of multiple individual blood or plasma donations that have been pooled together.
Cobas Zika is a qualitative in vitro nucleic acid screening test for the direct detection of Zika virus RNA in plasma specimens from individual human blood donors. It enables blood services to ensure that potentially infected blood units are not made available for transfusion, Roche said.
The new approval follows screening recommendations made at a meeting in December 2017 of the Blood Products Advisory Committee, an appointed group of medical and scientific advisors to the FDA, Roche said. The extended claims for its Cobas Zika test facilitate a simplified testing workflow for blood screening laboratories using the Cobas 6800 and 8800 systems with its CobasSynergy software in the US, Roche noted.
Roche distributed the Cobas Zika test in April of 2016 under an FDA Investigational New Drug protocol to screen blood donations collected in Puerto Rico. This initial testing protocol enabled the reinstatement of blood services in Puerto Rico after concerns that high rates of infection locally posed a significant threat to the blood supply, Roche said. The Cobas Zika test received commercial approval from the FDA in October 2017, enabling its routine use to support individual donor screening throughout Puerto Rico and the US.
Roche said that the Cobas Zika test is a new addition in the US market to the testing menu that runs on its fully-automated high-volume Cobas 6800 and 8800 systems. The systems perform automated sample pooling, automated sample preparation using nucleic acid extraction and purification, and PCR amplification and detection.