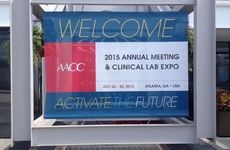 ATLANTA (GenomeWeb) – Clinical laboratory managers aired their concerns during the American Association for Clinical Chemistry meeting here regarding the draft guidance issued last fall by the US Food and Drug Administration on how it plans to regulate lab-developed tests.
They are particularly worried about how to define what is and what is not a lab-developed test as well as the time and expense of taking an LDT through the FDA clearance or approval process, and how such regulations may affect patient care. In addition, they are concerned about how any overlap between FDA and Centers for Medicare and Medicaid Services regulations would be handled.
"We have to applaud the FDA for seeking to improve the quality of lab testing and ensuring tests meet clinical expectations," said James Nichols, the associate medical director of clinical operations at Vanderbilt School of Medicine, before then going on to list a dozen concerns he has with the draft LDT guidance and its possible implementation.
LDTs are currently regulated by CMS under the Clinical Laboratory Improvement Amendments, which regulates laboratory testing in the US.  This, though, has led to two paths through which a test gets to market: commercially developed tests that go through FDA and LDTs that go through CLIA. "It's created an uneven playing field," said Alberto Gutierrez, the director of FDA's Office of In Vitro Diagnostics and Radiological Health, at AACC.
The guidance issued by FDA describes a risk-based scheme that would phase in its regulation of LDTs over the course of nine years. Under the guidance, Gutierrez noted that tests would fall into low-, moderate-, and high-risk categories.
FDA would continue its policy of enforcement discretion for certain tests, including low-risk tests; tests developed, manufactured, and used by a single lab within a healthcare facility; tests for rare diseases or that fulfill an unmet clinical need; tests performed in CLIA-certified histocompatibility labs for transplants; and LDTs used in forensics. Some of these tests, though, would have to begin reporting adverse events.
For the other risk categories, FDA would phase in its oversight, starting with devices that have the highest risk. Developers of high-risk tests, Gutierrez said, would have a year from when the final guidance is issued to file premarket submissions. Submissions for moderate-risk tests would then follow after five years.
Even before the release of the draft guidance last year, lab directors voiced their concerns about such regulations. In a letter to the Obama Administration a year ago, some two dozen lab directors argued that LDTs aren't medical devices and thus aren't subject to FDA regulation. They further said LDTs were already regulated under CLIA and that FDA regulation would negatively affect clinical care and hamper innovation.
Indeed, at AACC, Gutierrez noted that the lab community has strongly opposed the draft guidance.
He added, though, that the general public, patient advocacy groups, and payors' responses regarding the draft guidance have generally been positive, though the response from medical society and professional organizations has been mixed. AdvaMedDx's Andrew Fish noted that his organization's view is that a test is a test no matter where it is developed, and they should all be treated the same.
There are, Vanderbilt's Nichols said, outstanding questions about the guidance, as audience members highlighted during the question-and-answer session.
Primary concerns include how FDA defines an LDT as well as how it handles modifications to tests. In his talk, Nichols wondered whether tests that require clinical interpretation would be considered an LDT.
Similarly, an audience member noted that clinical labs often modify FDA-approved tests. Another pointed that in quickly moving fields, new biomarkers may be uncovered that labs might want to fold into a test, leading them to wonder how much modification to an approved test would be permitted before it had to be submitted on its own.
In response, Gutierrez said that it depends on the level of risk involved, noting that FDA tries to be flexible.
Clinical lab directors were also concerned about the time, effort, and cost of coming in line with FDA regulations, especially for training staff, running the studies to show analytical and clinical validity to garner FDA clearance or approval, and any filing fees required by FDA.
"This is going be a resource drain and a cost drain," Nichols said.
And that cost, an audience member pointed out, will likely be passed on to patients.
Nichols also noted that clinical care might be affected, as longer leads times might be necessary to implement new tests.
Another issue he and others pointed out was that clinical labs would now be subject to regulation by both CMS and FDA. "We are very used to CLIA," Nichols said.
FDA relies on a quality systems (QS) approach that may overlap, yet differ from CLIA requirements.
In a bid to address this, Gutierrez said that a joint FDA-CMS task force has been created. It aims to identify similarities in regulations as well as streamline requirements for labs regulated by both FDA and CMS.
"We are working very closely with FDA, [and are] reviewing QS to see how it will impact labs," said Karen Dyer, the director of the Division of Laboratory Services at CMS. She added they needed to supply information about QS to labs, though noted that would take time.