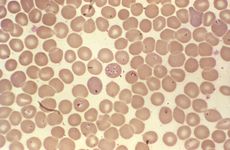 NEW YORK – Roche announced today its cobas Babesia blood test for individual blood donation testing has received marketing approval from the US Food and Drug Administration.
The qualitative in vitro nucleic acid screening test, which can directly detect four common species of Babesia, is Roche's first commercially available whole-blood test to screen donations.
The cobas Babesia test runs on the cobas 6800/8800 systems to detect parasites in red blood cells. Babesia parasites can't be detected in traditional plasma or serum samples, so Roche's test uses the whole-blood collection tube to simplify sample preparation.
The Babesia parasite is usually spread to humans via an infected tick bite, but it can also spread through blood transfusions or from mother to child during pregnancy. It infects and destroys red blood cells, leading to anemia and other potentially fatal conditions, which can be particularly dangerous for immunocompromised patients.
Other blood donor screening tests available from Basel, Switzerland-based Roche include the cobas Zika, cobas MPX, and cobas WNV.