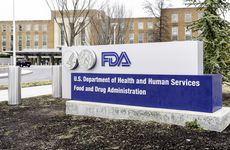 This story previously misstated that HHS withdrew its LDT policy in October 2020. The agency, in fact, changed another LDT policy.
NEW YORK – The US Food and Drug Administration on Monday released revised guidance on its regulatory priorities and policies for COVID-19 tests.
In the new document, the FDA said it intends to focus its review of Emergency Use Authorization requests on certain types of SARS-CoV-2 tests, including at-home and point-of-care diagnostic tests for use with or without a prescription that can be manufactured in high volumes, i.e., with a manufacturing capacity of at least 500,000 tests per week within three months of receiving EUA.
The agency will also focus on high-volume, lab-based molecular tests — as well as home collection kits for use with these tests — that can expand testing capacity and accessibility, whether through pooling specimens to increase throughput, testing specimens collected at home and shipped to a lab, screening asymptomatic people, or detecting multiple respiratory viruses at once. These tests should also be from experienced developers who have indicated the ability to scale up manufacturing capacity, the FDA noted.
Certain lab-based and POC high-volume antibody tests that can measure the amount of antibodies or amount of neutralizing antibodies are also part of the guidance, as well as tests that are supported by a US government stakeholder, such as the Biomedical Advanced Research and Development Authority or the National Institutes of Health's Rapid Acceleration of Diagnostics initiative.
Developers of other kinds of tests not mentioned in the guidance document can pursue market authorization through other pathways, including 510(k) clearance or de novo classification, the agency said.
In addition, the US Department of Health and Human Services withdrew a policy directing the FDA not to enforce premarket review requirements for laboratory-developed tests. Under previous guidance, developers could distribute their validated tests as LDTs without objection from the FDA, as long as the agency was notified.
However, the FDA noted that "many of the COVID-19 tests offered prior to FDA review were determined to have poor performance" and is no longer allowing developers to use the pathway for SARS-CoV-2 tests.
For LDTs where an EUA request was submitted before the new guidance was released, developers can continue to offer the test while the FDA reviews the EUA request, as long as the request was submitted after Feb. 1 or the developer confirms to the FDA in the next 45 days that it wants the agency to continue reviewing its request.
In October 2020, FDA said it would no longer review EUA submissions, but withdrew that policy a month later after outcry from labs about reimbursement and liability issues.
In response to the LDT policy revision, the American Clinical Laboratory Association released a statement noting that the guidance "marks another shift in federal policy regarding the regulation of LDTs."
"While we appreciate the administration's focus on the need for high-quality testing, continually shifting regulatory policies creates uncertainty and undermines patient access to lifesaving diagnostics," ACLA added. "This underscores the clear need for comprehensive diagnostic reform legislation that can provide long-term clarity and continuity for clinical labs and their work to support medical breakthroughs moving forward."
LDT regulation has been a source of confusion in the laboratory industry, due to the lack of clarity from the federal government about who is in charge of monitoring and regulating the tests.
According to the new guidance, the FDA is also withdrawing a policy that allowed states and territories to authorize labs to develop and use their own COVID-19 tests without submitting an EUA request. Under the original guidance, states would authorize labs under a process they established and take responsibility for those tests. The policy only applied to tests developed and used within a single high-complexity CLIA-certified lab.