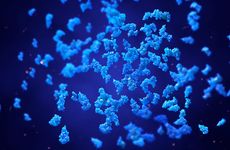 NEW YORK – A team led by researchers at the National Institute on Aging (NIA) and Johns Hopkins University has identified a set of plasma proteins that may help predict an individual's risk of dementia decades before the onset of symptoms.
In a study published this week in Science Translational Medicine, the scientists used SomaLogic's SomaScan platform to measure the levels of 4,877 plasma proteins in 10,981 middle-aged adults, identifying 32 proteins linked to the development of dementia.
According to Keenan Walker, an investigator at the NIA and first author on the STM paper, the proteins could provide insights into potential dementia drug targets and could ultimately help researchers develop tests capable of distinguishing between different forms of dementia and identifying individuals at risk of developing them.
Walker noted that while Alzheimer's disease and dementia more generally are areas of significant research activity, much of this research has focused on older subjects, with less inquiry directed toward individuals in middle age, when many of the processes that will ultimately lead to dementia are beginning.
"I think within the last decade there has been this recognition that middle age is the time when the pathophysiology begins, and so there is now the scientific motivation to start looking there," he said.
The researchers also wanted to look beyond the relatively narrow group of markers like amyloid, tau, neurofilament light chain, and glial fibrillary acidic protein that have come to dominate much of dementia research, especially in Alzheimer's.
"People have sort of zeroed in on a few biomarkers that seem to predict progression or cognitive impairment, but people haven't done many unbiased searches for other things," Walker said.
Walker said that some markers identified in these studies also appeared as potential markers in the STM work, noting that proteins like alpha-1 antichymotrypsin and certain complement proteins "keep coming up." However, he added, several biomarkers he and his colleagues identified were not accessible until recently.
Plasma has long been one of the more challenging sample matrices for proteomics experiments. Until very recently, high-throughput mass spec-based methods typically topped out at 500 to 1,000 proteins detected in plasma. Affinity-based platforms from SomaLogic and Olink have allowed researchers to measure thousands of proteins with the throughput needed for large-scale studies like the STM work, but these companies have steadily expanded their platform menus over time.
These technological improvements allowed the researchers to identify potential markers that went undetected in previous efforts, Walker said.
"I think a lot of the strongest biomarkers really only emerged on the expanded SomaLogic or Olink platforms," he said. He cited as an example the protein GDF15, which showed in the study the strongest link to dementia of all the potential markers identified.
Another challenge was accessing large sample cohorts with follow-up spanning two to three decades, Walker said, noting that there are relatively few such resources. For their discovery work, the researchers used the Atherosclerosis Risk in Communities (ARIC) study, which had 25 years of follow-up.
Finding additional cohorts for validation of their initial results was challenging, however.
"We couldn't find an exact [cohort] to replicate, but we were able to do some pseudo-replications with cohorts that had different structures," he said.
Using the SomaScan platform, Walker and his colleagues measured the expression levels of 4,877 plasma proteins in 10,981 subjects, identifying 26 with significant associations with the development of dementia after 25 years and another six with significant associations with the development of dementia 15 years after baseline.
They then attempted to replicate their findings in several additional cohorts, including a subset of the ARIC cohort, a 972-subject cohort from the European Medical Information Framework for Alzheimer's Disease (EMIF-AD) study, and a 1,834-subject cohort from the Whitehall II study. They found that 15 of the 32 potential markers replicated in either the EMIF-AD or Whitehall II sets.
The researchers developed a model using expression levels of 13 proteins to predict all-cause dementia. It performed with an area under the curve (AUC) of 0.66, below the AUC of 0.77 for a model consisting of demographic and cardiovascular risk factors and APOE4 status. Adding the protein markers to the latter model boosted the AUC slightly, to 0.78.
The researchers also looked for causal roles for the proteins in the development of Alzheimer's using bidirectional two-sample Mendelian randomization, identifying the proteins SERPINA3 and CLSTN3 as being potentially causal. Performing the Mendelian randomization in the opposite direction, they identified Alzheimer's as a potential cause of changes in expression levels of nine of the 32 markers.
The finding, Walker noted, indicates that dysregulation at the protein level due to Alzheimer's can be detected as early as a person's 40s or 50s.
"We found one or two causal proteins, but the bigger story is that there is peripheral biology and dysregulation apparent in the fourth or fifth decade of life in those who go on to develop dementia 20 or 30 years later," he said.
Walker said the researchers aim to follow up their results in several ways.
"The proteins that we identified as potentially causal we want to pursue mechanistically to see if they are something that is targetable [therapeutically]," he said.
Additionally, he said, exploring the different biological pathways the different markers are involved in could help researchers better understand the heterogeneity of the pathophysiology that can lead to Alzheimer's disease.
"We think that amyloid and tau are necessary but not necessarily sufficient," he said. "We think that other things like proteostasis breakdown, immune dysfunction, synaptic dysfunction may not happen in everyone, but we can say for a person who is at-risk, OK, this dementia may be driven by proteostasis dysfunction or immune dysfunction — these aspects of biology are also contributing to disease progression."
"I'm interested in the pathway-specific prediction of disease — how the breakdown in a certain aspect of biology is predictive of some adverse neurocognitive outcome in the future," he added.
In the near term, Walker said the researchers aim to further validate the markers they identified, and the potentially causal markers in particular.
"The big thing next is how do we de-risk and validate these?" he said. "That's what we are trying to figure out. Do we use animal models? Do we use IPSCs? We're looking into that."