Immunotherapy has transformed cancer treatment in just a few years, and studies presented at the AACR Annual Meeting show how proteomics will further unlock immunotherapy's potential and help bring the next generation of therapies to market.
Several studies presented at the 2023 American Association for Cancer Research (AACR) meeting by mass spectrometry (MS) proteomics specialists Biognosys and collaborators showcase how MS technologies can be applied at every step of the immuno-oncology drug development pipeline, from target discovery and immunopeptidome profiling to defining and measuring clinical biomarkers.
Discovering Novel Targets in Immuno-Oncology
Mass spectrometry proteomics can identify and validate novel targets expressed on the surface of immune cells to support the discovery of novel therapeutics that harness the power of the immune system to seek out and destroy cancer cells within the body.
In collaboration with Genmab, Biognosys' TrueDiscovery mass spectrometry platform was used for deep, unbiased, label-free whole-proteome analysis of non-activated and activated primary human T lymphocytes, and the data was compared with the results from quantitative antibody-based flow cytometry (QIFI).
TrueDiscovery achieved high sensitivity and robustness compared with other analytical techniques, with similar results obtained from samples of 100,000 cells as with samples of 2 million cells (see figure 1). The technology works on samples as small as 2,500 cells, although the detection of low-abundance proteins is less reliable.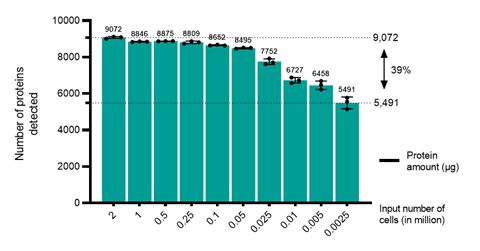 This ability to run high-throughput discovery and targeted assays on small samples demonstrates the utility of mass spectrometry proteomics for target discovery and validation in immuno-oncology. This technology has the potential to supersede antibody-based assays such as flow cytometry by removing the need for costly and time-consuming antibody development.
Applying Immunopeptidome Profiling In Immuno-Oncology
Immunopeptidomics — the study of the small peptide fragments displayed on the surface of cells by components of the immune recognition system — is fast gaining interest in the world of cancer immunotherapy. Potential applications include personalized cancer vaccines and the identification of biomarkers of response to immunotherapy for patient stratification.
Mass spectrometry is currently the only technology that can analyze immunopeptide profiles of biological samples at depth. However, the widespread adoption of MS immunopeptidomics has been limited by the need for relatively large tissue samples and a lack of scalability.
In collaboration with oncology biobanking specialist Indivumed, Biognosys applied a modified TrueDiscovery high-throughput mass spectrometry workflow to needle biopsy samples of fresh frozen tissue from 20 patients with colorectal cancer characterized as having high microsatellite instability.
More than 131,000 unique immunopeptides were characterized from just 15 mg of tissue per sample — on average, 10,629 class-I and 15,100 class-II immunopeptides — with significant inter-patient heterogeneity. There was a significant correlation between the mutational burden and the number of detected neoantigens in the patient cohort, suggesting that the genetic makeup of the cancer might influence the repertoire of presented neoantigens and impact immune surveillance and response to immunotherapy.
Quantitative Biomarker Analysis for Clinical Immuno-Oncology Research
The use of biomarkers increases the chances of clinical trial success, including early-stage exploratory biomarkers. Mass spectrometry proteomics also has an important role to play in clinical cancer research, not just in biomarker discovery but also in the form of targeted panels for patient stratification and monitoring of pharmacodynamic signatures of response to therapy.
For example, the PRINCE randomized phase 2 clinical study led by the Parker Institute for Cancer Immunotherapy (PICI) reported significantly improved one-year overall survival for patients with metastatic pancreatic cancer treated with nivolumab and chemotherapy, but not for sotigalimab and chemotherapy or a combination of all three.
Unbiased proteome-wide mass spectrometry profiling of pre-treatment depleted blood plasma samples from more than 200 participants using Biognosys' TrueDiscovery platform identified 2,434 proteins and thousands of modified peptides across the two cohorts.
By mapping outcomes against these proteomic profiles, it was possible to identify several unique predictive biomarker signatures of response to therapy. These biomarkers included many proteins involved in aspects of the immune response, including T-cell responses and neoantigen generation. This analysis was also extended to the identified peptides, revealing a number of predictive peptides, likely cleavage products, as well as predictive post-translational modifications — information that is only possible to uncover with the unbiased proteome-wide approach of mass spectrometry — highlighting the value of this technology for clinical immuno-oncology research.
Moving from discovery to targeted proteomics, Biognosys' TrueSignature provides a fully quantitative analysis of a multiplexed panel comprising more than 500 plasma proteins (more than 800 peptide analytes in total). Analysis of 180 samples from patients with five different cancer types (lung, colorectal, pancreatic, breast, and prostate cancer) and age- and gender-matched healthy subjects demonstrated absolute quantification across all samples. The study validated the expression profiles of known biomarkers in patient plasma, including many relevant immunological biomarkers, and demonstrated the ability to stratify patients into healthy versus early- or late-stage disease groupings based on biomarkers alone (see figure 2).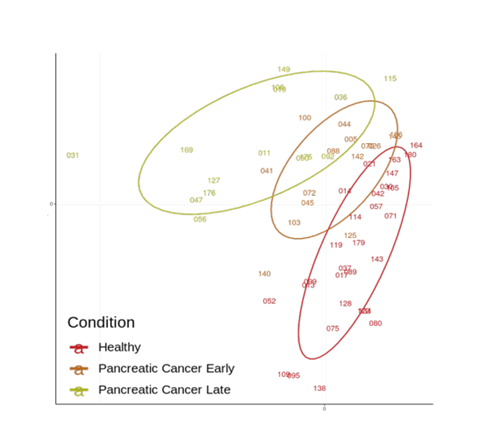 Targeted mass spectrometry proteomics provides precise protein target quantification of liquid biopsy samples across a multiplexed biomarker panel, showing that this technology is ready for routine analysis of biomarkers in clinical research.
Supporting the Next Generation of Immunotherapies
Mass spectrometry proteomics has wide applications in oncology drug development, including the latest immunotherapy approaches. Unlike affinity-based proteomics approaches, mass spectrometry works the same across all sample types and species and is therefore highly transferable across all phases of the drug development pipeline.
These latest studies demonstrate that mass spectrometry proteomics is an indispensable tool for immuno-oncology drug development, from initial drug discovery all the way through to clinical trials.
Biognosys provides a range of mass spectrometry solutions for biopharma, including TrueDiscovery — unbiased, whole-proteome discovery proteomics to uncover valuable novel biomarkers in preclinical and clinical phases — and TrueSignature, targeted custom and predefined panels for clinical biomarker analysis available as a contract research service. Find out more at Biognosys.com.