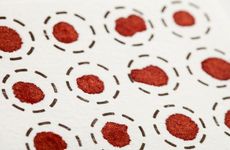 NEW YORK (GenomeWeb) – Uppsala University researchers have demonstrated that proximity extension assays (PEA) are capable of measuring as many as several hundred proteins in dried blood spot samples stored for up to 30 years.
Published last week in Molecular & Cellular Proteomics, the study supports arguments that dried blood spots might prove a useful proteomics sample source, potentially enabling applications like more convenient and cost-effective biobanking and longitudinal patient monitoring.
Typically consisting of microliter volumes of blood spotted and dried on filter paper, dried blood spots offer potentially significant advantages compared to traditional blood draws. Perhaps most notably, because they can be stored and shipped without refrigeration, they can be sent through standard mail. Conventional blood draws, on the other hand, require rapid, cold shipping via services like FedEx, which are much more expensive.
Additionally, because dried blood spots use a finger prick as opposed to conventional phlebotomy, patients could conceivably draw samples themselves without needing to visit a doctor's office, which could open up a number of applications around, for instance, longitudinal monitoring of chronic conditions or even basic wellness monitoring.
Dried blood spots have long been used in applications like drug development and newborn testing, but they have yet to make their way into clinical testing more broadly. This is due significantly to the fact that conventional immunoassays, which are widely used for protein measurements in the clinic, are poorly suited to analyzing dried blood spots given their limited sample volume, said Ulf Landegren, professor of immunology, genetics, and pathology at Uppsala and senior author on the paper.
He added, though, that the rise of new clinical proteomic technologies like mass spectrometry and the PEA technique used in the MCP paper could make dried blood spots an attractive sample source for clinical applications.
In addition to his position at Uppsala, Landegren is also a co-founder and director at Olink, a biotechnology company launched in 2004 to commercialize technologies developed in his lab. The company split into two companies last year, Olink Bioscience and Olink Proteomics, the latter of which holds rights to the PEA technology. PEA uses pairs of antibodies linked to DNA strands that, upon the antibodies binding to their target, are brought into proximity. They are then extended by a DNA polymerase that creates a new sequence that can be used as a surrogate marker for the target protein.
Because two antibodies must bind for a signal to be generated, the assay significantly reduces background, which ups sensitivity and specificity of detection. This enables it to work with very limited sample volumes and also allows for much higher levels of multiplexing than is possible with conventional immunoassays.
Olink sells the PEA technology under the name of Proseek. It began offering it as a single-plex assay in 2011 and launched a 96-plex version in March 2013. In 2014, the company signed a co-marketing deal with Fluidigm, through which it offers the 96-plex assay on Fluidigm's BioMark HD real-time PCR platform, which allows researchers to measure in a single run the levels of up to 92 proteins in as many as 96 samples.
Speaking this week, Landegren suggested that PEA's high multiplexing capabilities and low sample requirements make it well suited to measuring proteins in dried blood spots.
"I think that normally you would not have enough protein for the standard immunoassays, and also the problem of multiplexing has been difficult to overcome," he said. "So I think PEA is the perfect [technology] for dried blood spots."
In the MCP study, Landegren and his colleagues looked at how effective the method is for measuring proteins in biobanked dried blood spot samples stored for up to 30 years. Using multiplexed PEA measurements of 92 cancer-related proteins they found that proteins stored in this way were, by and large, stable over the course of decades and could be accurately measured using the PEA technique.
More specifically, they found that the drying of proteins only slightly affected protein measurements and did so in a reproducible manner.
They also found that while the detection of some proteins was not altered by the length of storage, the abundance of many proteins changed after ten years of storage. Overall, they noted, levels of 34 percent and 76 percent of the measured proteins, stored at +4°C and -24°C, respectively, were unchanged after 30 years, while "levels of others decreased slowly during storage with half-lives in the range of 10 to 50 years."
In the case of these altered proteins, "median protein abundance had decreased to 80 percent and 93 percent of starting levels after 10 years of storage at +4°C or -24°C, respectively," they added.
Uppsala researcher Johan Björkesten, first author on the paper, noted that the conventional plasma samples the authors compared their dried blood spot measurements to were stored at -70°C, which could have accounted for the observed decreases in abundance.
"We don't know to what extent it's a matter of being dry or being wet or if it's a matter of being [stored at] minus 24 versus minus 70. We suspect the latter," he said, adding that he and his colleagues would likely recommend that dried blood spots collected for biobanking purposes be stored at -70°C like conventional samples.
Landegren said that the researchers were "somewhat surprised about this [result] and the ability to measuring all the [assayed] proteins," he said.
"Most people have used mass spec before for [larger]-scale [dried blood spot] studies, but now with this protein extension assay, it works very well and the proteins are really stable," Björkesten added.
Among the leading proponents of exploring dried blood spots as a proteomic sample source has been Leigh Anderson, CEO of SISCAPA Assay Technologies, which has developed five- to 20-plex protein panels that can be measured in dried blood spots by mass spec with coefficients of variation in the range of 5 percent or less.
Diagnostics company Applied Proteomics (API) has also begun exploring dried blood spots, which company officials have said could allow it to significantly lower the cost of its mass spec-based tests for colorectal cancer.
In a poster presented at the Association of Biomolecular Resource Facilities annual meeting in March, API demonstrated a shotgun proteomics-based approach that used dried blood spot samples combined with spiked-in stable isotope-labeled peptide standards to quantify of hundreds of proteins.
Landegren said that Olink Proteomics, which assisted in the MCP study, is interested in dried blood spots for applications including wellness monitoring, though he noted that the company has no short-term plans to enter this area.
He said the researchers are also in discussions with clinical colleagues administering cancer immunotherapies about using dried blood spots to sample and monitor proteins in patients undergoing such treatment.
He suggested as well that the ease of sampling and storage with dried blood spot samples might allow researchers to build denser biobanks that could prove useful for applications including protein biomarker research.
"I think there would be potentially a very great interest in being able to use this to monitor not just health from day to day in wellness studies, but also as a way of securing access to samples at the time when you would want to make the diagnosis," he said. "We always get there too late. We have people who manifest disease, and then we wish we had a sample three years earlier when we might have been able to do something about it."
"Now if you have these very dense biobanks, then you could potentially go back to samples taken before people knew that they had a disease and see if there was there something in their blood that would have allowed us to make the diagnosis," he said.