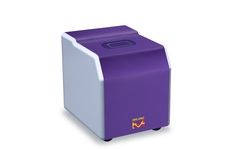 NEW YORK (GenomeWeb) – MilliporeSigma is developing a new research-use platform for single-molecule biomarker detection called the SMCxPRO, with the expectation to begin shipping units in the second half of this year.
"It's a highly sensitive, highly accurate, high-speed detection platform," Jason Apter, Head of Research Solutions, Strategic Marketing, and Innovation said. The instrument is only being marketed for protein biomarkers for now, although he said it has the potential to detect nucleic acids as well.
Offering bead-based target capture from plasma samples, the instrument can count single molecules using a proprietary confocal laser optical technology. The instrument handles either 96-well or 384-well plates. For researchers already using the firm's Milliplex enzyme-linked immunosorbent assays, it represents a new level of detection.
"We already have a good menu of protein detection assays, so it was a logical step for us to look at a different sensitivity range," Apter said. "The instrument is very applicable to folks already using our multiplexing platform." It detects proteins at the "femtogram to low picogram" level, he said and the limit of detection could go down with more improvements.
As a benchtop instrument with the footprint of a microwave and an estimated price tag of $80,000 to $100,000 — at least $50,000 less than Quanterix's Simoa HD-1 Analyzer, which sells for around $150,000 — it's an attempt by MilliporeSigma to grab market share in an area that Apter said Quanterix has dominated.
Another instrument to help drive high-sensitivity protein research is a welcome development, Quanterix CEO Kevin Hrusovsky said. "Having two or three really good competitors can really expand the market," he said, especially if researchers start publishing lots of papers featuring the technology. "It's taken a lot of investment to teach people what it is about sensitivity that transforms healthcare." If someone else can chip in, all the better, he said.
The roots of the SMCxPRO can be traced back to 2015, when MilliporeSigma, known as EMD Millipore prior to Merck KGaA's $17 billion purchase of Sigma-Aldrich, acquired the rights to the life sciences business of single-molecule counting technology firm Singulex.
Singulex has been developing protein and metabolite quantitation technology for more than a decade, offering the Erenna platform for several applications. The same immunoassay technology from that instrument drives the new SMCxPRO. MilliporeSigma has added laser optics and photon counting technology informed by its Amnis imaging flow cytometry instruments.  
"What that allows for is the sensitivity to optimize the signal-to-noise profile," Apter said. "We've reduced the overall calibration time and sample carryover."
Development started around 18 months ago and MilliporeSigma will have units ready to ship come the third quarter.
The firm announced the instrument at the recent American Association of Cancer Research meeting in Washington, DC because it has plenty of overlap with the market envisioned for the SMCxPRO, a cross section of its existing customers from pathology labs, proteomics researchers, pharmaceutical R&D, and the like.
"There's an addressable market that actually needs to look for low-abundance biomarkers," Apter said. "They're looking for low-abundance stuff that they're not able to detect at the nano- and picogram scales," perhaps in complex samples such as cerebrospinal fluid.
Pharmaceutical target discovery is just one potential application for the SMCxPRO. "As people start to find new markers that they couldn't see before, this can open different classes of targets within drug discovery," he said, adding, "Quanterix has kind of had the corner on this market."
It's a market that has only grown over recent years. Several years ago, Quanterix placed the total addressable market at around $8 billion. "Now we think it's $38 billion," Hrusovsky said.
Based on specifications provided by MilliporeSigma, for the same pico- to femtogram per mL sensitivity as Simoa, read time can be as low as 15 minutes (for 96-well plates), although total assay time can be 4 hours, compared to 2 hours. The SMCxPRO is not fully automated and will not have multiplexing capability in the first generation, but has a much smaller footprint.
Assay kits (averaging $800 for SMCxPRO) and per-sample price are approximately the same, MilliporeSigma said.
The SMCxPRO has been in beta testing for three or four months now, but MilliporeSigma declined to disclose any of its partners. Already, the firm has ideas on how to improve the system once it gets launched. Multiplexing is an obvious one — it's designed to eventually be able to handle four analytes — and Apter said the sensitivity can still be improved.
MilliporeSigma will also mirror Quanterix when it comes to custom assay development. Apter said that will be available to customers on day one, along with a large menu of existing immunoassays, including proteins like interleukins, interferon-gamma, and VEGF. "Because it uses the similar approach of our multiplex assays, we're able to leverage that menu," he said. "They're easily transferrable onto this platform."
While the sensitivity might be similar, the fact that Simoa can be used for in vitro diagnostics while SMCxPRO can't could be a difficulty for MilliporeSigma. Pharma customers want the option to develop an IVD, Hrusovsky said.  "They think they're eventually going to measure drug effectiveness sand toxicity with [the platform]," he said. "They don't want to touch us unless there's that pathway."