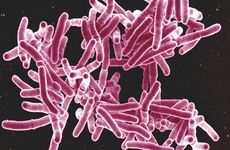 NEW YORK (GenomeWeb) – The US Department of Defense has awarded nearly $10 million in funding to a Harvard School of Public Health-led research consortium using genetic and chemical approaches to identify new drug targets for tuberculosis (TB).
In addition to Harvard, the consortium includes the University of Massachusetts, Worcester; Cornell University; Rutgers University; Texas A&M AgriLife Research; and biotech firm X-Chem. According to the award abstract, the partners aim to identify TB protein targets and corresponding small molecule inhibitors that can be used to develop drugs to shorten therapy for both drug-sensitive and drug-resistant TB.
To do so, the consortium will use X-Chem's DNA-encoded small molecule libraries — which contain over 120 billion compounds — to identify and chemically optimize compounds that block specific Mycobacterium tuberculosis proteins and kill intact bacteria. At the end of the project, the consortium expects to have assembled a list of targets for rapidly killing M. tuberculosis during infection and chemically optimized inhibitors, as well as with structural information that can aid in further the compounds' preclinical development.
"Tuberculosis is a growing public health threat worldwide," Harvard's Eric Rubin, who is heading the consortium, said in a statement. "The identification of novel targets and drug leads is extremely important in the fight against bacterial resistance and the comeback of this deadly disease. X-Chem's DNA-encoded screening platform is uniquely suited for this effort because of the size and chemical diversity of the library."