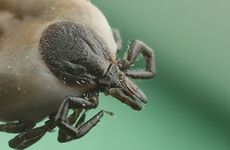 NEW YORK (GenomeWeb) – Backed by a recent $3 million fundraise, Ceres Nanosciences is looking to further develop its Lyme disease diagnostic with an eye toward moving it into settings like doctors' offices and pharmacy clinics.
The company has been offering the test through a limited access program for more than a year. Now it plans with the new funds to launch a larger clinical study and undertake product development work aimed at establishing a point-of-care version of the test, said Ceres CEO Ross Dunlap.
The test is based on Ceres' Nanotrap technology, which uses hydrogel nanoparticles functionalized with internal affinity baits to enrich target analytes for downstream analysis. The system uses chemical dyes to bind analytes of interest, concentrating them inside the nanoparticles and protecting them from enzymatic degradation, thereby improving the sensitivity of the ultimate clinical detection method — for instance, ELISA or mass spec.
The Lyme assay detects a specific portion of the outer surface protein A (OspA) of Borrelia, the tick-borne organism that causes Lyme disease. Existing Lyme tests typically measure a patient's immune response, looking for antibodies to the disease in a patient's blood. However, these tests can often give false negatives or inconclusive results, particularly early in the disease when a patient's immune response may not yet be large enough to be detected.
There are also PCR-based tests that detect Borrelia nucleic acids directly, but, due to the small concentration of Borrelia in patient blood, these tests are often not sensitive enough to detect the disease.
This is likewise an issue for Ceres' protein test, but one the company believes it can overcome using its Nanotrap platform.
In a 2015 paper in the Journal of Translational Medicine, the company and affiliated researchers looked at 24 patients with a clinical diagnosis of Lyme disease, 12 of which had positive serology, five of which had negative serology, three for which the serology was indeterminate, and four for which serology was not tested. All 24 of these patients tested positive for Lyme disease using the Ceres test.
They also looked at 120 patients without Lyme disease, three of whom were symptomatic and 117 of whom were asymptomatic. All 120 tested negative using the Ceres test.
The results indicate the test could be helpful in providing more rapid and more confident diagnoses in suspected cases of Lyme infection.
One of the challenges of developing a Lyme test is the lack of a current gold standard for diagnosing the disease, Dunlap said. He noted that this has led the company to focus on testing patients with acute-stage disease, where a diagnosis can be made with reasonable confidence using both serological testing and clinical symptoms as well as the presence in many patients of a characteristic bulls-eye rash.
The fact that acute-stage diagnoses can already be made with reasonable confidence could suggest limited need for a new test like Ceres', but Dunlap said that its potential to offer faster and more accurate results than existing serological tests could make it attractive to doctors.
"The test could be very beneficial in that it's a simple test," said Gilbert Irwin, an internist and infectious disease specialist with Novant Health. "You get a urine specimen and we can do it rapidly in the lab, and if it's positive, it'll be positive long before the antibody test. So, you're making the diagnosis earlier and before the disease has gotten more severe."
Irwin was a co-author on the JTM paper and helped with recruitment of patients for the study. He suggested that, while most doctors would not wait for lab results to begin treating a suspected Lyme case, the Ceres test could be a useful tool for confirming a diagnosis.
"Clinically, if you suspect an infection and you know what to treat it with and there is a treatment available, well, you go ahead and treat that patient," he said. "And then the laboratory test, which comes in one, two, or three weeks later, and confirms or denies your suspicions."
"The treatment for most people is very benign, and it's cheap for the most part versus letting that patient smolder for a couple weeks until they have a positive serological test and maybe then have more catastrophic damage to their body organs," he added.
Dunlap noted that by aiming for implementation at point-of-care, Ceres hopes to eliminate this waiting period altogether. The company currently offers the test out of a CLIA lab at George Mason University, where the Nanotrap technology was originally developed by researchers including company Co-founders Emanuel Petricoin and Lance Liotta. However, Dunlap said the company's ultimate business model for the test relies on placing it in doctors' offices to allow physicians to obtain test results in the course of a patient visit.
"That is why we went after this venture capital, so we can now adapt the [CLIA-based] test to a point-of-care setting," he said. In addition to the advantage of rapid results, offering the test at point-of-care could allow the company to price it very inexpensively, Dunlap said, suggesting that the price could ultimately settle at a point where insurer reimbursement would not necessarily be needed.
"Especially because it is a urine-based test, you can reduce the cost significantly by having a test like this at point of care," he said. "It can be performed immediately, instead of a blood test that has to be drawn and then sent to a reference lab."
To move into point of care, Ceres needs to develop a version of the test, including the Nanotrap platform, that can be run in this setting. To an extent, it has already begun tackling this challenge through tuberculosis work funded by the Bill & Melinda Gates Foundation. In 2015, the company received a $746,000 grant from the foundation to develop a urine-based tuberculosis test that could be integrated into a simple, user-friendly test format such as a pregnancy test to enable diagnosis of the disease without the need for highly-trained personnel.
The year before it received a separate $430,000 grant from the Gates Foundation for work on a saliva-based Ebola test.
In addition to working on development of a point-of-care test, Ceres is also planning a clinical study looking at the performance of the assay in early-stage Lyme patients from across different parts of the US. To date, the company's test development work has drawn largely on patients from the Norther Virginia area.
Another key aspect of developing the point-of-care test will be taking it through the US Food & Drug Administration, Dunlap said. "That's one of the biggest parts of the program if we are going to deliver a point-of-care test. It has to go through clinical validation and a submission to the FDA. That's a big consideration for how we are developing this test."
The company will fund these efforts using the recently raised $3 million, which was part of a larger Series A round targeting a total of $9 million. The round was led by Concord, Massachusetts-based venture firm GreyBird Ventures, which has said it intends to provide a total of up to $5.5 million in funds over the next year.
Dunlap said the money will also go towards funding the company's business infrastructure with the goal of adding the capacity to tackle what it sees as other promising applications of the Nanotrap technology. The company currently has 11 full-time employees, though Dunlap said it also contracts out significant portions of its work.
This week Ceres also announced it received $750,000 from the US Department of Defense's Defense Advanced Research Projects Agency (DARPA) to develop the Nanotrap technology for detection of Zika and other pathogens.
"We're developing a number of other areas under grant funding, areas with good commercial prospects," Dunlap said. "But our ability to generate some additional data, to do the business development work, and to package our technology to address some of these other needs has been limited because we don't have the bandwidth."