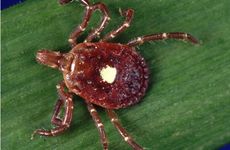 NEW YORK (GenomeWeb) – Sample prep firm Ceres Nanosciences aims to raise $5 million in equity funding this summer to support further commercialization of its urine-based Lyme disease diagnostic.
The company is currently in discussions with several investor groups, CEO Ross Dunlap told GenomeWeb, and plans to use the funds to expand the reach of the test, which it currently offers on a limited, clinical study basis through George Mason University's CLIA laboratory and several private clinics in the Northern Virginia area.
Ceres is now looking to offer the test through additional clinics, Dunlap said. He added that it is also "in discussions with a couple of large hospital networks about opening up our test to their patient networks."
Additionally, he noted that the company is working on what he called a "next-generation" version of the test that it will take through the US Food & Drug Administration, which, would allow Ceres to achieve national distribution for the test.
The test is based on Ceres' Nanotrap technology, which uses hydrogel nanoparticles functionalized with internal affinity baits to enrich target analytes for downstream analysis. The system uses chemical dyes to bind analytes of interest, concentrating them inside the nanoparticles and protecting them from enzymatic degradation, thereby improving the sensitivity of the ultimate clinical detection method – for instance, ELISA or mass spec.
Ceres was launched in 2008 to commercialize the nanoparticle technology, which was developed in the labs of GMU researchers Emmanuel Petricoin and Lance Liotta.
The technology is in theory applicable to biomarker work for a wide range of conditions, but to date Ceres' commercial efforts have focused primarily on infectious disease. Last week the company announced it received a $746,000 grant from the Bill & Melinda Gates Foundation to develop a urine-based tuberculosis test.
Lyme disease is Ceres' lead program. The company's test assays levels of an outer surface protein, OspA, of Borrelia burgdorferi, the organism that causes the disease.
The current gold standard for detecting Lyme disease is serological testing offered by Laboratory Corporation of America and Quest Diagnostics that measure patients' immune response. However, these tests have relatively poor sensitivity and specificity.
Ceres also plans to use money from this summer's fundraising round to support development of the TB test as well as assays for diseases including Ebola and malaria. Last year it received a $430,000 grant from the Gates Foundation for work on a saliva-based Ebola test. 
"Now that we have good feasibility data around other infectious disease markers such as Ebola and malaria and soon, hopefully, TB, there are a lot of other opportunities to develop tests around that data, and we would like to drive a little bit of that on our own," Dunlap said.
The company is exploring several routes to commercializing these tests, Dunlap noted, including licensing to assay developers as well as developing its own in-house assay readouts.
Commercialization "always starts with the fact that we are the supplier of the nanoparticles — we are the supplier of the [Nanotrap] technology," he said. "Then, on top of that, we can license the use of it in commercial diagnostic tests."
He said that Ceres is currently exploring relationships with several large life sciences and diagnostics companies who are interested in incorporating the Nanotrap technology into their products.
"We want to do some initial feasibility legwork to show the compatibility of our technology with their assays," Dunlap said, adding that the planned funding raise would also support this work.
The company is also developing sample collection devices incorporating its particles, as well as an in-house lateral flow rapid diagnostic test (similar to a pregnancy test). While Dunlap noted Ceres could pair its technology with a number of commercially available RDT lateral flow assays, it is working on its own in-house test in case there are compatibility issues with these existing assays.
Dunlap said the company is also continuing the collaboration it established last year with the Translational Genomics Research Institute, which is focused on incorporating the Nanotrap technology into TGen's automated mass spectrometry workflows with the aim of discovering and developing protein biomarkers for conditions including cancer and infectious disease.