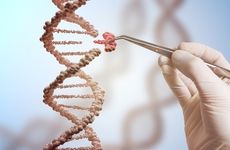 NEW YORK (GenomeWeb) – The US Senate Committee on Health, Education, Labor, and Pensions this week held a hearing on CRISPR genome editing, with senators from both parties quizzing three witnesses from Stanford University, Editas Medicine, and the Johns Hopkins School of Public Health on the latest scientific advances, ethical concerns, and possible regulatory approaches to the breakthrough technology.
Committee Chairman Sen. Lamar Alexander (R-TN) opened the hearing, which was also webcast, with a brief history of CRISPR, its use in agriculture, its recent use in humans, and the possibilities it presents as a disease-correction tool, citing sickle-cell disease as an example. Alexander also noted that it's easy to see how CRISPR could cause some ethical concerns, citing so-called designer babies as one such potential issue. "CRISPR is just one of the amazing discoveries that has come from basic research funded in part by the federal government," he added. "Today's hearing is truly a hearing. I intend to do more listening than talking."
Ranking Member Sen. Patty Murray (D-WA) noted the bipartisan achievement of the 21st Century Cures Act in her opening remarks, saying that CRISPR was a piece of that. She added that the technology has the potential to be used as a tool to answer research questions, tackle disease, and combat the spread of viruses like Zika. But Murray also noted that the research community must ensure consumer safety, and that if congressional oversight of CRISPR science will have any value, it must start with scientific consensus on what is and is not ethical.
The witnesses — Stanford Pediatrics Professor Matthew Porteus, Editas CEO Katrine Bosley, and Jeffrey Kahn, Director of the Johns Hopkins Berman Institute of Bioethics — gave their opening remarks, explaining the general science behind CRISPR, how the US Food and Drug Administration oversees clinical trials related to CRISPR breakthroughs, and the ethical concerns the international community is already discussing within itself as CRISPR science advances.
The senators questioned the witnesses on a number of different topics. Murray asked about the challenges of using CRISPR in immuno-oncology, while Sen. Tim Scott (R-SC) asked how the technology would be used to cure a person with sickle-cell disease. Sen. Maggie Hassan (D-NH) asked about the Broad Institute's recent RNA Editing for Programmable A to I Replacement breakthrough, and how editing RNA is different from editing DNA.
Sen. Elizabeth Warren (D-MA) spoke briefly about wanting to make sure that the rights and privacy of study participants are being protected, both by academia and industry. "Protecting the rights of research participants will only strengthen the work of the scientists and the biotech companies who are doing such exciting work in gene editing," she said.
Alexander asked the witnesses to edify him on how the FDA would be involved in approving any clinical trials or treatments they may develop based on CRISPR technology. He particularly wanted to know if there are any obstacles in the law that may prevent "prompt" approvals. Editas' Bosley and Stanford's Porteus both said, however, that the FDA has efficient review and approval procedures in place.
"The FDA has the appropriate authority and they're exercising it well and thoughtfully, so I don't see any need for any change in legislation," Bosley said.
The senators were also concerned with making sure that the technology is not misused, and that the US sets the tone for what is considered an acceptable application for CRISPR as the technology continues to advance.
Sen. Susan Collins (R-ME) began her questioning of the witnesses by noting that scientific advancements in this field have outpaced regulatory policy, and asked how we ensure that CRISPR breakthroughs are used for good in countries like China or Russia as well as in the US. Kahn responded that the research community has robust structures for oversight, to make sure that the science is used only for what it is intended. Of course, that's easier to do within US borders than internationally, he added, but there's an international dialogue happening, and discussions are ongoing at international summits to come to a consensus.
Importantly, Kahn emphasized, bans on a specific kind of research don't lead to control — they lead to researchers going to countries with more permissive policies. It's smarter to institute stricter controls rather than banning research outright, in order to ensure that responsible science will take place within our borders, he added.
Sen. Tim Kaine (D-VA) also brought up concerns about oversight, asking Kahn about a specific piece of his written testimony in which he described the differences between Canada and the UK when it comes to regulation for scientific research.
"Just last week in Canada, a major group of researchers called for change to their federal law that makes it a criminal offense with penalties of up to 10 years in prison for using gene-editing tools on cells that could lead to heritable genetic change in humans. The concern expressed by the group is that research has been stopped in ways that mean Canadian scientists are falling behind their international colleagues," Kahn's testimony said. "The counterexample is the United Kingdom, where scientists are taking the lead internationally in research involving potential human applications of these technologies. This owes not to lax oversight but rather the contrary — strict oversight with clear pathways for licensure by the responsible regulatory agency, allowing careful and controlled progress with clear reporting and evaluation of results before proceeding, creating a clear path forward."
Kaine noted that regulation is necessary to keep the public safe, but in light of the Canadian example cited in Kahn's testimony, he asked how much regulation is necessary to keep the balance between safety and keeping researchers from fleeing to other countries. Kahn reiterated his belief that the UK presents the right approach. "It's a permissive regime with very tight controls," he said, adding that blanket prohibitions drive science underground, which would cost the US its competitive edge, its leadership position in the research community, and would deprive citizens of the benefits of any data that might be derived from research done on the sly.
As he finished his questions, Scott seemed to echo this discussion with his parting comment, saying, "I will say, Mr. Chairman, that someone, somewhere, some nation will set the ethical boundaries for this conversation going forward and it certainly would be helpful for the United States of America to establish those boundaries to a large extent."