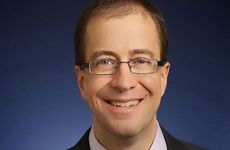 NEW YORK (GenomeWeb) – Eric Dishman isn't losing any sleep over the future of the Precision Medicine Initiative, the million-participant national project prioritized by the Obama administration.
"Change makes humans nervous, and any administration change makes you nervous, because there are priority changes," said Dishman, the former Intel VP who joined the PMI in July as head of the national effort to recruit 1 million participants. 
Launched in 2015 by President Barack Obama, PMI aims to collect medical, environmental, lifestyle, and genetic data on a million participants and apply that information to research that enables more precise healthcare. The goal is to keep participants engaged and contributing data to the study over many years. However, some stakeholders have questioned whether the initiative, seen as an Obama administration pet project, will survive the uncertain political climate and reshuffling budgets and priorities that occur with a changing of the guard at the White House.
"I lived with cancer for 23 years, and everybody gave me doom and gloom every six to nine months," said Dishman, an outsider to Beltway politics. During his battle with a rare type of kidney cancer, Dishman endured 36 treatment plans and survived three near-death encounters, but ultimately benefitted from whole-genome sequencing and precision care, and has been cancer free for four years.
"I learned a long time ago not to spend a lot of energy worrying about things you can't control," he said, reflecting on his own experience and how politics might impact the PMI. "This program is here to stay. How quickly it can ramp to a million people, that depends on budget. One way or another, we're going to get to that million or more people."
In Fiscal Year 2016, Congress appropriated $200 million for the PMI, of which $130 went to the National Institutes of Health for putting the participant cohort together. President Obama requested $300 million for the initiative for FY2017, but those funds aren't yet secure since the new Congress decided to advance a continuing resolution until March 31, 2017, instead of approving the appropriations bill.
However, according to Dishman, NIH's FY2016 funds for PMI should see the program through next year's activities, including starting enrollment, collecting data, initiating pilot projects, and launching a national campaign to raise awareness of the initiative. "For 2017, FY2016 funds have paid for it," he said. "So, we don't see an immediate problem, even if [Congress] came out and said there is no funding for the All of US Research Program," which is now the name of the PMI cohort recruitment effort.
The future funding prospects for PMI, while uncertainties remain, looked a bit more secure as of Wednesday evening, as the House of Representatives was readying to pass the 21st Century Cures Bill, which includes $4.8 billion in additional funds for the NIH over a decade and $1.4 billion for the PMI. The bill is slated to go before the Senate next week.
Regardless of where the Cures and appropriations bills end up, NIH planned PMI's budget carefully, with potential administrative changes in mind. "We were conservative on budget long before we knew the results of any election," Dishman said, recognizing that in Congress and in government "things can change."
The White House and members of Congress had been discussing increasing the funds for the All of US Research Program from $130 million in the first year to $230 next year and up to $430 in the fourth year, when NIH has projected it will reach its enrollment goal. If the reality falls short of these working estimates, it might mean that the project takes longer to enroll one 1 million volunteers and is slower to collect, analyze, and return certain types of data, Dishman acknowledged.
"The best way to assure future funding is to succeed with the funding we've got and show results," he added.
In the five months since he's been on the job, Dishman has been pushing his team to set up the necessary infrastructure so enrollment can begin by the first quarter of 2017. He and his colleagues are responding to protocol revisions requested by the PMI's institutional review board by year end. "Our draft protocol was very well received and the feedback they've given us on revisions are imminently doable," Dishman said. 
I hope the next administration can insist on that kind of cross-agency, cross-department collaboration. That kind of bully pulpit from an [HHS] Secretary and a President saying, 'I want the parts of government to work well for the American people, and not just in siloes,' would be great.
In addition to final protocol approval, before enrollment can begin, future participants, providers, and technical staff need to test of all aspects of recruitment. Digital components, from smart-phone interfaces that participants will use to partake in the initiative to the back-end infrastructure need to be security tested. Processes for collecting blood and other biological samples need to be standardized. Training for those helping recruit and educate people in the community needs to be in place, and communication materials about the project need to be finalized.
Assuming a flat budget of $130 million, Dishman still expects to launch whole-genome sequencing and genotyping pilots in the second half of 2017. "How quickly we can ramp up from pilot to full production will depend a lot on budget," he said. The plan is to first scale up genotyping on arrays in 2018, and transition to whole-genome sequencing 18 to 20 months later, or once it becomes cheap enough to test a million people.
By the time enrollment starts next year, Dishman hopes to announce a rough plan for bringing genomic data into the PMI, which a working group will iron out in the coming months. "We're very intentionally not collecting genetic information right out of the gate, so we can get a good 5,000 to 10,000 people in the cohort, and we can start engaging with them on what their expectations, beliefs, and desires are around genetic testing," Dishman said, noting that returning genetic information related to disease will be a tricky aspect that will need to be figured out.
Despite the current political uncertainty, Dishman believes that the PMI has strong bipartisan support, a sentiment shared by other stakeholders in and outside of Washington, who believe precision medicine advances are critical to maintaining US leadership in the life sciences. 
"I actually asked appropriators before I left my life in Silicon Valley in the West Coast to come east to the DC area, 'How's the support for this?'" recalled Dishman. "Even after the election, many of those members of Congress have been saying that precision medicine … is a key capability that we can't cede to the rest of the world in a global competitive environment." 
Dishman has been impressed with how successful the Obama Administration has been in bringing together different government entities around the PMI. The initiative involves the NIH, National Cancer Institute, the Office of the National Coordinator for Health Information Technology, and the US Food and Drug Administration, but others from the Department of Defense, Department of Energy, the Office of Civil Rights under HHS, have contributed expertise, as have academic groups and industry players. 
"I hope the next administration can insist on that kind of cross-agency, cross-department collaboration," Dishman said. "That kind of bully pulpit from an [HHS] Secretary and a President saying, 'I want the parts of government to work well for the American people, and not just in siloes,' would be great."
"If we don't get that air cover or support, it's all right," he went on. "We've developed relationships, for those of us who are feds and not political appointees, [and will] continue to maintain those collaborations as much as possible."