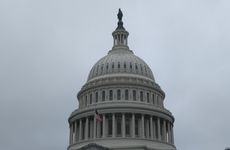 This article was corrected to note that two senators and two representatives are founding members of the caucus, not four senators.
WASHINGTON, DC – In an intensely divided Congress, legislators from both sides of the aisle have launched a caucus to help their colleagues find common ground around policies to improve access to genetic testing and personalized medicine. 
The four lawmakers — Senator Tim Scott (R-SC), Senator Kyrsten Sinema (D-AZ), Representative Eric Swalwell (D-CA), and Representative Tom Emmer (R-MN) — who earlier this month formed the Congressional Personalized Medicine Caucus, are betting that once their Republican and Democratic colleagues have a better understanding of how genetic testing can impact families with children suffering from rare diseases, help identify the treatments patients are likely to benefit from, and lower healthcare costs, they will want to reach across the aisle and work to advance policies to improve access to critical treatments and tests.
"Precision medicine is innovating at a breakneck speed," said Emmer today at the first briefing of this newly formed caucus, hosted by the Personalized Medicine Coalition. "Unsurprisingly, Congress is struggling to keep up."
Cynthia Bens, senior VP for public policy at PMC, said that the advocacy organization spent the past year meeting with congressional offices to gain "a temperature check" on their understanding of personalized medicine and where they stand on policies to advance the field. The organization realized that legislative offices largely think of personalized medicine and genetic testing in the context of cancer, and seemed unaware that today genetic information is being used to diagnose and guide therapy decisions in a variety of diseases outside of cancer, particularly for rare conditions.
Bens acknowledged that because the early advances in personalized medicine have been in cancer, the PMC highlighted these successes and had a hand in shaping this perspective of personalized medicine. However, the coalition, with the help of this caucus, is hoping to update Congress on the current state of personalized medicine and where it is headed in the future, so legislators can advance policies that facilitate the integration of genomic technologies into patient care, she said.
If the US Food and Drug Administration's therapy approvals are any indication of the current state of personalized medicine, cancer still leads the way. In 2019, nearly 75 percent of the 27 personalized drugs the FDA approved were for precision oncology indications. However, the agency also approved new personalized treatments for a number of rare diseases, such as cystic fibrosis, Duchenne muscular dystrophy, and a gene therapy for spinal muscular atrophy.
At the briefing, experts from two molecular diagnostic companies, Tempus and Adaptive Biotechnologies, and the Mayo Clinic, discussed how they're working to advance personalized medicine beyond cancer. Tempus, which already has a large footprint in cancer care with its next-generation sequencing tumor profiling services, has plans to enter other disease settings such as cardiology, mental health, and diabetes.
Lauren Silvis, senior VP of external affairs at Tempus, said that the company is currently working with more than 55 cancer centers around the country to create a database of structured genomic information linked to patients' clinical records. Such a database will be critical to gleaning insights into what's working and what's not working in personalized medicine in cancer patients.
However, in recently joining Tempus, "one of the first questions I had … was, 'And what else would you like to go into besides oncology?'" said Silvis, who was previously at the FDA as the chief of staff under former commissioner Scott Gottlieb. "At the FDA we used to look at the innovations coming out of the Oncology Center of Excellence and … [ask], 'What can we learn from them? What can we take from what we were able to do in cancer, where the science may be really well developed, and apply that to other disease areas?"
Adaptive Biotechnologies in 2018 received FDA authorization for its next-generation sequencing test, ClonoSeq, which gauges minimal residual disease in acute lymphoblastic leukemia and multiple myeloma patients, and assesses how well they respond to treatment and how long they might remain in remission.
Lance Baldo, chief medical officer at Adaptive, said at the briefing that the company has also been in discussions with the FDA to bring to market a test that can diagnose Lyme disease by analyzing T cells and determining the antigens patients have been exposed to. This is an area of high unmet need, Baldo said, since patients can live with the disease for years without being diagnosed.
The Mayo Clinic is among the early adopters of precision oncology approaches in the country. Keith Stuart, director of Mayo's Center for Individualized Medicine, noted that oncologists readily order ClonoSeq for ALL and multiple myeloma patients, and more than 5,000 patients at the Minnesota-based healthcare system have been sequenced via Tempus.
Outside of cancer, he highlighted that Mayo has been a leader in implementing pharmacogenomics to determine the right treatments for patients. He noted that Mayo is getting ready to publish data from a 5,000-patient study in partnership with the National Institutes of Health looking at the ability of PGx testing to improve outcomes in patients with myocardial infarction and treated with clopidogrel (Bristol-Myers Squibb's Plavix).
FDA's recent actions against labs marketing PGx tests without its approval has caused confusion in the industry. Although this specific topic didn't come up at the meeting, experts at the briefing recognized that regulation and reimbursement are critical to patients getting access to personalized medicines and genetic tests and may need to be addressed by Congress.
"In order to bring these developments into the lives of patients, we need to define the regulatory process to ensure that innovation isn't stalled and that it is accessible to more than just the lucky few," said Emmer, who is a representative from Minnesota, where the Mayo Clinic is located.
Some industry observers have predicted that legislators in the House Energy and Commerce Committee may be readying to introduce the VALID Act, which seeks to modernize the regulatory framework for diagnostics. It remains to be seen if this bill will make any headway given the current preoccupations and divisions on Capitol Hill, but if passed, it would have a big impact on genetic tests performed at laboratories central to the delivery of personalized care.
The FDA provided significant input on the draft version of the bill last year. "In diagnostics and personalized medicine, the agency has been clear that there could be a better way to do it," said Silvis, who was at FDA when it provided technical assistance on VALID. "There could be more modern authorities that might make things more efficient."
VALID would codify the agency's authority to regulate lab-developed tests —  a historically controversial topic in the lab industry —  and would create a precertification program aimed at making regulations less burdensome for industry. "We're hopeful to see those ideas work their way through Congress," Silvis said.
Reimbursement has also been challenging for the genetic testing industry, especially as utilization has increased in cancer and rare disease settings, and as the field has shifted from single-gene tests to large NSG panels.
Peter Halliburton, the father of a child with a rare epileptic condition caused by a mutation in SynGAP1, described how difficult it was to get insurance coverage for the genomic testing that would ultimately lead to a diagnosis for his son Carter.
Carter, who is now a few months shy of three years old, was born healthy. But within months of his birth the family began noticing muscle weakness and other developmental issues that set them on a diagnostic odyssey. After an MRI, electroencephalogram (EEG), and microarray testing all came back normal, a geneticist recommended whole-exome sequencing, but told the family that insurance probably would not cover it because Carter's condition hadn't been diagnosed. The child would eventually be diagnosed with epilepsy, but even then there was resistance from the insurance company to cover whole-exome sequencing.
At this point, Carter was having between 50 and 100 seizures per day and the family was considering paying $4,000 out of pocket for whole-exome sequencing. One of Carter's doctors told Halliburton about Behind the Seizure, a program through which molecular diagnostics firm Invitae provides free genetic testing to children with epilepsy in partnership with drugmakers.
Testing through that program revealed last year that Carter had a mutation in SynGAP1, which is known to cause a severe form of epilepsy, intellectual disability, autism, difficulty speaking, and muscle weakness. Halliburton noted that due to limitations in access to genetic testing only 500 patients have been diagnosed with this epileptic condition, but estimated that there may be as many as 1 million patients globally.
After learning about the mutation, Halliburton and his wife were able to get involved with the SynGAP Research Fund, a non-profit that raises money for research into treatments for this rare condition. They connected with other parents through social media to gain advice on how to care for Carter and which medications might better control his seizures. They also tested their daughter through Invitae's program for this mutation, which came back negative.
"Having a diagnosis doesn't make life easy but it makes life easier," Halliburton said, noting that despite the reimbursement difficulties, his son had a relatively early diagnosis compared to other families who have to wait years due to a later onset of epilepsy. "Because we now have a precision diagnosis, when a precision medicine becomes available for this condition, we are going to have access to it."
He encouraged the congressional staffers at the briefing to take back the message to legislators that they should advance policies to fund genetic testing and fund research. 
Swalwell, one of the four lawmakers who started the caucus, last year reintroduced the "Advancing Access to Precision Medicine Act," a bill that would pilot-test whether Medicaid coverage for genomic sequencing for children with undiagnosed conditions will improve their outcomes and reduce care costs. The legislation would also fund a National Academy of Medicine study on how the government can reduce barriers to access for such testing.
"There are so many families that are counting on us to make this right and reduce the diagnostic odyssey that they go on when a child has a disease they don't understand," Swalwell said at the briefing.
"The news of Democrats and Republicans not talking to each other, not working together, is not accurate, as you can tell by this caucus," Emmer said at the briefing, drawing tepid laughter. "Non-partisan, and I emphasize [the word] non-partisan, efforts to increase access to life-saving care should be the top priority for Congress."
Just after the briefing, the leaders from HHS and the FDA testified before Congress on the President's fiscal year 2021 proposed budget. The $4.8 trillion spending plan includes $94.5 billion for HHS, which would shave off 10 percent in funding from current levels and would mandate $1.6 trillion in net health savings, including changes that would reduce federal spending on Medicaid programs. For the FDA, the President is requesting $6.2 billion, a 4.5 percent increase compared to its enacted FY2020 budget.
At the briefing, PMC's Bens noted the increase in the President's budget for the FDA. She and others at the briefing recognized that it will be important to ensure that the agency has sufficient funding to hire and retain experts who can understand the emerging technologies in the personalized medicine space and put forth regulations that ensure patients have access to innovative drugs and tests without being harmed.