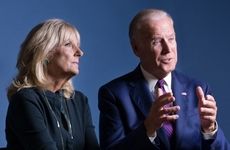 NEW YORK (GenomeWeb) – Vice President Joe Biden and his wife Dr. Jill Biden launched a new venture yesterday called the Biden Cancer Initiative, which they said is intended to help maintain the momentum of projects and initiatives begun under the umbrella of the Cancer Moonshot during the last year of Biden's tenure as VP.
During a panel discussing the new initiative, Biden said that his work with the Moonshot was built out of simultaneous recognitions:  first, that we are in the midst of a dramatic acceleration in our understanding of cancer and in the creation of new tools for treatment and diagnosis; and second, that simple problems like a lack of cooperation, disparities in healthcare access, and the handicaps of the scientific publishing apparatus are a bottleneck to seeing these advances realized to their fullest potential.
Working to advance the Moonshot initiative, Biden said, he developed a recognition of the need to change the culture "of how we wage this war [against cancer.]"
"[President] Nixon meant what he said when we he waged war on cancer, but he had no troops," Biden said. "We have so much more now. We can sequence the human genome, we have computers that can do a million billion calculations per second. … So many incredible breakthroughs … and this panoply of science and technology emerging together gave us some real hope."
As in the Moonshot initiative, Biden explained that his role, and the role of this new venture, will be to catalyze, accelerate, and remove road blocks for the scientific and medical advances already taking place.
"We're not trying to reinvent the wheel [or to duplicate the efforts of other cancer organizations]," he said. "But when the President announced this moonshot … what I found out is that after all my years in public office, "I'm able to convene. And I'm occasionally able to bring people together."
Joining the new initiative's board of directors are Elizabeth Jaffee, deputy director of the Sidney Kimmel Comprehensive Cancer Center at Johns Hopkins, Broad Institute President Eric Lander, and USC professor David Agus, among others.
With the change in administration this past January, stakeholders in the personalized medicine space expressed some anxiety about the fate of the Moonshot, with no guarantees about how it might continue as a governmental program.
During the panel discussion at the announcement of the new venture, Biden said that he has no criticism of the Trump/Pence administration.
However, he said, although Vice President Pence was "very receptive" when he called to pledge his support for continuing the Moonshot, it became clear that it wasn't going to be picked up in the same way. "Everything we put into place is still in place, but there is no mission control," Biden said.
"When John F. Kennedy talked about his Moonshot … the one line in that speech everyone can quote is 'because we refuse to postpone to tomorrow what we can do today.' … We refuse to postpone. That's what this is all about."
According to Biden, the initiative will seek to raise about $30 million though to support building a full-time staff, but it is not meant to be a source of funding for specific scientific initiatives.
Instead the organization will be focused on shepherding the advancements already in place, helping to put new partnerships into place and secure commitments to data sharing, genomic research, and collaboration from various stakeholders.
The Bidens and their colleagues in this new venture didn't share details about specific programs or efforts that the initiative is taking on, but leaders were clear that a central focus will be on preserving and furthering the efforts that began under the Moonshot.
For example, after the announcement of the Moonshot in 2016, Biden convened a group of researchers, oncologists, and patient advocates for a so-called Blue Ribbon Panel, tasked with identifying priority research targets to improve early cancer detection and precise and personalized treatment.
Last fall, that panel presented 10 recommendations, several of which were focused on building and using molecular and genomic data to guide cancer care and develop early detection and intervention tools.
Among these recommendations, the panel called for the creation of a federated network through which patients can get their tumors molecularly profiled, share that data, and be contacted if they qualify for clinical trials, and also put forth the idea of creating a National Cancer Data Ecosystem to collect and share large datasets.
The White House also released plans for a program called the Blood Profiling Atlas, in which pharmaceutical and diagnostic companies, universities, and research centers would be tasked with aggregating and making available raw datasets from circulating tumor cell (CTC), circulating tumor DNA (ctDNA), and exosome assays.
And the panel proposed efforts to utilize NCI's existing research network and cancer centers to improve genetic testing, counseling, and access to clinical trials for patients with a risk of familial cancer syndromes. Panelists at the launch this week highlighted this screening and prevention in particular as a subject of ongoing focus for the new Biden Initiative.
According to Biden, unless organizations address the existing practical issues that hinder even simple longstanding medical interventions like basic checkups, no amount of scientific innovation will be enough to change the lives of actual cancer patients.
For example, as companies advance new technologies to detect cancer early in its development using genomic analyses of blood samples, there are still wide swaths of the American population who lack access to even legacy cancer screening approaches.
Databases of new insights on genomic drug targets exist that could help patients, but may be inaccessible to many that might benefit from. Meanwhile, the structures of drug and diagnostic regulation and of corporate protections on intellectual property are speedbumps to faster development, especially of combination treatment strategies, panelists argued.
Removing these obstacles is what the Biden initiative believes it can contribute to, based on the achievements made under the Moonshot.
"I think we made some breakthroughs, not in fundamental science, but in how to change the culture a little bit in how to move things differently than we had before," Biden said.
"Things are really changing, but my fear is – and it's why I agreed to [form this initiative] – my fear is that we lose that sense of urgency," he explained. "The president, it's not a criticism, [but] he's got a full plate … and I don't know if there is anyone in the outfit willing to do, or anxious to do what I was willing to do — to just devote my time to try to organize [this]. It takes someone to just keep this moving," he said.
"But the thing that gives me the most hope is that I don't think anyone can stop what is beginning to take hold now, because too many leaders around the world share this view," Biden added.