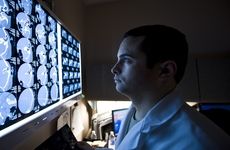 NEW YORK (360Dx) – For people with suspected traumatic brain injuries, quick evaluation and treatment is critical, but tests that can provide rapid and accurate assessments have, to date, proven elusive.   
In an effort to change that, Abbott is collaborating with researchers at Hennepin County Medical Center in Minnesota and the University of Minnesota to develop methods to identify a range of brain injuries in patients. 
As part of the work, the development team is exploring the application of a blood biomarker test running on Abbott's i-STAT — a handheld, point-of-care diagnostic analyzer. When and if commercially launched, the test would run on Abbott's i-STAT Alinity, a next-generation handheld blood testing system that targets a broad range of analytes on multiple cartridges using only two to three drops of blood. 
The TBI test would also use only a few drops of blood, and produce results within 15 minutes, allowing for a quick and accurate diagnosis. 
The blood biomarkers being used by Abbott are glial fibrillary acidic protein (GFAP) and ubiquitin c-terminal hydrolase (UCH-L1). According to Beth McQuiston, medical director of diagnostics at Abbott, the firm is "looking at everything from mild, to moderate, to severe head injuries," and how they affect the blood biomarkers. 
Though Abbott is eager to get something on the market, because of the urgent need, the firm must balance this with the time that is required to develop the best possible test, she said in an interview. "It's the brain and it's really important to get this right." 
The team is three years into a project that typically can take four or five years of development time, she added. The scientists hope to ultimately develop a new standard approach to help classify brain injuries, including concussions, and provide the information needed to guide doctors' treatment decisions. 
The resulting technology could have use in any setting where a person suspected of having a TBI could be assessed quickly by a qualified health care provider to decide whether he or she may need treatment and additional testing. That includes sports competitions where an athlete may have suffered a concussion or even where a person at home may have slipped and fallen. 
When someone experiences a head injury, whether it results in a concussion or something more traumatic, elevated levels of certain protein biomarkers enter the bloodstream, which may indicate injury and serve as a warning that further evaluation is needed. 
The collaboration with the Hennepin County Medical Center and the University of Minnesota is among many that Abbott is pursuing in order to develop biomarkers for use in guiding treatment. 
In mid-2014, Abbott began collaborating with the US Department of Defense to develop portable blood tests to help evaluate potential concussions. As part of a multiphased approach, the tests are being designed to run on Abbott's i-STAT, which is already being used for non-TBI point-of-care testing among military service members. 
The biomarkers used in Abbott's test were "brought to us by over a decade's worth of research by the Department of Defense," McQuiston said, and added that DoD "carefully vetted GFAP and UCH-L1 and felt that they wanted us to start with them." 
"Right now, concussion testing is a huge unmet need, and a significant problem," McQuiston said. "The time to ask someone if they feel they might have a concussion isn't when they're not feeling well," she added. "It's very important that we are able to provide the correct, objective information at the correct time. The key here really is providing objective, reliable, and rapid information so that you can make critical decisions." 
When you look at other areas of medicine, many kinds of different tests and objective information is available, she said. In concussion, tests have not evolved so quickly, but "science has finally advanced to the point where we are able to measure these very small levels of proteins that leak into the bloodstream and that will frame the picture to help people make accurate decisions regarding their own life and regarding their patients," McQuiston said. 
While companies move forward with research and development, a recent study cast doubt on the clinical relevance of using some blood-based biomarkers to differentiate mild traumatic brain injury (mTBI) from acute orthopedic trauma. Researchers from Turku University Hospital and University of Turku, in Finland; VTT Technical Research Centre of Finland; and the University of Cambridge, Addenbrooke's Hospital in Cambridge, UK, published their work in the Journal of Neurotrauma. The research indicates that two of the proposed biomarkers for mild traumatic brain injury — GFAP and UCH-L1 — "are not specific biomarkers for mTBI, and that their levels are not [with clinical relevance] able to discriminate patients with CT-negative mTBI and patients with acute orthopedic trauma," the researchers wrote. 
Currently, there's no fool-proof way to determine whether someone has a concussion, McQuiston said. Computerized tomography (CT) scans certainly can help, but most head injuries present as normal in this type of imaging, and "because of this, you are left in this gray zone where you are unsure," McQuiston added.
A critical unmet need
Every year in the US, more than 2.2 million patients present to emergency departments for traumatic brain injury treatment, according to the US Centers for Disease Control and Prevention.
Concussions are a significant health concern for military service members. Data collected from 2000 through mid-November 2016 by the Defense Medical Surveillance System show that more than 357,000 active duty members of the military sustained a traumatic brain injury, with more than 294,000 categorized as mild.
With the development of new tests, physicians could use the information to positively impact the care of people with a suspected concussion. "The quick and accurate diagnosis of a concussion is critical so that soldiers who are affected — whether on the battlefield or not —can be removed from duty to recover and to prevent further injury," said Dallas Hack, brain-health coordinator for the US Army Medical Research and Materiel Command, in a statement announcing the 2014 deal with Abbott. The collaboration between DoD and Abbott "represents a major initiative to help improve efforts to understand this complex injury and care for wounded warriors suffering from this condition," he added at the time.
Service members can sustain a traumatic brain injury in military training, during active-service deployments, and during recreational activities. 
"Most concussions in the military occur in training and routine operations," McQuiston said. 
Abbott said that as a result, it is working with several imaging and academic partners, in addition to DoD and University of Minnesota, "pulling together technologies to come up with the correct answer."
As part of the Hennepin County Medical Center project, which began in March 2016, the Minnesota Spinal Cord Injury and Traumatic Brain Injury Research Grant Program is funding the application of MRI imaging to look for structural issues, such as bleeding or other damage, related to brain injury that may not be visible in CT scans.
Hennepin County Medical Centers is a 484-bed academic medical center and public teaching hospital in Minneapolis. It's assessing more than 22,000 trauma patients each year.
Besides biomarkers, the research team there is exploring other evaluation tools. The blood biomarker tests would be used as part of a "multimodality assessment," McQuiston added. As well as eye tracking and cognitive measurements, it may include an electrocardiograph, brain imaging, and other cognitive measures.
"Imaging tells us what the brain looks like, eye tracking tells us how well it's working, and blood-based biomarkers can tell us the nature of the damage," said Thomas Bergman, a study co-investigator and chief of neurosurgery at Hennepin County Medical Center.
At Hennepin, researchers are screening 9,000 trauma patients and will enroll at least 1,000 of them. Patients range from children to elderly adults, and they include people who are conscious and those who are in a coma. The research team will monitor patients' progress for up to one year.
Additional details will soon be available in publications that describe the work to develop and apply the biomarker blood tests for TBI.
Emerging competitors
Although concussions among athletes — such as hockey, soccer, and American football players — is receiving attention in the media, and among sports and healthcare professionals, the most prevalent cause of head traumas is automobile accidents. 
"The beauty of this test is that it's on a portable device and you'll be able to take it where you need it," McQuiston said. 
To date, though, no definitive blood-based test for concussions exists. One firm, Banyan Biomarkers, has been developing one since 2002. 
The San Diego-based company recently completed enrolling 2,011 patients for a pivotal study for its test and anticipates filing with the US Food and Drug Administration this year to market it. The test will be for diagnosing mild TBI, and Banyan aims to market the technology primarily to hospitals, as well as centralized labs and stat labs. 
Several companies have agreements with Banyan to develop biomarker assays. For example, Philips is collaborating with the firm to develop a two-biomarker test that would run on the Philips Minicare I-20 point-of care instrument. The primary use is expected to be for patients who present in the emergency department, but the test might also be deployed at the point of care to test for concussions among athletes. Philips would not release an anticipated timeline for commercial launch of the test. 
In January, BioMérieux said it has signed a deal to commercialize Banyan's tests for diagnosing traumatic brain injuries. Under the terms of the agreement, BioMérieux will invest $7 million in Banyan in exchange for rights to commercialize Banyan's TBI tests for global use as in vitro diagnostics on BioMérieux's Vidas immunoassay platform.
Banyan has also inked a licensing agreement related to traumatic brain injury biomarkers with Abbott for "assessment and verification." The terms of the agreement were not disclosed. 
And Banyan has a research-use-only deal with Quanterix for the test, targeting researchers investigating the GFAP and UCH-L1 biomarkers.
Also, Boston-based BioDirection hopes to have a blood test on the market soon that can offer an objective diagnosis within 90 seconds. If all goes according to plan, the test could hit the market in Europe in about a year, followed by a launch in the US, the firm said recently.
The test leverages nanowires — functionalized with monoclonal antibodies — to measure levels of GFAP and S100 beta proteins, which have been shown to increase in blood after traumatic brain injuries. 
In March 2016, the FDA hosted a public workshop to seek advice from both the public and private sectors on ways to advance TBI diagnostics. Then last August, for the first time, the agency cleared a computerized diagnostic device, produced by Impact Applications, to evaluate a patient's cognitive function immediately following TBI.