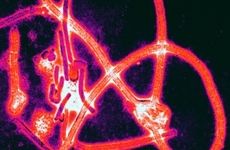 NEW YORK (GenomeWeb) – Cepheid said today that it has been awarded a grant for up to $3.3 million to develop a molecular diagnostic test for Ebola.
The Paul G. Allen Family Foundation and the Bill & Melinda Gates Foundation awarded the grant to the Sunnyvale, Calif.-based firm to develop Xpert Ebola, which will run on Cepheid's installed base of more than 3,500 GeneXpert Systems in developing countries, including more than 1,000 systems in Africa. The test is anticipated to be available on an emergency-use-only basis. For now, Cepheid said that it expects the test will use oral swabs or capillary whole-blood specimen.
"We are leveraging our significant investments in [the] development of ultrasensitive HIV and [tuberculosis] detection technologies and are borrowing on previous experience with an Ebola project to expedite delivery of the initial prototype and emergency-use-only product," Cepheid Chief Medical and Technology Officer David Persing said in a statement. "We expect this technology to facilitate high-throughput testing requirements in Ebola treatment units, as well as deployment of mobile laboratories for field surveillance."
Additionally, Cepheid said that it and the Gates Foundation are evaluating the deployment of the firm's RemoteXpert cloud-based monitoring software. The product is currently being used in a pilot phase for TB testing in South Africa and India and has collected real-time data streams from about 2.5 million cases being assessed for TB and drug resistance.