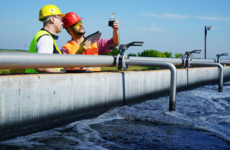 NEW YORK – For decades, wastewater-based epidemiology, or WBE, had been a sparsely funded field. The coronavirus pandemic made clear the potential benefits of surveilling entire populations, and now millions of dollars are dedicated to build a wastewater testing infrastructure in the US, including a new program at the US Centers for Disease Control and Prevention.
Although the SARS-CoV-2 pandemic may be morphing into an endemic infectious disease, investments both in proof-of-concept research and in creating a WBE infrastructure may pay other public health dividends, as some experts say projects can be expanded to other pathogens and herald a new era in infectious disease prevention.
WBE is an unusual marriage of sewers and labs incorporating the somewhat disparate fields of environmental testing, public health, and urban engineering. It has traditionally focused on analytical chemistry assays, but with international poliovirus surveillance as a proof of concept, WBE was starting to bring in more microbiology and genomics-based surveillance just as the SARS-CoV-2 pandemic began.
The pandemic spurred exponential growth in genomics-based WBE after it was discovered that infected people shed SARS-CoV-2 viral RNA in feces and that RNA fragments can be detected in wastewater using standard RT-qPCR methods.
A decade ago, funding for WBE research was minimal at best. "It was essentially nothing," said Rolf Halden, a WBE researcher at Arizona State University.
Now, the federal government will spend more than $100 million in 2021 alone, Halden said in a recent interview.
This remarkable growth is particularly unusual because, as WBE combines so many disparate disciplines, it has never fit neatly into any funding organizations' mission. Halden speculated that the prior long-standing disinterest in WBE from funding organizations may have stemmed from a conservative structure within scientific review, with entrenched experts tending to fund areas of research they know best and to be skeptical of alternative approaches.
"Wastewater-based epidemiology had no home, it had no advocacy in the federal grant agencies," Halden said. And, to be fair, "it is open to a lot of criticism because it is not the most accurate science," he added.
Indeed, uncertainties inherent in WBE are related to the inability to precisely pinpoint the source and timing for a wastewater sample.
Interpretation of wastewater studies is challenging, as well, because there are essentially no control groups. "Anyone who is medically trained does not like this type of science, and they find one hundred reasons why nobody should be spending money on it," Halden said.
"That has been its history until it just showed through COVID that it can do very useful things," he added.
When the pandemic began early in 2020, Halden and his team at Arizona State University had recently adapted a WBE dashboard for monitoring Tempe-area wastewater for opioids to include influenza detection.
They quickly pivoted for SARS-CoV-2 detection and spun out a company, AquaVitas, to do contract WBE for municipalities across the country. Another service provider, Boston-based BioBot, also expanded from opioid monitoring to SARS-CoV-2 detection.
In addition to private companies, water scientists at academic institutions around the country came together. Although these groups were often hammering out protocols while simultaneously performing surveillance studies, a large body of research has now convincingly demonstrated that SARS-CoV-2 viral RNA can be detected in sewage and can predict outbreaks by as much as two weeks.
A number of other federal agencies have amped up investment in WBE over the past year. For example, the US Environmental Protection Agency pioneered a wastewater surveillance project in the state of Ohio in partnership with the CDC. That program has yielded a public dashboard showing weekly trends in virus detection.
Prior to the pandemic, the National Institutes of Health funded a few wastewater epidemiology projects aimed at detecting drugs of abuse for a few hundred thousand dollars each per year.
The NIH funding for WBE currently is an eye-popping $12 million, primarily distributed through the Wastewater Detection Consortium of the Rapid Acceleration of Diagnostics-Radical, or RADx-rad, program.
One of the awardees is a collaboration among Weill Cornell Medicine in New York City, University of Miami, and the city of Racine, Wisconsin, that was awarded $2.7 million for a one-year project to optimize WBE methods.
"Historically, the entire field [of WBE] has been underfunded, so relative to zero this is an infinite increase in funding," explained Chris Mason of Cornell, an investigator on the project. Wastewater genomics "has always been viewed as an abstract enterprise of unclear utility," he said.
But in the case of coronavirus, he noted, the presence of viral RNA in sewage is "a more relevant molecular barometer" than clinical testing in the early stages of an outbreak, in part because it picks up pathogen shed by people without symptoms.
The team is using loop-mediated isothermal amplification, as described in a recent study of clinical samples, as an upfront technology at the point of sewage collection, Mason said. "We're doing a rapid nucleic acid test to see if the virus is present, then doing additional sequencing and profiling," he said. Mason and his team have also been working on viral discovery using wastewater, for example, using sequencing to find 11,000 new viruses.
Other notable RADx awards include $8.2 million to Ceres Nanosciences to develop and scale a wastewater surveillance system using the firm's nanotrap particle technology.
Overall, there has been a "wondrous avalanche of funding that washed over the community of researchers, clinicians, and epidemiologists," Mason said, and he sees the potential for WBE to become an entrenched part of infectious disease prevention in the future.
"No one thinks twice about having infrastructure for meteorology," he said. "We should have a genetic weather map so we can see trends in pathogens and mutations."
In this scenario, sampling a few times each week could detect an outbreak well before it becomes a problem, Mason said, engendering "data-driven lockdowns instead of data-interpolated lockdowns."
Vendors rush in
For commercial genomics vendors, an essentially new application space with substantial funding can potentially translate into new sales opportunities.
Bio-Rad, for example, expects its Droplet Digital PCR technology to find a home in WBE, in part because digital PCR, or dPCR, methods are relatively resistant to PCR inhibitors.
The firm has referred to wastewater testing as a rapidly developing market and projected it could turn into a $100 million to $200 million opportunity. In a recent call with investors, for example, Bio-Rad executives said that the firm is seeing uptake in government, university, and service labs both in the US and internationally.
Bio-Rad is among a number of firms developing dedicated products for wastewater molecular testing, as well.
This week, Bio-Rad launched a digital PCR kit called PREvalence for wastewater, and the firm noted that it follows guidance from the CDC for dPCR in wastewater testing. The company also underscored that the dPCR technology has been described by the Environmental Protection Agency as a dependable method to quantify viruses in wastewater.
Carolyn Reifsnyder, director of global product marketing at Bio-Rad Laboratories' Digital Biology Group, said in a recent interview that in addition to educating labs about this new space, the firm has been lobbying state and federal governments to help guide more funding to WBE.
For example, Bio-Rad lobbied the US Senate Health Committee to have wastewater included in a $1.75 billion next-generation sequencing variant surveillance bill, she said. The firm has also helped draft a letter to help an organization called the COVID-19 WBE Collaborative lobby local and state governments.
Bio-Rad also held calls with state governors to help earmark COVID-19 funds for wastewater testing. These funds had been distributed at the discretion of state officials, to some degree. For example, the state of Michigan dedicated $10 million of CARES funding to pilot a wastewater testing program through its Department of Environment, Great Lakes, and Energy, Reifsnyder noted.
For these efforts, "the technology is kind of secondary; the first thing is to educate about the power of wastewater," Reifsnyder said. After federal decision-makers have an understanding of how wastewater can help develop an earlier warning system, then the firm can talk about "the fact that digital PCR is the best technology for it," she said.
Reifsnyder argued that qPCR is fine for monitoring when there are high concentrations, but that dPCR has an advantage being able to detect and quantify low concentrations that may come about when the prevalence drops.
Other digital PCR vendors seem to concur. Qiagen launched a dedicated kit for SARS-CoV-2 detection from wastewater on its QiAcuity Digital PCR platform in January, for example, and Combinati has developed a wastewater monitoring assay for its Absolute Q digital PCR system.
Many other commercial genomics vendors are also now introducing wastewater analysis-related products to end users, including those in public health and environmental testing spaces.
For example, at the American Society for Microbiology World Microbe Forum this week, Thermo Fisher Scientific presented an industry event emphasizing that its sample preparation products — namely the MagMax Microbiome Ultra Kit and KingFisher instrument — can be used for wastewater detection of SARS-CoV-2.
Madhu Jasti, a staff scientist at Thermo, presented a workflow for large-volume wastewater samples that included the use of bead-based prep with Invitrogen Dynabeads or Ceres nanotrap beads in Thermo's deep well plates.
Jasti showed data suggesting that the same protocols could also be used to detect other viral targets in wastewater, such as influenza A, norovirus, and adenovirus.
Perhaps surprisingly, the inhibitor-ridden slurry of genomic fragments from millions of microbiomes that is a wastewater sample also returns tidy, actionable data from sequencing-based assays.
An Illumina event at the ASM meeting featured a presentation by Niko Beerenwinkel, a scientist at ETH Zurich, who described an automated bioinformatics tool called V-Pipe that has been used to detect variants of concern in 35,000 clinical samples in Switzerland. Beerenwinkel also emphasized proof-of-concept data on more than 800 samples showing the tool could be used to track viral variants in wastewater.
And, Clear Labs CEO Sasan Amini told ASM's members about data from a sequencing-based wastewater testing workflow using the firm's fully automated whole-genome sequencing instrument, Clear Dx. The pilot study examined a dozen wastewater samples and detected as little as 5 copies per milliliter of virus, with high viral load also enabling variant lineage detection, Amini said in the presentation.
The 'news,' from CDC
Bringing WBE stakeholders together to form an integrated system will take some doing.
One newly established site intended to catalyze WBE interdisciplinary activities is the National Wastewater Surveillance System, or NWSS, at the CDC.
Pronounced "news," the program is part of the Division of Foodborne, Waterborne, and Environmental Diseases and was officially founded last September as part of the agency's COVID-19 response.
The program has provided millions of dollars of funding to stakeholders so far, with an additional $32 million to be distributed in August.
NWSS program lead Amy Kirby said in a recent interview that the team's goal has been to help establish WBE programs within existing public health departments and to gather information on community-level trends in SARS-CoV-2 infections using PCR-based testing of sewage to detect viral nucleic acids.
Although the initial focus is on COVID-19, Kirby said the system is built to be a long-term disease surveillance platform embedded within CDC's waterborne disease prevention branch.
The science of genomics-based WBE is not new, with poliovirus surveillance being a well-documented example outside of the US. But WBE has never been used in the US at the scale now envisioned, "and certainly not for something as fast moving as the COVID-19 pandemic," Kirby said.
This is in part because WBE is a complicated enterprise requiring coordination of logistics across many different stakeholders, she said.
For example, water infrastructure and utilities experts have specialized knowledge of the wastewater component, while lab partners know about PCR testing methods, and public health experts specialize in epidemiology.
"Our role at CDC is to engage with all of those partners, make sure they have all of the resources available to them, and make sure they are working together effectively to be able to gather and use this data," Kirby said. Stakeholder-specific meetings with water utilities, laboratories, and health departments involved in WBE is an example of NWSS' approach.
The investment in a new WBE surveillance infrastructure in the US was justified by a few main factors, Kirby said.
For example, shedding of SARS-CoV-2 RNA into wastewater provides an early signal of total infections in a community prior to severe clinical symptoms. This signal can be detected from very young people who may not have significant disease, and even from adults who are asymptomatic and would not otherwise seek testing.
The fact that virus detection in wastewater is independent of healthcare-seeking behaviors also means that it doesn't rely on diagnostic testing capacity or data gathered from clinical systems, Kirby said.
The approach is also fast and efficient: comparing two samples from different time points can provide infection trend information on thousands of people. And, it can anticipate clinical cases, with a number of studies in the past year showing that increases in SARS-CoV-2 RNA in wastewater offered an approximately one-week advanced warning for a coming spike in hospitalizations.
The NWSS program is making sure public health departments have the resources that they need to do WBE testing, Kirby said, specifically supporting them through the Epidemiology and Laboratory Capacity Cooperative Agreement, including three rounds of CARES Act COVID-19 funds to support wastewater surveillance.
NWSS has also been integrated into the CDC's core annual public health funding, Kirby said, noting that the agency expects to use this mechanism to award $32 million in August to support NWSS activities in health departments.
The NWSS program awarded initial funding for WBE surveillance through core support in January of this year, but the team hasn't yet broken the wastewater amounts out from the total support the CDC provided to increase COVID-19 testing capacity, so Kirby could not provide a specific dollar amount.
The NWSS program is currently supporting WBE programs in 33 states, four cities, one county, and three territories, Kirby said.
Besides funding, important support also comes from the NWSS data portal, which aggregates and adjusts PCR data for various collection and testing methods and for the number of people in the area sampled, in turn providing epidemiologists at health departments with standardized information, Kirby said.
In addition to PCR data, the NWSS program is currently evaluating sequencing-based methods. This methodology could potentially enable early detection of variants of concern in a community, for example, although Kirby noted that it is not possible to conclude which damaged fragments in wastewater came from a single genome.
"Because of that inherent biological limitation of wastewater, we think that [sequencing] can be useful for detection and tracking of known variants of concern, but it is unlikely to be useful for variant discovery," she said.
Kirby noted that the NWSS team had to build its routine surveillance system at a tremendously accelerated pace, which meant it has needed to remain flexible. For example, most of the extant capacity for wastewater testing was in academic and commercial labs, so these labs have been brought on board, too.
In terms of the specific PCR protocols that labs use, Kirby said that there is no standardized approach.
"We still see that some work better than others for certain situations, so I don't think that we will converge on a single standard protocol for COVID," she said. Provided there are quality control metrics, the NWSS portal adjusts for the PCR methods, she added, noting that many of the basic protocols are captured in a recent study commissioned by the Water Research Foundation.
Kirby sees WBE dovetailing with clinical microbiology in much the same way environmental microbiology does in terms of equipment, reagents, and supply chain.
"As we think about bringing [WBE] into public health labs and environmental health labs, equipment that is multifunctional for them is going to be more useful — they are not going to want to bring in a piece of equipment that only works for wastewater," she said.
Although the process "has been a lot of building the boat as we're sailing it," Kirby said, overall it has been amazing to watch the entire fields of wastewater microbiology and wastewater engineering turn to this one topic. "It has been a huge effort, but I think we've built a really great system," she added.
Beyond COVID
Mass vaccination campaigns are finally reducing infection rates, but SARS-CoV-2 seems likely to become an endemic, circulating pathogen in the US for some time to come.
The NWSS team expects to seed WBE programs in all national public health labs in the near future which can continue to monitor for local COVID-19 outbreaks.
Beyond COVID, CDC's Kirby said NWSS wants to grow wastewater testing capacity in public health and environmental health labs, as opposed to private service labs.
"That is the way to make a really sustainable and robust surveillance system," she said. "That wasn't something we could do in five months; that is something that we are going to have to do over the next five years," she said.
Kirby's plan is to pivot the SARS-CoV-2 efforts to other pathogen detection, beginning first with antimicrobial-resistant bacteria.
WBE methods can be used to directly monitor antibiotic use in a community, as well, according to a review published last year, so it would be tantalizingly possible to pair detection of antimicrobial resistance genes with levels of pharmaceuticals and their metabolites in wastewater streams.
Another recent study of resistance genes found in wastewater samples from around the world used shotgun metagenomic sequencing and found distinct antibiotic "resistomes." It also revealed that local sales data for different antibiotics did not correlate with the amount of antibiotics in wastewater, suggesting that direct measurement will be required.
CDC's Kirby said, "Once you have the samples coming in, it will be fairly easy to test them for one more thing." Other applications include waterborne disease outbreak monitoring after natural disasters and monitoring for emerging fungal infections like Candida auris.
"We definitely see this as a long-term disease surveillance platform for multiple health targets," Kirby said.
WBE has been applied to drugs of abuse, and even measures of stress hormones in a population, but Kirby said NWSS will be guided by whether community-level data can be epidemiologically useful.
Meanwhile, researchers like Halden and Mason continue to discover more capabilities of WBE.
"We are using shotgun RNA-seq to get full viral tracking of flu, plant pathogens, and other organisms," Mason said. The lab now readily detects human RNA, antimicrobial resistance genes, and food and animal RNA. "We see a rich, fun taxonomic jungle in every sewer pipe," he said.
Halden's team has many other targets in mind that can benefit public health. "We have more than 300 markers of health," he said, including things like alcohol and nicotine consumption and medications.
"Can we assess the overall occurrence of diseases, including sexually transmitted diseases? Absolutely. Can we place that in the context of, for example, substance misuse? Absolutely. Can we measure whether a catastrophe like COVID changes the stress level in people and their use of substances? Absolutely," Halden said.
He now sees a bright future for WBE technologies in many more public health applications, along the way allowing public health entities to better protect people who are healthy, he said. "That is the ultimate goal; to truly protect the healthy rather than just cure the sick."