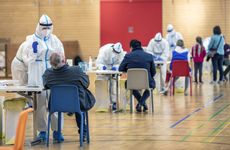 NEW YORK – A team at the University of Birmingham in the UK has paired a rarely used isothermal technology with a rapid upfront step that obviates the need for reverse transcription, creating a five-minute SARS-CoV-2 molecular diagnostic test.
Led by Timothy Dafforn, a professor of biotechnology at Birmingham, the team is currently working to adapt the test to a lateral flow system, suss out whether it can be used directly from samples, and ultimately license the patented technology.
The reverse transcriptase-free, or RTF, step reduces the front-end processing from approximately 30 minutes down to one minute, Dafforn said. As described in a medRxiv pre-print last month, the method effectively replaces the RT conversion of RNA to DNA with a nickase step.
In the process of developing RTF, Dafforn said he and his team set out to create an assay that could be paired with a rapid isothermal method called EXPAR which happens to be triggered by a piece of DNA.
"We thought, why are we using reverse transcriptase to make massive bits of DNA when we only need a tiny bit; and how can we get a piece of DNA released that will trigger our EXPAR when, and only when, the virus is there?" Dafforn said.
Fortuitously, the right piece of manufactured DNA will form a heteroduplex with target viral RNA that can in turn be cut by certain restriction endonuclease enzymes, such as BstNI.
"It releases the DNA fragment, and then it's straight into the EXPAR," Dafforn said.
In the Birmingham SARS-CoV-2 test, the "binder" DNA is specific for a conserved region in the Orf1ab gene of the virus.
The overall assay is "not complicated," Dafforn said. "It's oligos and two enzymes in a pot."
Although the first proof-of-concept study of EXPAR was published in 2003 in PNAS, it is less commonly used than other isothermal nucleic acid amplification methods like loop-mediated isothermal nucleic acid amplification (LAMP) or recombinase polymerase amplification (RPA).
RT-LAMP assays abound for SARS-CoV-2, but Dafforn said his group chose EXPAR in part because primer development for LAMP is complicated, which limits how it can be quickly pivoted to make new diagnostics. And, LAMP has "sort of hit a wall in speed," he said. "It is 20 minutes-ish, and it can't go any faster," he added, in part because the reaction is replicating large pieces of DNA.
EXPAR on the other hand is much faster, Dafforn said, and the initial assay development is simple as well, including for multiplex assays.
The down side of EXPAR is that it can be finicky.
"It is like a caged tiger, and the game is to not let the tiger out," Dafforn said. In other words, the conditions have to be just right so that the reaction can't take off and lead to off-target amplification.
So far, the team thinks it has managed to troubleshoot this issue. It came up with the initial concept in March of last year, and has worked to make it inexpensive and easily deployable, with the current iteration only requiring a standard fluorescence reader.
Using contrived samples, the lab has found an initial limit of detection of seven viral copies per microliter, which is on par with the LoD of LabCorp's US Food and Drug Administration Emergency Use Authorized assay, for example. However, Dafforn believes that the true limits of EXPAR are more in the 1,000 copies per milliliter range, and said that assessments to date may have been impacted by using diluted patient samples.
The team had been using patient samples from the National Health System, but as luck would have it the lab is next door to a test evaluation research group that assesses point-of-care tests as part of the Cochrane Collaboration. That lab will soon run a cohort of 200 samples, including from asymptomatic patients, and the RTF-EXPAR assay will be included in that evaluation, Dafforn said.
The team plans to use data generated in this assessment to apply for CE marking, and in parallel it is working on finding partners to commercialize the SARS-CoV-2 test as well as the broader technology.
Dafforn said the team has patented the design of the binder as well as the RTF method used in conjunction with EXPAR, but otherwise the reagents are all abundant and commercially available.
Dafforn himself cofounded a firm called Linear Diagnostics and serves as non-executive director of Luas Diagnostics. Both firms are headed by former CEO and founder of HiberGene Diagnostics, Brendan Farrell, but neither firm is set to exclusively take over the technology at this point.
Now, Dafforn and his colleagues are also investigating whether the test can work directly from patient samples and be developed into a sample-to-answer lateral flow assay. To his mind, a lateral flow methodology may have the collateral effect of improving specificity, he said, because random reaction products aren't likely to generate enough readout to be detectable.
The group has already received a lot of interest, and is currently sorting potential licensees into those who can deliver a test for the current crisis and ones that could develop the method into other infectious disease, oncology, or applied market applications, Dafforn said.
"The technology has legs," he said.
Potential IP, specificity snags in isothermal tech
A recent review in Analytica Chimica Acta of point-of-care SARS-CoV-2 testing noted at least five technologies used to amplify nucleic acids at a single temperature — including LAMP, RPA, and EXPAR, as well as nucleic acid sequence-based amplification (NASBA), and hybridization chain reaction (HCR).
The IP situation for each is a bit murky, and each method also has its own pros and cons.
The most popular isothermal method, LAMP, was developed and patented by Eiken Chemical in the early 2000s, and the Tokyo-based firm has made many licensing arrangements over the years.
EXPAR, meanwhile was developed by David Galas and his colleagues at the Keck Graduate Institute.
"The key insight was that using a nicking enzyme one could change the melting temperature of a DNA duplex by changing the length of a segment, which could then trigger the creation of other, identical segments, and thus create a chain reaction," Galas said in an email.
With the EXPAR patent, Galas helped found Ionian Technologies, which further developed EXPAR, modifying it to create a method called nicking enzyme amplification reaction, or NEAR.
Ionian was acquired by Alere in 2010. The NEAR technology became incorporated into the Alere i and further developed with nearly $13 million in funding from the US Health and Human Service's Biomedical Advanced Research and Development Authority. In 2015, the instrument and an influenza assay became the first point-of-care molecular diagnostic system to be CLIA waived.
In addition, Alere also acquired the firm that developed RPA, Cambridge, UK-based TwistDx, in 2010.
When Alere was acquired by Abbott in 2017, the Alere i became the Abbott ID Now system. Presumably any licensing arrangements and IP for EXPAR, NEAR, and RPA moved into Abbott's portfolio.
Abbott did not respond to a request for comment in time for publication, but Galas noted that the EXPAR patents had been abandoned by Ionian early on, "because of the sensitivity problem." 
At the moment, the patent for EXPAR appears to be still assigned to KGI, but its expiration was recently adjusted through January 2023. Abbott meanwhile was assigned the patent for RPA in December 2020 and appears to have extended it through 2023. Abbott also moved its TwistDx subsidiary to San Diego last year, and TwistDx's CEO Naill Armes has moved on to become chief scientific officer at UK-based diagnostics startup called Biocrucible.
The other founders of Ionian Technologies, meanwhile, went on to develop yet another isothermal technology at a startup called NAT Dx. That firm was acquired by Becton Dickinson last year.
Ian White, author of the Analytica Chimica Acta review of isothermal tech along with his team of bioengineers at the University of Maryland, noted in an email that the foundational proof-of-concept studies for LAMP, RPA, and EXPAR date to about 20 years ago, but since then the literature describing LAMP-based diagnostics has exploded, while "EXPAR has not been that popular in the literature."
Indeed, a cursory search reveals 70 publications about EXPAR, compared to 484 mentioning RPA, and 3,094 discussing LAMP.
White, who has himself used EXPAR for assay development in the past, pointed out one possible reason. "Since the EXPAR template only has one binding region, and since it has a symmetric region in the template, it is notoriously hard to optimize," he said.
White noted that the Birmingham team's design is based on another paper that worked to carefully optimize EXPAR, "yet it still isn't perfect," as a figure in the study indicates negative samples still generate some positive signal within 15 minutes.
"This does not happen in PCR or LAMP," White said, adding that this quirk of EXPAR adds risk and complexity to assay development. For example, users and instruments might need to be instructed to carefully differentiate positive and negative signals based on the time to amplification, as opposed to simply the presence or absence of signal.
Angelika Niemz, a medical diagnostics expert at KGI who also worked with EXPAR in the past, commented that the reaction is "a lot more prone to non-specific amplification than other technologies." She and her team tried to pin down the causes for this in a 2012 evaluation, narrowing the problem to GA-rich regions in single-stranded DNA templates.
"There are some ways to get around this, as has been done with NEAR, but the issue remains that at least in our hands the attainable limit of detection is impacted when non-specific amplification sets in," she said.
To avoid these problems, as well as any potential IP-related tensions, her group switched from EXPAR to other isothermal methods, for example using LAMP in a recently published tuberculosis assay.
Dafforn, meanwhile, said his team is close to perfecting its EXPAR assay, and had "done a lot of work on reducing false positives." At least one other group seems to also be keen on solving this problem: a team at the Sorbonne in France recently published a possible EXPAR improvement involving a modified nicking enzyme.
Overall, Dafforn speculated that LAMP may have become the isothermal assay technology of choice simply because the market had never before been strong enough to support a great deal of point-of-care testing. That has may have now changed with the SARS-CoV-2 pandemic.
"The world has woken up to how important diagnostics are," he said. "It has taken a shock, but suddenly people realize the benefits."