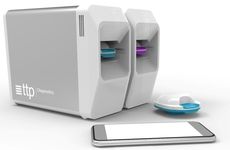 NEW YORK (GenomeWeb) – At the American Association of Clinical Chemistry meeting last week, UK-based engineering consultancy TTP launched a development service based around a pre-developed rapid molecular diagnostic platform and disposables.
The firm will now market the system to assay developers wishing to enter the point-of-care, or "point-of-clinic," market with their own tests on an OEM platform.
Called Puck, the current version of the sample-to-answer system boasts a 15-minute run time with seven-second PCR cycles, and is now available to be tailored to suit the requirements of individual customers. It is also part of the firm's broader toolkit of core technologies provided under the umbrella "Desktop Biology" that can potentially be used by assay developers to ease the transition to market.
At its core, Puck is a miniature robotic pipetting system, Piers Harding, an engineer at TTP, told GenomeWeb in a phone interview following AACC.
So far TTP has focused on developing Puck for PCR-based applications, but the company is also working to see whether a version can be adapted for immunoassays and isothermal nucleic acid amplification.
Giles Sanders, also an engineer and product developer at TTP, noted that "if there is a process which can be done with a robot and about eight to 10 reagents, we feel pretty confident it can be translated to the Puck platform."
The instrument weighs a little more than two pounds and is three inches wide, six inches high, and eight inches deep. The consumable cartridge is 2-3/4 inches in diameter and around one inch thick.
The cartridge's resemblance to a hockey puck is the origin of the system's name, although the firm has now also embraced the Shakespearian connotation and has begun calling internal development projects by character names in A Midsummer Night's Dream, Harding said.
Currently, Puck requires interfacing with a separate device, such as an iPhone or laptop, but the firm has considered the possibility of a small touchscreen on the platform itself.
TTP's team consists of more than 300 scientists and engineers with broad industry experience, but none has a management title, as Giles noted, because "it is a company philosophy that the flat structure and lack of titles provides greater opportunity in innovation and internal discussions."
As for the seven-second PCR cycles, Harding said that the thermal cycling relies on a standard Peltier device. "It's not a new technology, it's just highly optimized," he said.
The system is currently using standard ultrasonic lysis methods, but at an AACC press conference debuting the system last week, Giles and Sanders presented data on a proprietary method TTP is developing that can process 1 milliliter of whole blood in 15 seconds.
In addition to this lysis technique, there are other elements that customers could choose from to create a bespoke diagnostic device. The onboard reagents can be supplied in dried form via a partnership with Biofortuna, for example. TTP has also developed a miniaturized microfluidic pump that provides non-pulsatile liquid pumping of up to 15 liters per minute, as well as improved methods for bead handling and droplet deposition.
Furthermore, the firm has built a number of readout methodologies. "These can be fluorescence, fluorescent imaging, electrochemical, chemiluminescence, and adsorption," Sanders said. And customers wishing to run fluorescence immunoassays with fluorescent-readout PCR could potentially do both on the same Puck system.
"As a company we're seeing this as an open platform and really inviting people with assays to discuss how we can integrate and customize for their own needs," said Sanders.
Potential customers might be startups with new assays or exciting new markers, said Sanders. They could also be "kit manufacturers who want to enter a point-of-clinic market," or "a major multinational who has been looking for an exciting new platform for a broad range of assays."
And, outside of commercial diagnostics, Sanders suggested there may be research applications for particular projects in which standardization of testing is important. Puck offers "the repeatability of a robot but on the footprint of an ipad," he said.
In terms of cost, Harding said the exact pricing would start at around $1,000 per system and depend on the sensitivity of the assay and the difficulty of the design specifications. But Sanders also noted that the cost to customers would be considerably less than developing a diagnostics platform from scratch. In their AACC presentation, the duo said that the system could provide a head start for small companies, and possibly enable them to compete with established players in the market.
The firm has one ongoing Puck development partnership and is in talks with other potential customers in both the molecular and immunoassay industries, Sanders said. "More generally, within the TTP Desktop Biology umbrella, we have a number of ongoing clients where we have projects of varying scales and complexity of disposables," he said.
TTP provides a route to developing hardware and software suitable for regulatory submission, but ultimate submission to the US Food and Drug Administration would be the client's responsibility, Sanders said.