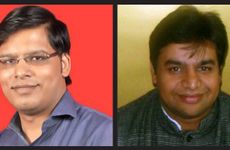 NEW YORK (GenomeWeb) – Researchers in India claim to have accomplished replication of DNA in a parallel orientation, challenging the dogma that PCR can only be initiated when primers are aligned in an anti-parallel way
In a study published ahead of peer review in the online journal F1000 Research, the scientists described how they accomplished parallel DNA PCR, or PD-PCR, using single-stranded template DNA and Taq Polymerase.
In the described method, initial primer binding occurs with the 5' end of the primer aligned to the 5' end of the template DNA, in contrast to standard PCR in which the 3' and 5' ends of primer and template are adjacent.
Vikash Bhardwaj and Kulbhushan Sharma, the authors of the study, claim that this parallel complementary annealing of primer to DNA led to DNA synthesis. It was followed by binding of a second primer to the newly synthesized DNA in an antiparallel orientation, with both primers subsequently amplifying DNA in the conventional way.
"To the best of our knowledge, ours is the first report in which parallel complementary primers were used to initiate synthesis in a parallel direction ... We have shown that two PCR products can be synthesized from a template DNA, one in the conventional way and another by PD-PCR," the authors wrote in an email to GenomeWeb.
Clues to the possibility of parallel PCR lay in a handful of publications stemming from the 1980s, the study said. Namely, a 1988 report on hairpin structures published in Science confirmed the existence of parallel-stranded conformations. Another study published that year in Nucleic Acids Research reported DNA containing A-T base pairs can exist as a stable, parallel-stranded helix with a lower melt temperature than anti-parallel DNA, and that these melt temperatures could be raised by varying divalent cation levels.
In the F1000 Research study, the authors amplified a commercially obtained 120-bp single-stranded DNA template that contained C-G as well as A-T base pairs. Using the technique, two different but related PCR products were synthesized, the authors wrote.  
One application of the work would be to resolve errors observed in other molecular techniques, such as Southern blotting, microarrays, siRNA targeting, and PCR, which are based on complementary binding of two strands of nucleic acid, the researchers said.
"Various scientists have proposed numerous technical reasons behind nonspecific errors of these techniques, but none of the scientific reports have taken into consideration parallel complementary binding of two strands of DNA," the authors said. "We strongly believe that many molecular techniques developed so far can be improved in the future taking into consideration both parallel and antiparallel complementarity of DNA."  
In addition, they are working on developing "novel techniques in which we can get better and swifter results as compared to the conventional approach," they said. They have no commercial collaborations at present, but would be "happy to collaborate with industries and scientists worldwide," they said.  
Open publishing, open review
Bhardwaj and Sharma — scientists at India's Lovely Professional University and the Institute of Nuclear Medicine and Allied Sciences, respectively — chose to publish in F1000 Research after their study was rejected from other journals "on the grounds that our paper would not have broader readership," they said.
"We came to know about F1000 Research and their unbiased editorial policy, [and] we are happy that within one month our article was viewed approximately 1,400 times with 270 downloads worldwide, and it is listed as one of the highly accessed articles," they said.
F1000 Research claims to publish studies online an average of seven days after submission. Peer review takes place after the article is published, with invited reviewer critiques posted online as well, for all to see. The PD-PCR study has now received two positive reviews from referees.
Quality control in scientific publication has been an increasingly contentious issue. Anonymous peer review sets up a system where a few gatekeepers, who are often competitors, can ding a study so badly it gets pushed to a lower tier journal. This can be a dire situation because a researcher's publication impact factor affects funding, tenure, and ultimately survival as a scientist.
Recently other scientific journals have been toying with changing the peer review process. The publisher Public Library of Science has discussed the idea of moving to systems where post-publication metrics and community feedback have more weight in determining the quality of a research article, and private peer review is eliminated.
To spur discussion and critique of their work, Bhardwaj and Sharma have also been reaching out to their peers through email and a variety of social and professional networking sites, they said.
"We believe in our work and we want it to be discussed in the scientific community," they said. "We strongly believe that in the future, researchers will understand the significance of our work, which will lead to a clearer understanding of the various phenomenon of life ... If there is more accuracy in science, there will be better solutions for mankind's problems."