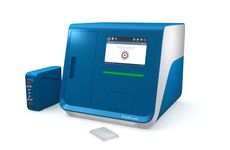 NEW YORK – Dropworks, a Boulder, Colorado-based startup, is developing an automated digital PCR system called Continuum with an eye on an early 2021 market launch.
The core technology of the Dropworks system includes a continuous-flow spatial thermal cycling method licensed from Arizona State University. The original technology processed droplets through a thin tube wrapped around a cylindrical surface heated in a way such that the droplet would encounter different temperatures as it circled the drum.
The technology was developed for undersea monitoring of nucleic acids within a shoebox-sized instrument deployed on a deep-sea robot by the Monterey Bay Aquarium Research Institute, as previously reported.                  
Chris Perkins, founder and CEO of Dropworks, said he learned of the ASU method while on the hunt for technology to commercialize and was struck by the system's size and capabilities.
Talking to potential customers in markets such as translational cancer research, Perkins said he learned that while the environmental applications of the system could be impactful, there was a broader impact in research.
These conversations also revealed that users desired better sensitivity, accuracy, and repeatability than real-time PCR can typically provide, but at the same cost-effective price point. "What we landed on was that this little tool we have that we're trying to put on a shoebox in the ocean actually checks a lot of those boxes," Perkins said.
Since acquiring the intellectual property from ASU, the firm has morphed the core technology to a different physical structure and use space. It removed some of the automation and focused the system, to "hit the core idea of providing digital PCR data quality, ease of interpretation, and repeatability, at the cost and familiar workflow of real-time PCR," Perkins said.
Dropworks was founded in 2016 and raised its first seed round funding in early 2017, followed by a Series A in 2018. The combined funding totaled approximately $12 million, Perkins said, with investors including Arboretum Ventures and Hattaras Venture Partners. Dropworks has now grown from two to 28 employees and is getting ready to bring the product to market.
Because the system uses continuous-flow digital PCR, samples are loaded and processed sequentially. The Continuum is also an integrated instrument, which means droplet partitioning — of up to 30,000 droplets per sample — as well as thermal cycling and analysis are all performed in the same instrument.
This approach eliminates most of the microfluidic consumables, Perkins said, which in turn reduces the cost per sample.
The workflow is similar to a typical qPCR workflow, he said. Namely, users prepare a 96-well plate in the same way they would for qPCR, adding sample, Dropworks master mix, and their own assay primers and probes.
The user tells the software what is in every well, and then the system removes the samples and processes them in a fully automated fashion, drawing from a reservoir of reagents. These drive reagents are provided in "plug-and-play" cartridges that are replaced every 10 plates.
Digital PCR yields absolute quantification, so users don't need to generate standard curves as they would with qPCR. And, the samples are read out single file, "so while it takes a little over four hours to process an entire plate, you can actually randomly access wells," Perkins said, adding that each well takes as little as 25 minutes to travel through the system.
The detector has four-color capabilities, so it supports multiplexing in four optical channels. 
Perkins said that the continuous-flow spatial thermal cycling method means "every droplet and every sample sees exactly the same temperature history." And, because the droplets are so small, the system achieves the desired temperature in each step very quickly.
"We get really clean thermal cycling because we're not actually changing the temperature of the thermal cycler, we're only changing the temperature of the droplets," Perkins said.
In the end, users get a read-out of fluorescence intensity in each optical channel for each droplet, and the data is also analyzed by the firm's software.
The instrument is calibrated using standards based on National Institute of Standards and Technology (NIST) digital PCR standards to validate accuracy and repeatability of the system, and Perkins said the firm also strives to adhere to the digital Minimum Information for Publication of qPCR Experiments (MIQE) guidelines.
Dropworks is currently expecting to launch with a "base kit" for research use that will have cartridges and other reagents, but it is also aiming to develop validated assays for common targets. Perkins declined to say what assays the future menu will contain, however.
The potential customers Dropworks has spoken with are seeking lower-cost and more automated workflows, he said, particularly for gene therapy, translational cancer research for liquid biopsy and disease monitoring, and viral load monitoring for transplant patients.
In the gene expression and research markets, too, he said customers have been "kind of stuck with real-time PCR because of the cost they can afford and the kind of workflows they are used to using." 
That said, "There are lots of places where we see this small, low-form-factor instrument with a low cost being able to impact things, beyond research in the near term and clinical items in the mid-term," Perkins said.
Because the cost of the instrument is projected to be within the range of qPCR, it could potentially be useful in low-resource settings to provide access to better diagnostics, or environmental monitoring for things like cholera outbreaks, he said.
And, Perkins said Continuum's workflow could enable expanded use as well. The sensitivity of nucleic acid amplification tends to translate to a requirement for specialized training, but a tool that can provide answers using a more simplified workflow allows "more time to think about what the data means as opposed to questioning whether the data is valid," he said.
The expected cost will be approximately $3 per well, Perkins said, while the list price of the instrument will be "on the order of a mid-tier or a little higher real-time PCR machine."
Cloud Paweletz, head of research at the Belfer Center for Applied Cancer Science of the Dana Farber Cancer Institute, has been validating the Continuum system.
Paweletz's lab specializes in developing and designing liquid biopsy research assays that it then validates in collaboration with clinical colleagues at Dana Farber. For example, the group has validated an approach to cancer treatment response monitoring that combines liquid biopsy and digital PCR, and has been working on standards for liquid biopsy.
Paweletz said in an email that Dropworks approached him after his team published a prospective validation of rapid plasma genotyping of cell-free DNA in JAMA Oncology.
The team was intrigued by the value proposition of the instrument, Paweletz said, namely that it could potentially be faster and cheaper, with less hands-on time.
Paweletz and his colleagues submitted a small business grant to help bring "low-cost, rapid, near point-of-care genotyping" blood-based tests of non-small cell lung cancer to the market, he said. The SBIR funding, totaling $224,998, was awarded in 2018 by the National Cancer Institute. Her added that the lab is currently using the Dropworks instrument for liquid biopsies.
In general, available plasma genotyping tools like next-generation sequencing and standard digital PCR are "too costly and slow … to be efficiently implemented" for cancer treatment monitoring, Paweletz said.
"To widely impact cancer care, a noninvasive monitoring assay must be inexpensive enough that it can be ordered repeatedly and must be fast enough that it can seamlessly integrate into the current pace of clinical decision making." So far, Paweletz said his team has seen equivalent results with the Dropworks system as compared to other methods, he said.
"We hope that by leveraging Dropworks' automated, low-cost, point-of-care digital PCR technology we will be able to bring the promise of liquid biopsies to the mass market," Paweletz said.
Sued by Bio-Rad
Other major players in the digital PCR space include Bio-Rad Laboratories, Stilla Technologies, Thermo Fisher Scientific, and Fluidigm. All of these companies make systems that are established in the research space, and many are also branching out into the clinical space and developing a menu of clinical assays as well.
Last week one of these major players, Bio-Rad, filed a lawsuit against Dropworks claiming patent infringement.
Specifically, Bio-Rad alleged in a suit filed on April 14 in the US District Court for the District of Delaware that Dropworks is deliberately, directly, and indirectly infringing on its US patents 8,304,193 and 9,127,310.
Patent '193 was licensed by Bio-Rad from the University of Chicago, where the technology was originally developed by Rustem Ismagilov and others. The patent was originally filed in 2001, and was previously the subject of a suit between U of Chicago, Raindance, and 10X Genomics. Patent '310 was originally filed by Bio-Rad in 2010.
Bio-Rad alleges that actively marketing and also engaging to provide third-parties with the Continuum system are concrete steps that contribute to the infringement. The firm is demanding a jury trial and seeking an order enjoining Dropworks from engaging in activities that infringe on the patents, as well as monetary damages.
Dropworks' Perkins declined to comment on pending litigation.