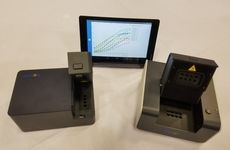 NEW YORK (GenomeWeb) – Anitoa Systems, a Silicon Valley-based medical device company, has launched an early-access program for a portable qPCR system called Maverick.
The company unveiled the platform, which weighs one kilogram and can run quadruplex qPCR on each of four samples simultaneously, at the Molecular Medicine Tri-Conference in San Francisco this week. Anitoa is initially targeting the platform toward the research and applied markets, and eventually diagnostics.
Founded in 2013, Anitoa pairs low-light complementary metal–oxide–semiconductor, or CMOS, biosensors with microfluidics to miniaturize medical devices at a reduced cost. The firm was originally founded with support from China aimed at hepatitis testing, CEO Zhimin Ding said in an interview.
For this initial purpose, Ding and his colleagues looked into available portable instrument systems as well as standard strategies for instrument development. "The conventional route is to buy components and build systems, but we realized the costs would never go down enough to meet the demand of developing countries," Ding said.
Instead, Anitoa decided to make its own components for its instrument, starting with a CMOS chip for signal detection. The chip "can be made at very low cost, but it has performance equivalent to a photomultiplier or CCD," Ding said.
In terms of the thermal cycler itself, the instrument uses standard Peltier cycling, but Anitoa has adapted techniques from the computing industry to miniaturize its systems. For example, it used technologies to manage heat that are commonly used in handset manufacturing, and heat sink innovations from the personal computing industry. Overall, the system can heat at 5° C per second and cool at 4° C per second, enableing a sub-30-minute test cycle, Ding said.
While some firms have tackled the problem of miniaturization by using spatial thermal cycling, where the sample moves between fixed heat sources, Anitoa chose to have all the internal components of the instrument locked in place, to make it more rugged. "We have a very compact, efficient heat dissipation system to ensure evenness — but because it is portable we wanted to make sure there were no moving parts," Ding said.
There are differing estimates delineating the potential market for portable PCR systems, Ding noted, but there are already quite a few other companies with products commercially available. These vary in the size, cost, level of automation, available software, and intended target markets.
For example, Meridian subsidiary Bioline distributes the Mic platform that is primarily used in the research market, a market also targeted by the Streck Philisa. The Amplyus MiniPCR system is also being used by researchers, as is the Ubiquitome Freedom4. The OpenPCR system from Chai Biotechnologies, a platform from Biomeme, and one from Bento Bio, all initially targeted so-called makers, or bio-hackers, although the Chai Open qPCR platform is now marketed more broadly to the research market. Instruments like the Tetracore T-Cor 8, Thermo Fisher Scientific PikoReal, and Coyote Bioscience Mini8 are somewhat more angled toward a portable medical diagnostics market, while small instruments like the Cube from Spartan Bioscience are also targeting clinical lab studies, particularly pharmaceutical research trials.
In contrast to these open instruments, point-of-care systems such as Roche's Cobas Liat, Abbott's Alere i and Alere q, and the forthcoming Cepheid Omni, are generally portable, but are closed systems that require customers to purchase test cartridges. Likewise, the Mesa Biotech Accula test system, which was cleared and CLIA waived by the US Food and Drug Administration along with an influenza test earlier this month, is a closed, cartridge-based system, although it has the advantage of being handheld.
The system is not cartridge based, but Ding said Anitoa is "open to third parties developing their consumables on our platform." The firm is initially courting customers in the research market as well as food and agricultural testing.
The Maverick is different from some of the other available systems in that it is real-time PCR, so it is quantitative, and it can be multiplexed with optical channels enabling detection of up to four targets per tube.
Furthermore, "Our system is a direct imaging system, so there is no need for calibration" in the field, Ding said, adding that subsequent image analysis software quantifies the reaction. In contrast, in systems that use a photodiode to pick up signal, alignment of the diode and tubes needs to be accurate, and re-calibrated if the machine is jolted or shaken.
Obviating the need for re-calibration enhances the portability of Maverick, and is an attractive offering for researchers working in remote areas, Ding said. "After a researcher travels for a few days, they don't want to have to re-calibrate before starting to run tests," he said.
MiniPCR is pretty rugged, having been used in microgravity on the International Space Station. But Ding noted that system is only a thermal cycler, so it requires endpoint detection with another method.
Anitoa's cloud-based analysis software and data analytics also includes machine learning, or artificial intelligence-based technologies, which could also be a potential differentiator. One of the co-founders of the company previously worked at Google on cloud and AI tech, Ding said, and the firm would like to bring that into the qPCR ecosystem "to extract the most value from the data."
The firm believes the software will provide a distinct advantage to customers. "If you always have to have a scientist to read the raw data, the user will be limited" in what he can do, he said.
Compared to other systems, the Maverick is lighter and more portable, Ding said. And, since Anitoa controls the manufacture of its optical components, it can be more cost competitive than a number of other systems. It will cost between $3,500 and $6,000, depending on the number of optical channels a customer needs in the instrument, Ding said.
In the long term, Anitoa looks to enter the hospital and physician office market, and will likely seek regulatory approval for this purpose first in China. "We're working with a big hospital in Hangzhou, China," he said, developing tests for hepatitis and methicillin-resistant Staphylococcus aureus.  But at the moment it has research customers, as well as ones who use qPCR in food and agricultural testing.
In addition to partnering with assay developers, Anitoa is considering developing a few assays itself for specific target markets in the future, Ding said.
The company plans for a commercial release of the Maverick in the summer, and is currently supplying beta products as part of its early-access program.