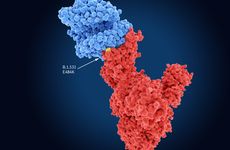 NEW YORK ─ With many countries facing another wave of coronavirus cases, Eurofins anticipates that recent additions to its product portfolio  –– an RT-PCR kit to detect mutations associated with coronavirus variants of concern and an at-home collection kit for SARS-CoV-2 –– can play a critical role to help tame the pandemic.
The company ─ an international group of laboratories with headquarters in Luxembourg ─ announced this month that it has expanded its portfolio of coronavirus tests with the development of a multiplex test for mutations associated with SARS-CoV-2 variants, and the launch of a direct-to-consumer at-home collection kit for SARS-CoV-2 testing in the US.
The announcements come about a year after Eurofins quickly began developing and manufacturing SARS-CoV-2 tests and conducting RT-PCR and antibody testing for the novel coronavirus, leveraging its experience in the development of primers and probes and its broad network of testing labs.
However, more than a year into the pandemic, highly contagious variants and a relaxation of restrictions are driving a rise in new infections, even as countries increase the pace of vaccinations.
With cases starting to spike again, Eurofins' RT-PCR kit, GSD NovaType II, could be particularly impactful for labs and countries looking to gain control of emerging disease clusters triggered by variants, Gabriel Julia, the firm's group senior vice president, clinical, said in an interview.
"For the forthcoming months, at least, there will be a need for massive PCR testing to identify positive cases and then to screen for mutations to crack down on the variants' clusters and help vaccinations to win the race against mutations," Julia said.
Its new variants' kit consists of primers and probes for the amplification and simultaneous detection of specific RNA sequences associated with specific SARS-CoV-2 S gene variants, enabling laboratories to identify genomic mutations in samples that have tested positive for the presence of SARS-CoV-2 RNA, the firm said.
Specifically, GSD NovaType II detects N501Y and E484K mutations that are common to many SARS-CoV-2 variants of concern, and the K417N mutation is specific to B.1351 first identified in South Africa, Julia said.
Eurofins' approach to testing for variants has begun to focus "more and more on identifying the presence [or] absence of specific mutations, given that many variants share the same mutations," Julia said.
He added that the N501Y mutation detected by the new kit is present in the UK B117 variant, South African B1351 variant, Brazilian P.1 variant, and others, and mutation E484K is present in South African, Brazilian, Nigerian, and New York variants, as well as a second UK variant.
Notably, because Novatype II detects mutation K417N, labs could use it to specifically confirm the presence of the South African variant, Julia said. That's important, he added, because based on testing in its European laboratories, Eurofins sees that the South Africa variant is the second most prevalent after B117.
By providing test results in less than two hours, the GSD NovaType II kit is well suited to screening for variants and frees up sequencing capacities for use in epidemiological studies, the firm said.
Eurofins validated the assay on the AriaMxTM and AriaDxTM qPCR platforms from Agilent Technologies and expects to soon validate it on additional thermocyclers. The test is currently available for research use but Eurofins expects to soon obtain CE marking, which would enable its application as an in vitro diagnostic test in the European Union and other regions that accept the designation.
Sequencing, which has a longer turnaround time for ongoing variant testing, must be done in parallel with RT-PCR testing to provide a feedback loop that enables adapting panels to address additional emerging variants as needed, he noted. "We are proposing this to health authorities because in our view, it's the right way to win the race against mutations," he said.
Laboratories, in general, are also running NGS on a portion of positive samples to confirm the presence of known variants and to identify specific mutations associated with variants that may end up becoming contagious. Similarly, a new mass spectrometry-based assay developed by Seq-It, a Kaiserslautern, Germany-based molecular services provider, represents an alternative test modality to RT-PCR and NGS that is capable of detecting SARS-CoV-2 mutations. Agena Bioscience said recently that it will begin selling and distributing the assay, which runs on its MassArray system and detects 20 mutations related to a number of SARS-CoV-2 variants.
At the same time, Eurofins is "extensively promoting variants testing" in its laboratories and has donated kits to a number of European public hospitals to broaden adoption and enable timely identification of variant clusters in regions, Julia said.
However, its development of the GSD NovaType II kit is just one example of how the company has kept pace as its customer requirements evolved during the pandemic, he added.
Its at-home sample collection kit for SARS-CoV-2 tests is another such tool, and Eurofins' EmpowerDX subsidiary this month launched a direct-to-consumer COVID-19 home collection kit, which received US Food and Drug Administration Emergency Use Authorization in February and is now available without a prescription for $99 on Amazon. The kit includes step-by-step instructions, a shallow nasal swab, test tube, and a pre-paid FedEx package for sending samples, and it enables testing of SARS-CoV-2 in both symptomatic and asymptomatic patients, Eurofins said.
Eurofins' Clinical Enterprise business had obtained FDA EUA for EmpowerDX At-Home COVID-19 PCR Test Kit, a nasal swab specimen self-collection kit for SARS-CoV-2 testing, in October.
The firm is also moving toward providing self-sampling kits for its customers in Europe where it sees "an evolving situation for school systems," Julia said. In some countries, plans are in place to have students and teachers self-test before they arrive at school, he said, adding that countries previously not eager to do self-sampling are now changing tack.
Julia noted that since he joined Eurofins 10 years ago, he has seen its revenues grow tenfold. Since its initial public offering on the French stock exchange in 1997, the company's revenues have increased at a compound annual growth rate of 34 percent per year.
For fiscal year 2020, the company reported revenues of €5.44 billion ($6.55 billion) compared to €4.56 billion the year before. Sales of COVID-19 tests and reagents contributed more than €800 million in 2020.
The company began operations in 1987 by marketing a nuclear magnetic resonance spectroscopy method to detect concentrations of sugar in wine. It still markets a push-button system that uses NMR spectroscopy for laboratories conducting analyses of the chemical components of beverages and flavors.
Clinical diagnostics is one segment of Eurofins' broader business. Overall, the company said it provides analytical services from its more than 800 laboratories and conducts about 450 million tests each year. Its markets can be roughly grouped into bio-pharmaceutical services, food and feed testing, environment testing, consumer product testing, and clinical diagnostics, the company added.
"The common point between all of these activities is lab testing, that's our specialty," Julia said.
Of the total number of laboratories, 184 are in North America, 554 are in Europe and the Middle East, 100 are in Asia, and three are in Africa, according to its 2020 annual report.
The firm has been active in the clinical diagnostics sector since 2014, with a focus on testing for transplantation, prenatal conditions, and cardiac and infectious diseases.
"We are active in routine and specialty clinical testing, but with a strong focus on clinical specialty testing," Julia said, adding that Eurofins has strong positions in prenatal testing in Europe and transplantation testing in the US.
Within clinical diagnostics, according to the firm, its laboratories perform hundreds of thousands of clinical diagnostic tests each day, and its testing products and services contribute to each stage of patient care, including genetic predisposition to disease, disease prevention, and disease diagnosis, treatment monitoring, and prognosis. The firm provides testing services for a broad range of medical specialties, including non-invasive prenatal, genetic, hormonal, and immunological tests for women during pregnancy, tests for infertility, and tests for predisposition for common cancers.
For transplant patients, the firm performs histocompatibility testing, donor screening, and microbiology and infectious disease testing, and it tests for early detection of graft rejection and drug monitoring. The firm said it also has a portfolio of molecular diagnostics tests for personalized cancer care. Its addressable market for genetics and esoteric testing within the clinical diagnostics space is estimated to be between €5 billion and €10 billion.
Eurofins also operates four CAP-accredited central laboratories located in Lancaster, Pennsylvania in the US; Breda, Netherlands; Shanghai, China; and Singapore that support client studies for drug development. Its central laboratories provide testing for customers throughout the drug development process from pre-clinical and proof-of-concept to confirmation.
Its clinical testing customers include hospitals, academic medical institutions, organ procurement organizations, tissue banks, biopharma companies, and independent physicians. With the launch of its EmpowerDX business in 2020, consumers can also purchase clinical diagnostic products directly from Eurofins.
With the outbreak of the pandemic in 2020, Julia said, the firm rapidly increased its capacity for the detection of SARS-CoV-2 by providing virus detection testing by PCR and, to a lesser extent, antibody testing.
Of its more than 50 laboratories for COVID-19-related PCR testing worldwide, about two thirds are in Europe, the Middle East, and Africa; one-third are in the US; and the remainder are in Asia, Julia said.
Eurofins began testing for COVID-19 in its European laboratories at the beginning of March 2020 and "quickly realized that there were many challenges to the necessary ramp-up of testing capacity," Julia said. A shortage of RNA extraction kits was especially problematic, he said, adding that the firm immediately decided to focus on developing its own tests using its primers and probes, and eliminated its reliance on outside suppliers.
It began testing for SARS-CoV-2 using lab-developed tests a year ago but quickly sought to obtain CE marking for European customers and FDA EUA for US customers to enable broader adoption and eliminate validation requirements for RT-PCR tests in its many labs.
For US customers, Diatherix Eurofins last April received FDA EUA for its SARS-CoV-2 assay to detect viral nucleic acid in nasal swabs, nasopharyngeal swabs/wash, oropharyngeal swabs/throat swabs, bronchial aspirates, or sputum. In Europe, at about the same time, Eurofins received CE-IVD marking for three ELISA-based SARS-CoV-2 tests and for its GSD NovaPrime SARS-CoV-2 (COVID-19), a multiplex RT-PCR test that simultaneously detects two target sequences inside the SARS-CoV-2 N gene.
The company said that it launched rapid point-of-care fingerstick tests that identify antibodies to SARs-CoV-2 in 10 minutes, with a sensitivity of 94.5 percent from 19 days following the onset of symptoms, to detect people who may have been previously exposed to the virus. During the past year, the firm also developed methods for environmental surface testing, wastewater testing, and air testing to detect the presence of SARS-CoV-2 at its early stages.
Additionally, toward the end of 2020, Eurofins announced CE marking for its GSD NovaGen SARS-CoV-2 rapid antigen test, which provides results in 15 minutes from nasopharyngeal samples.
Antigen tests may have a use case in coronavirus testing where rapid results are needed, such as at airports, but because of concerns about their levels of accuracy, they should always be implemented in parallel with RT-PCR testing, Julia said.
Further, variants testing, in which antigen tests do not play a role, will dominate SARS-CoV-2 testing for the foreseeable future with "new variants of concern appearing on the radar every few weeks," he said. "For this use case, it's important to have a timely response" aligned with high-volume testing.
PCR is the only modality that can provide the volume of testing needed with the required turnaround of a few hours, he added.
File Attachments
adobestock_410984097_copy.jpg