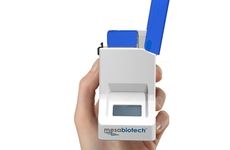 NEW YORK (GenomeWeb) – Aiming for a 2017 launch of its handheld molecular testing device and influenza A/B assay, Mesa Biotech has recently made a number of strategic hires with commercialization and leadership experience.
Last week Mesa announced it had hired Tom Willardson, a 30-year veteran of large global companies and early-stage startups with three successful IPOs under his belt, as chief financial officer. It also hired John Monroe as senior vice president of operations. Monroe's resume includes 12 years as operations leader at Alere and seven years as Quidel's director of manufacturing and materials.
Mesa brought on William Brody as chairman of the board last month. Brody was president of San Diego's Salk Institute for Biological Studies for six years. Prior to that he was president of Johns Hopkins University for 12 years. In a statement at the time, Mesa CEO Hong Cai noted Brody also has "a wealth of experience building and leading growth-oriented medical device companies" and those attributes, combined with a vast network of professional connections, "will be invaluable as we prepare to commercialize our first product."
Emily Winn-Deen, chief strategy officer at Mesa Biotech, told GenomeWeb in an interview that bringing in this set of people with "strong commercialization and scale-up experience" is part of the transition from the development phase to the commercial phase that the company foresees over the next year and a half or so.
Mesa's core technology is a handheld molecular diagnostic device consisting of a small controller dock and sample-to-answer testing cassettes.
"We have a very simple instrument that provides an electronic control interface to the cartridge, and the test cassette itself has all of the materials to run the test," Winn-Deen said. When a cartridge is inserted into the dock, it activates the programming to run a particular test.
The menu will begin with a flu A/B test. For that test, patient nasal swabs are washed with a buffer, an aliquot is added to the cassette, it is placed in the dock, and "then you just close the lid and everything else is controlled by the dock from then on," Winn-Deen said.
The cassette contains all necessary reagents for lysis, transcription of influenza virus RNA to DNA, and amplification. The amplification method uses proprietary chemistries and is "a variant of PCR," with heating and cooling applied via a flex circuit in the fluidics chamber that is powered by the dock.
The system does not require as much power as a standard thermal cycler, and can be run using a rechargeable battery pack with about a four-hour life, or roughly six to eight runs.
After amplification, the cassette sends the amplicon through a lateral flow strip which is striped with different detection oligos to enable multiplex detection. When the test is done, the dock beeps and the user can read the result visually. 
"What this gives us is the ability to have a test cassette that looks very much like what many physician offices are used to reading with their rapid immunoassays — the look and feel is similar — but we're able to provide the improved performance that [comes from] targeting the virus' nucleic acid," said Winn-Deen.
An additional advantage is the low cost of the instrument, likely in the hundreds of dollars range. "It doesn't have much beyond a circuit board in it — there's no optics, no pumps or any kind of fluid handling aspects to it," she added.
Mesa plans for the device to have a useful life of 1,000 tests, or about two to three years. It will not require any service, maintenance, or calibration, Winn-Deen said.
"For the full time of that 1,000 runs, the customer can count on that instrument, and then instead of paying a service person to come and tune it up we're just going to replace it, probably for less than the minimum it would cost to send a service guy to your office," she said.
For the flu A/B assay, Mesa is currently in the contracting process with a dozen clinical trial sites that span a number of geographies and types of users.
The US Food and Drug Administration "likes to see both those kind of distributions, particularly for CLIA waiver, to make sure that enough different types of users have tried it and used it successfully," Winn-Deen explained. Following completion of the trial, likely after the end of the flu season next year, Mesa intends to take this test through the FDA CLIA waiver process.
Subsequent tests on the menu will include a combined test for influenza and respiratory syncytial virus, Group A Strep, and norovirus. The tests generally take 20 to 30 minutes to run, with those targeting RNA and requiring reverse transcription being on the longer side, Winn-Deen said.
Mesa won funding from the Defense Threat Reduction Agency of the US Department of Defense for a next-generation version of the instrumentation that has higher multiplexing ability and can deal with more difficult samples, such as blood. Winn-Deen said Mesa delivered a proof-of-principle rapid Ebola test under that contract in December, although the firm does not intend to develop a commercial assay for that virus.
In terms of other funding, Mesa received a Phase II Small Business Innovation Research grant from the National Institutes of Health in 2014 that was valued at up to $3 million and is still active. That grant was focused on developing the flu A/B test. Mesa has also been funded by the Bill and Melinda Gates Foundation and has collaborations with the the US Department of Agriculture and Los Alamos National Laboratory, where the basis of the technology was originally developed.
The next phase will be scale-up, commercialization, and marketing, Winn-Deen said. A multiple-million dollar friends and family financing round has been used to supplement some of the pre-commercialization activities not covered by government grants, and Mesa is prepping for a formal Series A finance raise in the next month or so.
The San Diego-based firm is aiming to bring its products to doctor's offices and clinics, and Winn-Deen said the growing number of POC molecular tests available will help Mesa. "We won't have to convince FDA that this is possible ... everything that [competitors] do to develop the market I think will make it easier for us to come in," she said. In addition, other CLIA-waived molecular test platforms cost thousands of dollars, so lower price could be a differentiating factor for Mesa in the market. The test will also have the performance expected from a molecular test, so it will easily differentiate itself from rapid immunoassays currently in use in the POC setting, Winn-Deen said.
"The quandary clinicians have had is [that] they'd love to upgrade to something more accurate, but a lot of particularly smaller practices don't have money to buy capital equipment that they use six months of the year to test for flu," she said. Removing the cost barrier will also allow clinicians to use tests that already have "very good" reimbursement, so they will not have to worry whether they will be paid.
"We're trying to peel away the objections and barriers to having patients get access to this kind of on-site testing," Winn-Deen said. 
Mesa will partner with distributors when the time comes, and is particularly interested in partners that already call on physicians' offices.
The firm is also open to applied markets-related partnerships that take the technology outside of the human diagnostics space, including veterinary, agriculture, or genetically modified organism monitoring. "We're open to partners working with us to develop specific assays that they might want to have and distribute," Winn-Deen said.
The first published description of the technology in detail is expected to be included in the peer-reviewed results of the upcoming clinical study.