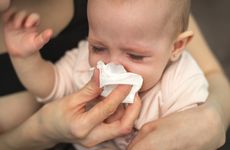 NEW YORK – Point-of-care molecular tests for influenza have recently been shown to be extremely sensitive and specific in pediatric samples, but whether they are actually being used in practice is unclear.
A prospective evaluation published online last month in the Journal of Clinical Microbiology compared the Roche Cobas Liat Influenza A/B, the Abbott ID Now Influenza A & B 2, and the Cepheid XpertXpress Flu point-of-care molecular tests. All three tests are CLIA waived for fresh samples, although in the study, which was performed at Children's Mercy Hospital in Kansas City, Missouri, the tests were evaluated in the lab using 201 frozen patient samples.
The study found that the ID Now, Liat, and XpertXpress flu tests had high sensitivity and specificity compared to a lab-based flu A/B PCR test from the US Centers of Disease Control and Prevention, and performed better than the hospital's historical standard of care test, the BD Veritor flu immunoassay test.
Specifically, compared to the CDC PCR test, the overall sensitivities for ID Now, Liat, and XpertXpress for flu A detection were 93 percent, 100 percent, and 100 percent, respectively. For flu B detection ID Now had a sensitivity of 97 percent, while Liat's sensitivity was 94 percent and XpertXpress' was 92 percent. The specificity for flu A and B detection by all three methods was greater than 97 percent, according to the study. The molecular assays also had higher sensitivity when compared to a historical standard-of-care test results from the BD Veritor test, which had a flu A sensitivity of 80 percent and a flu B sensitivity of 67 percent.
Although guidelines updated by the Infectious Diseases Society of American in 2018 have urged the use of molecular diagnostic-based flu testing, and there seems to be some uptake, it is unclear if pediatrics has also adopted molecular flu tests. A handful of pediatric infectious disease experts told GenomeWeb they are not running point-of-care testing of any kind for flu, and instead are using the Cepheid GeneXpert as a lab-based test for rapid diagnosis.
There are a few reasons this might be the case. Children have a higher carriage of pathogens, which could theoretically affect specificity of molecular testing. In one example, asymptomatic controls had a high level of positive PCR tests in research on a viral panel with 16 targets, and 20 percent of patients had co-infections with more than one virus.
For flu, the rapid influenza diagnostic test (RIDT) reclassification in 2017 changed the landscape — rapid immunoassay tests had to demonstrate they could meet new higher sensitivity and specificity standards.
That said, RIDTs might work particularly well in kids, according to David Persing, Cepheid's chief medical and science officer.
"The thing that's often different about pediatric populations is that their viral loads are higher than average, so they're actually easier to detect with less sensitive technologies," Persing said in an interview.
Offsetting this is the fact that getting a nasopharyngeal swab for and RIDT from a kid is challenging. "The saying is, you have a single lifetime opportunity" to get an NP from a child, because once they have had that procedure done, they will strenuously object the next time it is attempted, Persing said. "Nasal samples are really an advantage in that population."
Unfortunately, viral loads are lower in nasal samples for both flu and RSV, "but a sensitive test can compensate for that and still get good results," Persing said.
The JCM study evaluated the three molecular tests using frozen NP swab samples, but Cepheid's test can also be used with a nasal swab, as can the Roche and Abbott tests.
Persing noted that the Cepheid test is designed for use with fresh samples, and it was designed for viral genome capture, not to detect short fragments. "Freeze-thawing can damage the template so it doesn't end up getting captured as efficiently on the GeneXpert," he said, cautioning that this may not apply to other technologies.
Jamie Phillips, the senior scientific affairs manager at the medical and scientific affairs division of Roche Diagnostics, said in an email that the JCM study confirmed what several prior studies have found. Namely, "Molecular point-of-care testing has much higher sensitivity for influenza A and B than antigen-based rapid tests," as is reflected in the latest IDSA guidelines. And the high sensitivity and specificity reported for the Cobas Liat system are consistent with other published studies, she said.   
Norman Moore, director of scientific affairs for infectious diseases at Abbott, commented that children under the age of 5 years are especially at risk of influenza complications, and school-age children can also rapidly spread flu at school and at home, so there is incentive to identify infection. Rapid identification — within the first 48 hours of symptom onset — can allow for antiviral treatment, which potentially shortens the duration of infection by a few days, and thus lessens the spread of the virus, Moore said.
"With advancements in molecular point-of-care testing technologies, we've moved the testing process closer to the patient — in an urgent care setting, a doctor's office, walk-in clinics — and made it faster, easier and more accurate than it has ever been before," Moore noted.
Abbott's ID Now offers the fastest testing on the market, he said. Its flu test can provide results in 13 minutes, with a positive result in as little as five minutes. This gives healthcare providers "lab-quality test results in a matter of minutes," Moore said, making it easier for doctors to make a confident treatment decision while the patient is in their office.
"As more healthcare systems and healthcare providers learn about the benefits of molecular flu testing through platforms such as ID Now, we expect to see broad adoption of this new testing technology in a wide variety of settings for patients of all ages," he said.
Although the BD Veritor lateral flow immunoassay test was mentioned in the JCM study as having lower sensitivity than the molecular testing, a BD spokesperson commented in an email that the test still has certain advantages.
"The BD Veritor Plus line of products is a simple and easy-to-use system designed to enable the rapid detection of influenza A and B, Group A Strep, or RSV," the spokesperson said.
The BD Veritor flu tests have a simple workflow combined with a small size and low cost, making them "a solution ideally suited for use in physician's offices, urgent care clinics, retail pharmacies, as well as other ambulatory and acute care facilities," the spokesperson said. BD stands behind the clinical evidence claims listed in the Flu A + B package insert, the spokesperson also said, which were reviewed in support of clearance by the FDA to verify that the product meets all FDA class II requirements for RIDTs. The package insert for the BD Veritor flu test shows that for 1,471 prospectively collected NP swabs from symptomatic patients, the test had positive and negative percent agreements of 83 percent and 98 percent, respectively, for flu A when compared to a reference PCR. For flu B, the test had a PPA of 81 percent and an NPA of nearly 100 percent. 
In the JCM study, the specificity of the BD immunoassay was also comparable to the molecular tests, the authors wrote.
Overall, for the molecular systems the JCM authors also noted that all three were easy to use, and that the multi-module capabilities of the Cepheid system could potentially provide workflow advantages.
End user perspectives
Although point-of-care molecular flu tests are extremely sensitive and specific, the extent to which pediatric settings are actually using them – and using them to their fullest potential close to the patient - is unclear.
While individual pediatric practices may be deploying such MDx tests, in large health systems, there is resistance to the technologies.
At Henry Ford Health System, Division Head of Clinical Microbiology Linoj Samuel and his team uses the Roche Liat for flu testing, as previously reported, but the health system does not have a very large pediatric patient population.
Furthermore, "Our testing using the Liat is performed in stat labs by well-trained medical technologists," Samuel said in an email.
Still, the Liat systems are small enough that HFHS now has them at 12 locations systemwide, he said,  "So while they are not being used as traditional POC testing, they are still 'near patient.'"
This has been standard practice at HFHS even before molecular POC testing became available, he said, and is "the preferred approach" even more so with molecular testing because of "concerns about the potential for contamination if the tests are inappropriately handled by non-lab personnel."
Jennifer Dien Bard, the director of the clinical microbiology and virology laboratory at the Children's Hospital Los Angles, said her hospital is not currently using any POC testing for flu or other respiratory viruses.
She noted that the clinical microbiology lab previously offered rapid antigen testing for flu and RSV, but this was discontinued about seven years ago due to low sensitivity as well as the availability of a rapid sample-to-answer molecular assay that was available 24-hours a day, seven days a week.
Specifically, the lab implemented the Xpert Xpress Flu/RSV test from Cepheid. Dien Bard noted that the test is CLIA-waived, but the hospital performs the test in the clinical microbiology laboratory around the clock, rather than in a near-patient or point-of-care setting.  
The test takes about 25 minutes to run and the lab's average turn-around-time from the time of collection is approximately one and half hours, Dien Bard said. "In the majority of cases the TAT is sufficient, and there does not appear to be a huge need to implement POC molecular tests," she said, pointing to an obstacle facing adoption of POC MDx, in general.
Dien Bard explained that the constraints on uptake of POC MDx are essentially the same, regardless of the age of the patient. "Reimbursement and demonstrating return in investments are important for both pediatric and adult settings," Dien Bard said.
She noted that the emergency department might be the most likely unit in the hospital where POC molecular may be implemented in her institution.
"That being said, we have not adopted any POC molecular tests so far," she emphasized, adding that one of the reasons why POC molecular in the ED was not pursued in the past is the lower sensitivity and lower negative predictive value of the first tests that were commercially available, as compared to the routine molecular tests offered in the clinical laboratory.
Overall, Dien Bard said that molecular tests at the POC have the potential to deliver test results at a much faster pace than testing performed in clinical laboratories, allowing providers to make a treatment decision in real time.
However, she emphasized there are also potential issues related to misuse, performance, and misinterpretation of test results, as well as quality control, when a clinical test is performed by non-laboratorians. Oversight by a clinical microbiology expert of any infectious disease POC molecular tests, such as the microbiology laboratory director, is important "to ensure that the same quality assurance that is being instilled in the clinical laboratories is continued at the point of care," Dien Bard said.
Suchita Rao, an infectious disease expert at Children's Hospital Colorado, said her health system is also not currently using point-of-care molecular testing, but rather is using the Cepheid GeneXpert in the lab. And, since the 2009 pandemic flu, the hospital has also stopped using EIA-based rapid testing, given the issues with lower sensitivity, Rao said.
Based on the ISDA guidelines, she said the hospital tries to limit influenza testing to populations who are at risk of more severe disease, such as children who are going to be hospitalized or are under observation, are very young, or have a high-risk medical condition.
"Further, testing should be conducted if it will lead to a change in clinical decision-making," Rao said, adding, "From a healthcare perspective, trade-offs for hospitals don't just include the loss of revenue generated from testing in the microbiology lab, but there is the potential for an increase in testing given the faster turnaround time, and more widespread antiviral prescribing for children who wouldn't necessarily receive any benefit."
Although the hospital uses the Cepheid GeneXpert, it experiences some limitations with respect to the two-hour turnaround time, Rao said. 
Most testing is conducted by the emergency departments and urgent care sites, "and for patients who are evaluated more expeditiously, results are not available in time to impact clinical decision-making," she said. Also, the hospital notifies family members of patients who have a positive test result after leaving the ED, and antivirals may be prescribed at that time. "But for those patients prescribed an antiviral or who test negative, we do not currently have a mechanism to notify parents to stop antivirals," she said.
Given the time limitations with the GeneXpert in use at Colorado Children's Hospital, Rao said her team is interested in introducing molecular POC testing for influenza and Group A strep, and is "hoping to incorporate both of these at three hospital sites within our health system by the next respiratory season." 
In addition, the hospital is hoping to embed clinical decision support alongside the rollout to help with diagnostic and antimicrobial stewardship efforts and promote judicious testing and antiviral prescribing. 
In a similar scenario, Arthur Rabson, director of the tissue typing, molecular pathology, clinical immunology, and microbiology laboratories at Tufts Medical Center, said his health system does not currently use POC testing for flu.
"We require all nasopharyngeal swabs to come to the central microbiology lab where they are tested on the GeneXpert system for flu A and flu B, and if pediatric, also RSV," Rabson said.   
The rationales he provided present a potential hurdle that developers will likely have to overcome in the future, if they wish to see broader use: "We think that POC molecular testing for flu will be abused and will be a significant financial drain," Rabson said.