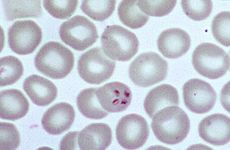 NEW YORK (GenomeWeb) – The New England Journal of Medicine today published results of a three-year clinical trial to detect tick-borne Babesia microti parasites in the US blood supply using a serology and nucleic acid amplification testing regime from Oxford Immuntec's Imugen division.
The trial was a collaboration between researchers at the American Red Cross and Imugen and was supported by internal funds of the American Red Cross. Imugen conducted the testing of 89,153 Red Cross-collected blood donations from areas in Connecticut, Massachusetts, Minnesota, and Wisconsin known to have high levels of B. microti. The firm also used a US Food and Drug Administration mechanism for investigational testing programs to recover actual costs of the testing.
Oxford Immunotec acquired Imugen earlier this year for $22.2 million in order to enter the tick-borne disease testing market.
Peter Wrighton-Smith, CEO of Oxford Immunotec, noted in a statement that the NEJM data "provide compelling evidence on the efficacy of the Babesia screening regime that Imugen has developed in conjunction with the ARC," and that the firm looks forward to "progressing these Babesia assays through the FDA approval process and ultimately to commercialization for blood screening."
Babesia parasites infect red blood cells and can cause babesiosis, a disease that is frequently asymptomatic but can result in flu-like symptoms, hemolytic anemia, and can even be life threatening for people with weakened immune systems, according to the US Centers for Disease Control and Prevention.
The parasite is most often transmitted by tick bites, but transfusion-associated infections are increasing and there are no Babesia blood screening tests currently approved by the FDA. Historically, there were 162 cases of transfusion-transmitted babesiosis in the US between 1979 and 2009, although the authors note that this number is likely an underestimate because infections are usually mild. Babesiosis was also responsible for four of the 15 blood transfusion-associated deaths reported in the US from 2010 through 2014.
The study, which was conducted between June 2012 and September 2014, used Imugen's arrayed fluorescence immunoassays (AFIAs) to detect antibodies against B. microti and a PCR assay for B. microti DNA.
Overall, the screening yielded 335 confirmed positive samples, or 0.38 percent. Of these, nine samples were positive only on PCR testing. The researchers also discovered a seasonal variation in the data in which AFIA negative infections were only discovered in summer months.
The study found that the positive predictive value of the protocol was 100 percent among nine PCR-positive, AFIA-negative samples; among 67 PCR-positive, AFIA-positive samples; and among 68 PCR-negative, AFIA-positive samples with titers of 1:512 or more. The PPV was 99.5 percent for PCR-negative, AFIA-positive donations with titers of 1:128 or 1:256, or 191 of 192 donations. The overall PPV was 99.7 percent.
DNA extraction for the PCR assay used an automated membrane-based isolation system from Taigen Bioscience, while primers and probes targeted the 18S rRNA gene. If a sample was positive using the AFIA but negative with the PCR assay, it was then tested using an enhanced-sensitivity digital PCR assay. This assay also enabled determination of the total parasitic load. Inoculating hamsters with patient samples also provided readout of infectivity.
The researchers noted that there were 29 cases of transfusion-transmitted babesiosis from unscreened donations during the study period.
The Red Cross continued the screening protocol for certain hospitals that specifically requested the testing, and the study notes that between October 2014 and August 2016 there were an additional 131,326 samples screened and 367 confirmed positive donation samples.
"Our data, combined with reports of cases of babesiosis nationwide, suggest that a screening strategy that is limited to states in which babesia is endemic, including antibody and nucleic acid testing year-round, would balance risk reduction and the judicious use of resources," the authors concluded.