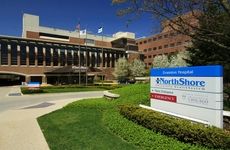 NEW YORK (GenomeWeb) – In a move to compete with emerging urgent care centers within retail settings, NorthShore University HealthSystem in Chicago has expanded a pilot project to launch its so called immediate care centers that use point-of-care tests, including the Roche Cobas Liat PCR-based platform.
After establishing two centers that provide physician and on-site testing services about two years ago, the health system has launched an additional four care centers and anticipates adding others in response to market demand, Justin Brueck, assistant vice president of research at NorthShore, said in an interview.
NorthShore launched its first immediate care centers to evaluate the need to compete for patients looking to attend urgent care centers located in retail stores, such as Walgreens, Walmart, and CVS Health. The health system, which employs more than 1,000 physicians and consists of four hospitals and about 100 primary care centers, is promoting use of the Liat point-of-care test as a means of differentiating its centers from others, Brueck noted.
The Liat PCR System has assays for Influenza A/B, RSV, and Strep A. NorthShore's decision to purchase the Liat system was primarily based on the need to have the most accurate type of POC test available for flu testing, Brueck said, adding, "While we considered multiple test methods, ultimately PCR-based testing is the most accurate. We also took into consideration vendor plans to expand the test menu on the platform" and noted that Roche is committed to expanding its menu.
NorthShore had evaluated the Alere i point-of-care test during the 2014-2015 flu season. However, its performance didn't match that of centralized PCR assays for flu testing, so NorthShore didn't adopt it, Sanchita Das, a clinical and molecular microbiologist at NorthShore, said in an interview. When the US Food and Drug Administration cleared the Liat to detect and distinguish influenza A, influenza B, and respiratory syncytial virus in 2016, Roche approached NorthShore, and the health system then compared the Liat's performance with that of its lab-based PCR assays.   
Previous studies demonstrated the Liat instrument and assay showed greater than 95 percent sensitivity and specificity, and based on its evaluation of the platform, NorthShore selected the Liat over the Cepheid Xpert and Alere i platforms and assays for use in its immediate care centers during the 2016-17 flu season, Das said.
Roche worked with the health system on optimal reagent purchasing and training.
"Hospital systems all over the country are opening immediate care centers," Jenna Eup, marketing manager at Roche Diagnostics, said in an interview. "This may be due in part to the desire to address growing competition from retail health clinics, but it's also part of a broader trend in healthcare to improve both the patient experience and health outcomes by bringing diagnostic testing closer to the patient."
She added, "It's unlikely that the adoption of any kind of diagnostic technology would draw significant numbers of new patients to an immediate care center. But if a healthcare system actively informed its patient population that it now offers new technology that lets providers make a much more accurate diagnosis of flu or strep, in 20 minutes or less, it's conceivable that it could motivate people who are experiencing flu-like symptoms to go to the immediate care center rather than just wait it out."
Brueck said that clinical outcomes data have shown that Liat testing reduced the provision of incorrect antiviral prescriptions when its results were compared to use of a traditional antigen test for flu. Use of the Liat — though it takes 20 minutes to provide a test result when an antigen test takes only a couple of minutes — has removed the guesswork out of prescribing medication for flu patients, he said.
"Without utilizing PCR testing [by the Liat] for flu testing, the data indicates that accuracy is a coin-toss at best," Brueck said. "As such, it is a fair hypothesis that accuracy of results in sites without using PCR may lead to incorrect prescribing." 
Brueck noted that NorthShore is "continuing to grow" its immediate care presence.
"Because of our data warehouse, analytics teams, and other resources in which NorthShore has invested, we have been able to show that at the sites where we went live with Liat, we reduced incorrectly prescribed antiviral prescriptions by almost 11 percent," Brueck said last month during a presentation with Roche Diagnostics at the annual American Association for Clinical Chemistry Meeting in Chicago. "A reduction in the number of false negative results means … that we have enhanced antimicrobial stewardship. These are things that we need to be doing not only because it's right from a population health standpoint, but also because [hospital systems] now have incentives in being paid under value-based purchasing to monitor our antimicrobial stewardship efforts."
In addition to Liat testing, NorthShore's immediate care centers offer a standard menu of point-of-care testing, including quick strep, pregnancy testing, and urinalysis. The convenience afforded to patients by locating immediate care centers in retail settings "is something that NorthShore has had to manage through," Brueck said. "There are reasons consumers sometimes select those kinds of offerings."
Reaching patients in retail settings
Establishing testing capabilities in retail spaces is quickly becoming a trend. In June 2017, Laboratory Corporation of America and Walgreens announced a collaboration through which the clinical laboratory firm would develop and operate patient services within select Walgreens stores. Patient samples collected at the stores are tested at LabCorp's network of primary and specialty labs.
Also, in June 2017, Quest Diagnostics and Walmart announced that they would provide laboratory testing services in about 15 Walmart locations in Florida and Texas by the end of this year.
Quest said at the time that "by providing laboratory testing and healthcare services where people also shop, [it] will make it easier for Walmart customers and their associates to get the quality diagnostic insights they need in convenient locations."
In competing with these centers, a hospital health system needs to demonstrate that it has a differentiated offering, Brueck said.
Most patients who attend NorthShore's immediate care centers have already been treated in its health system, so the decision to establish them is part of a strategy to retain patients. Further, the immediate care centers at NorthShore enable clinicians to obtain a complete picture of a patient's health. When test results are incorporated as part of an overall care plan in a standardized information platform, clinicians can more easily track a patient's progress over time. If a patient is using several different immediate care centers with disparate diagnostic and information systems for their healthcare services, that continuity is not possible, Brueck said.
Consolidating testing results and other clinical health data within a single health system with standardized platforms also enables population health monitoring that can impact the overall cost of care for these patients by bringing more information to the clinician and enabling better outcomes, Brueck said.
The immediate care centers are just one way NorthShore is trying to improve the quality of care to its patients, and Brueck noted that NorthShore has leveraged diagnostic data to improve service quality measures in its health system. To manage hospital-acquired methicillin-resistant Staphylococcus aureus infections, for example, the university hospital initially set out to screen all patients entering its system. Its administrators recognized, however, that screening all patients, while effective, did not provide the most value.
"We developed algorithms that are constantly being tweaked and updated, so we're only testing patients that are at highest risk of developing MRSA," Brueck said, including patients transferred to NorthShore from an outside hospital or who are coming from a nursing home.
By flagging these individuals, NorthShore has been able to almost eradicate MRSA from its hospitals, and it now has a similar program to manage C. diff. The new C. diff program has reduced infection rates 28 percent in 10 months, he said.
Patients who get hospital-acquired infections that are resistant to drugs don't recover well and the cost of managing them is almost $24,000 more than for a traditional patient who doesn't have such an infection, Brueck said.
In addition to their impact on antimicrobial stewardship, the immediate care and hospital acquired infections initiatives within NorthShore are linked by their use of diagnostic data to evaluate clinical outcomes. Data from lab platforms are providing a basis for conversations about the value of the laboratory, he said during his presentation at AACC. "I think laboratories are truly the new value proposition in healthcare … We need to help elevate the lab and be able to speak more coherently about its value."
Further, NorthShore recognized the need to implement approaches for better antibiotic stewardship not only because "it's the right thing to do from a population health standpoint," but because health systems now have value-based purchasing incentives to monitor antimicrobial stewardship initiatives and show positive outcomes," Brueck said.
The Liat point-of-care platform is FDA cleared for the detection of Group A Strep, and NorthShore is "considering offering that assay" in addition to the assay for flu, Das said. "Additionally, as more assays are available, we will evaluate the need to offer them at the sites where the platforms are placed and proceed depending on volume and clinical need," she said.
The 2018 Medicare payment rate for specific reimbursement codes describing testing for influenza A/B is $105.06, influenza A/B and RSV is $158.38. In an online video posted at Roche's website, a hospital administrator at the Children's Healthcare Center in Allentown, Pa, said that a year after implementing the Liat for testing, 95 percent of its insurance companies were reimbursing testing.
"Several health systems have recently placed large orders [for the Liat] in anticipation of the 2018-2019 flu season," Roche's Eup said.
NorthShore said that the immediate care centers are driving more patients to its hospital system. "We are seeing a notable number of patients following up for care with other NorthShore primary care providers after their first interaction with immediate care," Brueck said, adding that the system is also seeing increases in total immediate care volumes.
During the height of the 2017-18 flu season, between 500 and 600 patients per week were tested at the immediate care centers.