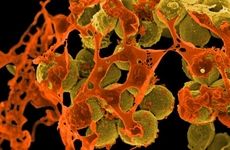 NEW YORK – A new genetic analysis is revealing the extent to which methicillin-resistant Staphylococcus aureus (MRSA) can be transmitted between individuals sharing a household and from reservoirs within those households.
"Household acquisition of MRSA is driven equally by the introduction of new [Staphylococcus] strains into a home and transmission of established strains among family members within a household," senior author Stephanie Fritz, a pediatric infectious disease researcher at Washington University School of Medicine, said in a statement.
As part of a prospective study called the "Household Observation of MRSA in the Environment," or HOME, she and her colleagues started with 150 children previously treated for Staphylococcus infections. They used a combination of bacterial culturing and repetitive-sequence PCR molecular typing to characterize S. aureus strains collected over a year from each child, as well as their family members, pets, and household surfaces, ranging from fridges and sinks to towels and telephones.
The team's findings, published in the Lancet Infectious Diseases yesterday, revealed almost 1,300 "strain acquisition events." More than half of those events involved within-home microbial transmission, though Staphylococcus, or staph, strains were introduced from outside the home as well.
"The prevailing wisdom is that staph is transmitted from person to person, and that is often true," Fritz said. "But our study shows that the household environment also serves as a key reservoir for ongoing staph transmission. In fact, there were a number of instances in which the environment was the only potential source for transmission."
The vast majority of individuals treated for MRSA infections acquired in the community experience recurrent infections, the team explained, and multiple family members may be affected. That prompted the investigators to focus in on households — and the people, pets, and objects found in them — to get a better understanding of how MRSA spreads outside of healthcare settings.
To that end, the researchers collected serial cultures and molecularly profiled MRSA by PCR in samples from 692 individuals and more than 150 cats and dogs, starting with healthy children treated for staph infections between 2012 and 2015 and expanding out to include those sharing a home with the kids at least four nights each week.
At five sampling points over a year, the team collected more than 3,800 samples: nose, armpit, and groin samples from the human participants, along with fur and nose samples from pets and swabs collected at almost two dozen commonly touched surfaces around the house.
The group then used molecular signatures in each sample to match the strains found to their origin. They identified 1,267 new strain acquisitions affecting people, pets, or surfaces in the home: 602 were transmitted from within the household, 510 came from outside the home, and 155 from unknown sources.
Not all of the colonization events involved MRSA. Instead, the researchers reported that methicillin-sensitive S. aureus strains were found far more often in the people, pets, and households considered, turning up with comparable transmission rates.
"[Strain-level S. aureus dynamics] were assessed in the context of extensive demographic, hygiene, health, and activity characteristics to inform household-level interventions to interrupt MRSA transmission and prevent recurrent infections," the authors explained.
For example, the researchers' results indicated that individuals could be colonized from staph-contaminated surfaces in the household, particularly in messier homes with lower-than-usual cleanliness scores, as ascertained by a points-based score from the researchers. They noted that individuals were also more likely to become colonized when they shared personal items such as towels or toothbrushes, lived in rented homes, or had more crowded households.
Once in the home, though, the bugs seemed somewhat more likely to move from humans to their pets than from pets to humans. And for the humans, personal habits such as showering rather than bathing, more frequent tooth brushing, or frequent hand washing apparently helped to dial down the risk of staph colonization.
Although the investigators are optimistic that the findings may help to prevent future MRSA transmissions and infections, they cautioned that additional longitudinal studies are needed to take a closer look at decolonization strategies, hygiene practices, and other approaches that can curb the Staphylococcus spread.