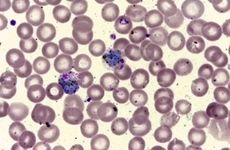 NEW YORK (GenomeWeb) – Eiken Chemical has developed a new loop-mediated isothermal amplification (LAMP) molecular assay that can detect Plasmodium vivax, a species of the parasite that causes malaria. In partnership with Wiesbaden, Germany-based distributor Human Diagnostics Worldwide, the test is expected support malaria eradication efforts focused on this species.
The Foundation for Innovative New Diagnostics also assisted in the development of the test. In particular, the organization worked with Eiken to coordinate lab testing in collaboration with the Hospital for Tropical Diseases in the UK, according to Xavier Ding, the team leader for malaria diagnostics at FIND. Once the test showed acceptable analytical performance in the lab, FIND then coordinated the clinical evaluation in the field.
Almost all molecular tests currently available detect P. falciparum, in part because it causes the highest mortality of the different species, Ding said. However, P. vivax is actually more widespread, with more than 2.5 billion people at risk of infection according to a 2016 review in the American Journal of Tropical Medicine and Hygiene.
"It's only recently that there is a recognition that if we are ever to eliminate malaria, we also need some vivax-specific [tests], because that species has its own biological specificities and is much more challenging to eliminate that falciparum," Ding said.
This is because, unlike P. falciparum, P. vivax can lie dormant in the liver of an infected person in a stage called a hypnozoite, and a person with hypnozoites is then prone to relapsing malarial disease.
However, the focus on P. falciparum is also changing, Ding said, in part because there are new products and pharmaceuticals for P. vivax infections, including a GSK drug called tafenoquine that was cleared by the US Food and Drug Administration last year. The drug can be given in one day, in a single dose, to eliminate hypnozoites, rather than the previous standard of care that involved a 14-day drug treatment.
Currently, a pan-malaria positive test that is not P. falciparum positive would be suspected of being P. vivax infection and indicate tafenoquine might be needed. But the drug has side-effects, and patients have to first be shown not to have a certain enzyme deficiency, so "the treatment is actually quite complex, and you would want to do it only if you are sure there is a vivax infection – and that is the advantage of a vivax-specific assay," Ding said.
Furthermore, "There is big hope that this will make it easier and more accessible to get treatment for liver-stage parasites, but that also means you also need good diagnostic tools to identify those people who have vivax," Ding said.
Eiken, which is headquartered in Tokyo, is the maker of the LAMP technology and FIND has worked with the company on a number of LAMP-based assets, Ding said.
A poster at the recent American Society of Tropical Medicine and Hygiene conference described the evaluation of Eiken's test in Columbia using a protocol of consecutive testing — a pan-plasmodium LAMP test followed by the P. vivax test — with PCR-based testing as the comparator.
In all, 365 fingerpick blood samples from patients with fever were evaluated, and the P. vivax test showed a sensitivity of approximately 94 percent and a specificity of 92 percent.
Importantly, the test also has a low limit of detection of around one to two parasites per microliter of patient sample.
"That is the beauty of LAMP – even though it is more expensive than a microscopy test or a rapid diagnostic test, it captures pretty much all the infection you would see with a regular PCR you would do in the lab, with the ability to do that in much simpler settings, like remote labs or field conditions," Ding said. And while it isn't necessarily good for routine diagnosis, if the goal is to detect low-density infections or asymptomatic people, the test could fit the bill.
There are, of course, very good PCR-based malaria tests, as well. For example, researchers in Kenya previously developed a lab-based test that used nested PCR and high-resolution melt curve analysis. But an isothermal test has advantages in terms of the skill and equipment requirements that could make it easier to use in low-resource settings.
There are also other LAMP-based tests on the market. Eiken makes a pan-LAMP test, and in 2016 Meridian received CE-mark on a LAMP-based malaria test on its Illumigene platform, a system that has been rebranded to Alethia.
The Meridian test uses the LAMP technology under a licensing agreement with Eiken that was recently expanded. It was favorably evaluated by researchers in the field in Senegal and at the US Centers for Disease Control and Prevention, as well as in other studies.
However, the Meridian test is "pan only," Ding said, although it has some competitive advantages in terms of easier sample processing, he added. FIND collaborated with Meridian on the assay development, but the collaboration has ended now that the test has been launched, as FIND's roles did not include its commercialization.
The P. vivax target was challenging to develop from a technical standpoint, Ding said, in part because the loop primer design is complex.
Indeed, Yasuyoshi Mori, a scientist at Eiken in charge of LAMP research and development, said in an email that the genome sequence of Plasmodium in general is well-known to be very AT-rich, so that primer design for Plasmodium itself is quite difficult.
"Furthermore, the target sequence we used for the primers of P. vivax LAMP is in the region [that is] very similar to the other species, especially to P. knowlesi," so the firm had to be careful to develop the LAMP primers in such a way as to keep the test specific and prevent detection of other species. Finally, the firm needed to control the limit of detection so it was similar to that of the Eiken Pan-malaria-LAMP test, to avoid false results from pan-positive but P. vivax-negative samples, Mori said.
The P. vivax test is part of a suite of clinical products from Eiken that the firm has branded Loopamp and that includes a pan-malaria test as well as tuberculosis testing. All the assays use the LAMP technology.
These tests are all distributed by Human Diagnostics Worldwide along with an instrument system called HumaTurb that can be used to run the isothermal LAMP tests.
André Jendretzki, a business and market development associate at Human Diagnostics Worldwide, said in an email that Human manufactures the instruments, "but only the Eiken kits can be used" on them.
The two firms started initial negotiations in 2015, and an agreement was finalized in 2016, Jendretzki said. To successfully bring testing, including malaria testing, to low-income developing countries "requires a good distribution network and a lot of experience with the regulatory and logistical challenges," he said. Human was selected as the exclusive global distributor in all countries excepting Taiwan, Japan, China, and Thailand, where Eiken has more inroads.
The target market for the new test comprises areas where malaria is about to be eliminated, Jendretzki said, including certain countries, but also certain areas in different countries with high malaria incidence.  
The firms are also discussing the introduction of further LAMP products for other infectious diseases such as Leishmaniasis and Chagas, Jendretzki said.
FIND has negotiated pricing for the Loopamp tests and HumaTurb system, with a kit of 96 P. vivax tests costing €499.20 (US $560) and the HumaTurb costing €15,900. There is also a solution for lower-throughput settings called HumaLoop that is a lower cost.