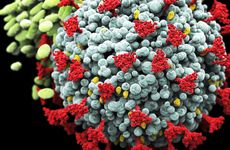 NEW YORK – As emerging SARS-CoV-2 variants, in some cases, drive increases in new COVID-19 cases, detecting mutations of the coronavirus could be a crucial tool to help health systems stay ahead of outbreaks. So far, many federal and state public health labs have relied on viral sequencing for variant surveillance, but new simple and fast allele-specific tests could offer public health officials and test developers a different option.
The newly published assays have detected population-level increases in coronavirus cases, and particular have been able to picked up emerging variants, but whether PCR-based genotyping tests will be widely adopted or demonstrate clinical utility for individual patients is unclear. 
Allele-specific SARS-CoV-2 variant tests have been recently described by teams at Hackensack Meridian Health's Center for Discovery and Innovation (HMH CDI), Rutgers New Jersey Medical School, Columbia University, and the University of British Columbia in Vancouver, Canada.
The US Centers for Disease Control and Prevention is monitoring the prevalence of different SARS-CoV-2 variants of concern and variants of interest. The agency is tracking variants through whole-genome sequencing through its National SARS-CoV-2 Strain Surveillance, or NS3 system, in collaboration with academic and commercial labs.
The different viral variant strains carry signature patterns of mutations, and certain mutations are present in multiple strains. The E484K mutation, for example, is thought to confer an ability to evade the immune system and is present in variants first identified in Brazil and South Africa. It has also been found in a handful of patient samples with the B117, or UK variant, known for its higher transmissibility, as well as in a variant first identified in New York.
The N501Y mutation, meanwhile, is present in the UK and South African variants and is thought to confer an enhanced ability for the virus to its target on human cells. It is also present in the New York variant, also called B1526. 
But sequencing to detect these strains from random samples can take days or weeks and requires technical skill to generate and analyze the data. A CDC dashboard indicates more than 40,000 COVID-19 samples have been sequenced in the US so far, which equates to approximately 0.1 percent of the 31 million cases since the pandemic began.
Mutant strains can also be detected if they produce a negative result for one target in a multi-target test. So-called S-gene dropouts, for example, are detected by assays from Thermo Fisher Scientific, Applied DNA Sciences, and Cepheid, while mutants in the virus' N gene can be detected as dropouts in a test from Mesa Biotech. But this round-about method relies on the alignment of the primers and probes, sequences of which are typically not disclosed, and might yield false-positive results if minor mutations don't lead to phenotypic changes but still result in a dropout.
David Perlin, chief scientific officer and senior vice president of the HMH CDI, and his team have developed an allele-specific method for variant screening involving two PCR tests — essentially simple genotyping assays that can be used to rapidly screen for variants of concern.
Described recently in medRxiv, the HMH assay targets the 501 and 484 mutations in the UK and South African variants in a single tube using molecular beacon probes, with wild type and mutant strains detectable by their different melting temperatures. The assay is extraction-free, with thermal cycling performed on the Mic Real Time PCR Cycler from Bio Molecular Systems.
Perlin said in an interview that the 484 and 501 variants each accounted for roughly 12 percent of the total population tested in the HMH system by February, but that the lab's unpublished data shows the 484 variant has increased to 15 percent, while the 501 variant now accounted for 50 percent of all cases by the end of March. This is similar to the 70 percent increase in variants of concern recently reported in New York City, he said.
The HMH PCR test enables "real-time surveillance" for these variants, Perlin said, and the team reports everything they find to the New Jersey State Health Department.
HMH is the largest healthcare system in New Jersey and has seen approximately half of all hospitalized COVID-19 patients in the state, or more than 18,000 since the pandemic began, Perlin said, and he and his team had one of the first US Food and Drug Administration Emergency Use Authorized laboratory-developed tests.
In partnership with New York Genome Center and others, HMH has also accumulated more than 2,500 viral sequences from its network, he said, but wanted to focus on strains that could lead to reinfection or immune escape. "We were quite concerned we would see them here, especially because so many people who are infected get convalescent plasma therapy," he said.
The HMH system had a peak of around 3,000 patients per week in the initial tidal wave of virus last spring. This decreased to 20 per week over the summer, but in the late autumn the total number of hospitalized patients was "well past 11,000" each week, Perlin said.
"Once we started seeing the E484K mutation rise in our region, we realized that whole-genome sequencing was just not going to be a practical approach," he said.
This is in part because the health system uses antibody cocktails from Eli Lily and Regeneron Pharmaceuticals as an initial therapy for patients with underlying conditions. "We were concerned that the 484 lineages are resistant," Perlin said. "We couldn't wait 24 hours to provide clinical information" with sequencing-based assays, he added.
The HMH variant PCR test uses probes and melt-curve analysis. "This two-hour test allows us to take hundreds of isolates, and then, with a very simple nucleic acid extraction, assess whether we are dealing with a wild-type, normal population that we can treat, versus a variant like 484 which is more problematic," Perlin said.  
HMH is in a unique position with respect to laboratory testing, as the health system has effectively brought send-out clinical microbiology testing in house by creating a massive on-site Quest Diagnostics lab under an agreement announced in December.
All patient samples from the 17 hospitals and 500 or so acute care centers in the HMH network are processed for SARS-CoV-2 testing by Quest's HMH-embedded lab in Nutley, New Jersey, Perlin said, and then positives are reflexed to Perlin's team for variant testing. If the sample has one of the variants, the lab then sends it for sequencing.
"The application of this [workflow] allows us to get a better snapshot of what is going on within the state, drilling down to individual patients," Perlin said, adding that it is also a good illustration of the benefits of the embedded Quest lab.
At the moment, Perlin's lab has not automated the testing, but "it is quite a basic assay" that could be scaled adapted to an automation protocol, he said.
Meanwhile, in nearby Rutgers, New Jersey, David Alland and his team have also developed and published an assay for the 501 variant, noting that the 501 SNP serves as a good marker of the UK, Brazil, and South Africa strains, while the 484 can be used to distinguish the latter two from the UK variant.
Alland — who is chief of infectious diseases at Rutgers New Jersey Medical School as well as director of both the Public Health Research Institute and the Center for COVID-19 Response and Pandemic Preparedness (CCRPP) — said the Rutgers test has the advantage of using so-called sloppy molecular beacon technology, which makes it particularly robust.
Sloppy molecular beacons use melting temperature readouts but are designed so that a new nearby mutation will not invalidate the assay, Alland said.
"Instead, a new mutation-specific melting temperature will be generated that specifically identifies the new double mutant allele, differentiating it from the single mutant and the wild type," he said. Indeed, atypical melt temperatures can be used as discovery tools to find new mutations, and even new organisms.
The Rutgers team validated its test on banked samples but is not using it clinically at this time. "Our current focus is to update the assay to cover more mutations as the need arises and to transfer the technology to laboratories that request help," Alland commented in an email.
Nevertheless, he called the increase in variants among patients tested in Newark "worrisome," and noted an increase in 484 variants as well as 484/501 double mutants.  
A Columbia University variant PCR assay detected a similar increase in variants in the local New York City area. Posted to medRxiv in late February, the test uses heat inactivation for RNA preparation, TaqMan probe-based assays for 484 and 501 variant and wild type sequences, and standard thermal cycling, followed by fluorescence detection, all in a 96-well plate. The team evaluated 927 banked patient samples and found that the mutations increased over time.
They also sequenced a subset of PCR-positive samples, confirming all of the PCR results, and discovered that the 501 variants were of UK and Brazilian lineages, with one South African lineage sample containing both the 501 and 484 variants. And, the team wrote that "quite unexpectedly," 49 out of 65 samples with 484 variants were in the B1526, or New York, lineage.
The Columbia team also assessed the impact of the 484 mutation on monoclonal antibody binding, finding impaired or abolished neutralization abilities of both commercial cocktails and convalescent sera. "These results signify an important antigenic drift in B1526 that could have clinical consequences," the authors wrote.
A variant PCR test from a team in Vancouver, British Columbia was originally posted to medRxiv and later published in Emerging Infectious Diseases. The study used a commercial variant PCR test — the VirSNiP SARS-CoV65 2 Mutation Assay for Strain Surveillance from Tib Molbio using the Roche Cobas 6800 — that tests for five SNPS and deletions. The researchers also developed their own test for the 501 variant and the 69/70 deletion using FAM and HEX probes.
In the study, the Vancouver researchers used the 501 SNP as a screen, then retested 501-positives for the other variants and performed whole-genome sequencing using the Oxford Nanopore MinIon or Illumina MiSeq. In this way, the team were able to discover a previously undetected rapid local increase in the Brazil variant.    
"Implementation of a PCR-based algorithm to detect [variants of concern] has enabled our laboratory to rapidly detect new variants that are in the early stages of community transmission," the team wrote, noting that the protocol enabled detection of variants within 24 hours of COVID-19 diagnosis, "a marked advantage over sequencing-based surveillance strategies."
Usurping sequencing?
Viral variant genotyping tests are straightforward to develop, relatively simple, and faster than sequencing-based surveillance. However, whether they will be adopted — as a way to focus sequencing-based efforts or as clinical tests prior to mAb therapies — remains to be seen.
For now, some health agencies and large health system labs appear to be focusing on sequencing-based approaches for variant surveillance.
For example, the American Society for Microbiology and 44 other lab stakeholders endorsed a call for $2 billion in funding for a program at CDC called Advanced Molecular Detection that is focused on sequencing-based surveillance. The CDC does not appear to address viral variant genotyping PCR on its website.
Similarly, the World Health Organization advises that, where feasible, countries should "increase routine systematic sequencing of SARS-CoV-2 viruses to better understand SARS-CoV-2 transmission and to monitor for the emergence of variants."
Whether PCR variant tests would qualify for Emergency Use Authorization by the US Food and Drug Administration is also unclear. Alland said his lab would welcome collaborations with entities interested in applying for an EUA, but Perlin noted that the FDA declined to review the HMH test for EUA "because they didn't think it was of clinical significance." The HMH team has rebutted this determination, but has not yet made much traction.
Recent studies have indeed shown that viral variant strains may be less susceptible to antibody therapies in the lab, and the FDA last month required antibody therapy makers to track variants that may impact their tests, and revised their EUAs.
Some large health system labs also seem to be focused on sequencing for variant detection.
To detect SARS-CoV-2, the Mayo Clinic uses 14 different laboratory-developed tests and commercial PCR methods across all testing sites, according to Matthew Binnicker, Director of Clinical Virology in Mayo's Division of Clinical Microbiology.
Mayo relies on variant sequencing for surveillance, however, performed in either the clinical laboratory and the research sequencing core facility. Specifically, the clinical lab runs SARS-CoV-2 sequencing in select circumstances — for example in cases of possible reinfection, or a PCR-positive patient who had been vaccinated. Community surveillance sequencing of the local community and statewide in Minnesota is performed at the core facility.
Currently, the Mayo team is seeing an increase in the UK variant in Minnesota, and "It is now thought to be the most prevalent strain in circulation," Binnicker said.
At the Henry Ford Health System in the Detroit area, Division Head of Clinical Microbiology Linoj Samuel and his colleagues are sending samples from a subset of patients to the Michigan state public health lab for sequencing-based surveillance. They are also working on developing in-house sequencing capability using Illumina platforms, Samuel said in an email, but they are not performing variant testing using PCR.
So far, the HFHC team is seeing many more UK variants, Samuel said, but other variants are being detected as well.
"At this point, there are no guidelines for tailoring therapy toward specific variants," he noted. Therefore, "The role of screening for variants remains a public health issue rather than a diagnostic issue," which takes some of the pressure off turnaround times.
Now, Alland and Perlin will make their PCR assays available to others.
HMH licensed its RT-qPCR test for primary SARS-CoV-2 detection to T2 Biosystems last March, and Perlin said that HMH would now also offer its variant tests through similar non-exclusive licensing to commercial vendors. It has also offered it to the New Jersey State Health Department and plans to make it available to academic groups and healthcare systems as well.
Alland said the Rutgers CCRPP will also offer the assay to others as a public good.