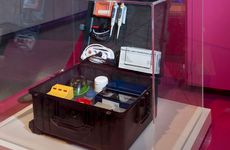 NEW YORK (GenomeWeb) – A researcher from the German Primate Center (DPZ) in Göttingen has engineered a solar-powered, portable, "laboratory-in-a-suitcase" designed to detect Ebola virus at the point of care in approximately 15 minutes.
The system uses off-the-shelf laboratory components and currently runs an Ebola assay developed by University Medical Center Göttingen researchers and is based on isothermal recombinase polymerase amplification (RPA) chemistry from UK firm TwistDx, a subsidiary of Alere.
Now, with approximately £510,000 ($754,000) in funding from UK-based funding agency Enhancing Learning and Research for Humanitarian Assistance (ELRHA), a group including DPZ and TwistDx and led by Institut Pasteur de Dakar in Senegal is field testing the system in Guinea with the hopes of obtaining World Health Organization approval and deploying the platform in remote areas of Africa hit hardest by the virus.
Ahmed Abd El Wahed, a University Medical Center Göttingen researcher who led development of the platform while at the German Primate Center, told GenomeWeb this week in an email that he originally developed the mobile lab last June to test for Middle East respiratory syndrome coronavirus (MERS-CoV) during Hajj season in Saudi Arabia.
The lab-in-a-suitcase was set to run an RPA-based assay that would be able to detect MERS-CoV from human specimens in the field, but it was ultimately never used for this, Abd El Wahed said. However, the system found new purpose with the outbreak of Ebola virus in Africa, which quickly demanded new, accurate, and fast methods to diagnose the virus.
The portable lab contains nearly everything needed to perform a specific and sensitive Ebola test, including freeze-dried reagents that can be stored in ambient temperatures, the RPA-based Ebola assay, and Qiagen's SpeedXtract kit for rapid manual nucleic acid extraction from patient samples. The assay is designed to be used with inactivated patient blood or mouth swab samples.
The lab weighs approximately 11 kg and has dimensions of 56 x 45.5 x 26.5 cm, Abd El Wahed said. It uses a battery and solar panels from portable power company Goal Zero, and can be operated for two days with a fully charge battery, he added.
Currently, the platform requires two manual pipetting steps, which Abd El Wahed and collaborators are trying to eliminate. Otherwise, the system is relatively easy to use to facilitate potential point-of-care deployment.
"With Ebola, it is a must to be operated by a skilled person to avoid any mistake, which might lead to spread of the infection," Abd El Wahed noted. "With coronavirus, any person can get [two hours of] training … and then will be able to operate it."
The RPA Ebola assay being tested on the platform was originally developed by a group led by Manfred Weidmann of University Medical Center Göttingen, as part of a 10-target "syndromic" panel to detect biothreat agents. The development of that panel and its performance as compared to real-time PCR was described in a paper published in the Journal of Clinical Microbiology in early 2013. Abd El Wahed developed the suitcase laboratory while he was working as a postdoc in the department of virology at University Medical Center Göttingen.
Although he was not a co-author on the aforementioned JCM paper, Abd El Wahed "has been a customer of TwistDx's R&D kits for several years and has highlighted the ease and versatility of the RPA chemistry through his development and publication of many independent pathogen-specific assays," TwistDx CEO Niall Armes told GenomeWeb in an email.
None of these assays has been developed and released in a commercial product by TwistDx or Alere, Armes noted, but added that "there are active programs to bring other RPA-based products to market using Alere platforms. TwistDx and Alere also wish to encourage broader uptake of the RPA technology and encourage parties with potential interest in use of the technology to enquire with the appropriate parties."
The TwistDx isothermal RPA chemistry is already being explored by many labs and companies for point-of-care infectious disease testing precisely because it is as sensitive as the molecular gold standard of qPCR but doesn't require expensive thermal cycling or reagent storage equipment.
TwistDx parent firm Alere, for instance, has developed a pair of POC molecular testing platforms — the Alere i and Alere q — that are designed to run assays based on RPA and other isothermal nucleic acid amplification technologies. In addition, researchers at The Royal Tropical Institute in Amsterdam are using RPA to detect pathogens that cause leptospirosis, while scientists from the University of Potsdam and the Fraunhofer Institute for Biomedical Engineering in Germany have used it to detect the parasite that causes malaria. Still other research groups have explored its use to detect Clostridium difficile and for quantitative HIV viral load testing at the point of care in resource-poor areas of the world.
In principle, the portable lab platform is amenable to running any isothermal amplification method to detect a variety of infectious diseases, Abd El Wahed said, which means it could potentially be paired with other well-established isothermal amplification methods such as loop-mediated isothermal amplification.
Under the ELRHA grant, Abd El Wahed was to assemble five of the suitcases, which are being used at Ebola treatment centers in Guinea and eventually Senegal, according to the grant abstract. The grant is being administered through ELRHA's Research for Health in Humanitarian Crises (R2HC) program, which is a product of a strategic partnership between the UK Department for International Development and the Wellcome Trust.