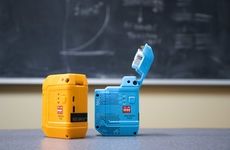 NEW YORK – Seattle-based diagnostics developer ID Genomics is adapting its genetic fingerprinting technology for SARS-CoV-2 variant testing at the point of care. The firm is collaborating with IEH Laboratories to develop a multiplex endpoint PCR variant test on a handheld thermal cycler instrument called Watson, with a multi-band lateral flow DNA chromatography readout.
In addition to the field-deployable SARS-CoV-2 variant genotyping test, ID Genomics will also soon be launching a sequencing service for variants.
Evgeni Sokurenko is president and CEO of ID Genomics as well as a professor of microbiology at the University of Washington.
In a recent interview, Sokurenko said ID Genomics is using nested PCR to detect variants, with a potential to run up to 50 reactions in a single tube.
Specifically, the technology amplifies about 500 bases in two regions of the SARS-CoV-2 genome — the receptor binding domain and the spike protein N terminal domain — and these regions are subsequently the focus of multiplex SNP-detection assays.
Nested PCR "allows you to have a very high specificity for the reaction, with very few false positives or negatives," Sokurenko said.
The method is currently able to detect 12 SNPs in a single reaction, but Sokurenko said that generally only three of four of these SNPs are present in a single viral genome. The method also uses oligonucleotide-tagged amplicons attached to gold beads which then bind to complementary oligos embedded in a lateral flow dipstick.
Sokurenko said the initial rapid amplification step can serve as a viral detection test, using a dipstick to detect amplified RBD and spike gene segments. The nested PCR step, which could be reflexed for positive samples, takes 10 minutes and the entire process, including two dipstick detections, can be carried out in one standard 0.5 microliter tube.
This is in contrast to multiplexed lab-based SARS-CoV-2 genotyping tests, which potentially require skilled technicians and instruments that can detect many fluorophores, and hence can be costlier, Sokurenko said.
DIP switches and dipsticks
The lateral flow dipstick and a "pocket-sized" thermal cycler to carry out the reaction have been developed by IEH Laboratories.
Founded in 2001 in Seattle by a husband and wife team of public health microbiologists, IEH Labs has historically focused on food and environmental testing.
Mansour Samadpour, the firm's CEO, said in an interview that IEH started manufacturing its own equipment in addition to pathogen detection kits early on.
During the pandemic, the company's industrial clients quickly developed a need for reliable COVID-19 testing to continue safe operations, so last year IEH also opened a clinical lab.
The team then set out to build a small thermal cycler that could be solid and robust enough to be run in a factory or processing plant.
"I got the engineering team together, and three months later we had a prototype," Samadpour said.
The result, an open PCR instrument called Watson, can be connected to a cellphone or computer, and stores 16 PCR thermal programs. These are programmable using four dual in-line package, or DIP switches. The device itself can run up to four reactions at a time. The power source can be a wall plug, car lighter adapter, or backup battery. Samadpour said the cost of the Watson instrument is in the range of $300.
Watson is in manufacturing and will be marketed soon, Samadpour said, adding that the team is also working on a RT-PCR version of the instrument.
The lateral flow dipsticks, which are also made by IEH Labs, detect tagged oligos and yield results in about five minutes.
At the moment, the dipstick strip is designed to detect eight tags, but the theoretical maximum is 24, with 12 on each side.
Sokurenko said that the strip essentially yields a "barcode" that shows what combination of SNPs are in the viral genome from a patient sample.
ID Genomics also plans to develop a cellphone camera and app to capture the barcode and produce a clear readout for the user.
Overall, the testing protocols are designed to be cost effective and user friendly, Sokurenko said, so that it can be adopted in more labs.
The team was granted a one-year, $299,200 award from the National Institutes of Health National Institute of Allergy and Infectious Diseases last month to further develop COVID variant fingerprinting.
Sokurenko said ID Genomics plans to ultimately submit the system to the US Food and Drug Administration for Emergency Use Authorization, but first will focus on using the system for surveillance or as a lab-developed test.
In parallel with the handheld variant test, ID Genomics is launching a targeted sequencing variant surveillance service in the next few weeks using its amplicon test as a jumping off point.
The method will use Sanger sequencing of viral amplicons, which is more cost effective than whole-genome sequencing, Sokurenko said, and the firm will aim for a rapid turnaround time to help make variant surveillance more useful.
"The virus is adapting to our immune status and to the measures we take against it," he said. "If you are in an arms race, you'd better have fast, real-time surveillance," he added.
Increasing variant detection — through genotyping or sequencing — could enable epidemiologists and public health teams to more quickly intervene should another dangerous variant begin to pop up and usurp Delta.
Lower-cost, easier-to-use technologies could also engender broader sampling of the population, help expand screening to asymptomatic people, and potentially allow a precision approach to treatment of symptomatic people.
The team is considering using its rapid variant fingerprinting PCR test to provide customers preliminary results, with Sanger sequencing confirmation — performed at a local GeneWiz lab — available the following day.
Sokurenko is also the founder of ARMADA, a nonprofit aiming to sample and catalog bacteria to generate a database that will support antimicrobial stewardship.
ARMADA participated in a recent study along with researchers at UW, ID Genomics, IEH Laboratories, Kaiser Permanente Washington, and others. As published in the Journal of Clinical Microbiology in August, the team used targeted and whole-genome sequencing to track the evolution of the L452R SNP in the SARS-CoV-2 spike protein gene.
Sokurenko said that the rise of telemedicine has likely led to more empiric prescribing of antibiotics for things like urinary tract infections, and this may in turn fuel the rise of antibiotic resistance.
Since ARMADA depends on donations and contributions of bacterial samples from the public, however, the increased awareness of microbiology — and knowledge of concepts like "asymptomatic carriage" — could hopefully lead to more focus on antimicrobial stewardship when the pandemic is finally under control.