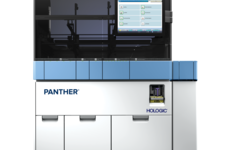 SAVANNAH, Georgia (GenomeWeb) – Hologic has introduced three upgrades to the Panther molecular diagnostics system that the firm hopes will drive adoption in large clinical labs. The new capabilities include a set of upgrades that affect storage on the system, and adaptations that make it possible to virtually and physically link Panther systems.
The three upgrades, announced at the Clinical Virology Symposium here yesterday, are called Panther Plus, Panther Link, and Panther Trax.
Panther is Hologic's original molecular diagnostics system and is based on technology acquired with Gen-Probe in 2012. The firm has since expanded from a focused menu of women's health tests that employ its proprietary transcription-mediated amplification (TMA) chemistry by adding another module, the Fusion, to enable the system to perform PCR-based testing using either Hologic test cartridges or lab-developed assays.
Fusion has enabled Hologic to begin adding a respiratory testing menu to the system. And, when the Panther and Fusion sidecar are assembled together, the system has a single loading bay, with samples sorted automatically to either the TMA side or the PCR side for testing.
This menu expansion has helped Hologic compete with MDx system developers catering to labs seeking to consolidate around a single platform, according to Tom West, President of Diagnostics Solutions at Hologic. 
The Fusion module specifically has allowed Hologic "to accelerate the amount of menu content," West said in an interview prior to the conference, while also enabling open-access or open channel capability. This lets labs develop their own tests onto the Hologic instrument "in order to benefit from our automation," West said, which in particular has opened the door for Hologic to work with esoteric labs.
Hologic has now had a US Food and Drug Administration approval in each of the past 10 consecutive quarters, West said, and has a pipeline of assays in development.
The new Panther Plus is a "bolt-on module" to Panther, West said, essentially a physical attachment that extends the automated features and ease of use by allowing labs to change fluids and wastes while tests are running. This can potentially result in more than 13 hours of walkaway time, the firm estimates, and enables more than 200 additional tests to be run on a single Panther in a 24-hour period.
Panther Link, meanwhile, is a software solution that can connect multiple Panther instruments for Panther-to-Panther communication, so that a group of Panther instruments can function within a singular, streamlined workflow.
Linked instruments also share information, which reduces the need for operators to manually enter data or manage processes, and they have a centralized dashboard — which could be a laptop, or a large screen monitor in the lab — allowing technicians to track the Panther fleets' results, inventories, and maintenance in real time.
In addition to virtually linking the Panther instruments, Hologic can now also physically and electronically link them with the third upgrade, Panther Trax.
This adaptation provides automation across the individual units, which includes a conveyor track to deliver samples to instruments for testing and a refrigerated storage unit that automatically collects and stores up to 5,000 samples.
The Panther Trax also allows individual labs to customize the instrument's physical footprint to some degree, which West said could potentially be a more efficient use of space and provide Hologic an advantage over other high-throughput instruments, such as the Roche Cobas 8800.
A representative at Hologic asserted that six Panther systems, which each take 10 square feet of lab footprint, can fit into the space of one Cobas 8800, which takes up 60 square feet, and a six-Panther setup could run a total of 1,920 assays in an 8-hour period, compared to 960 samples on the 8800.
Furthermore, Hologic believes that the fact that labs could configure the Panther Trax into different shapes – such as linear or L shaped — could help different labs fit the system into whatever shaped space they happen to have.
At the firm's CVS booth, Mike Shih, Hologic's senior manager of instrumentation marketing, also noted that although the Roche system has a comparable menu in many ways, in the US it does not currently offer HPV testing on the high-throughput 6800 and 8800 instruments, so labs that need to run that test too would require a Cobas 4800, which would increase the overall footprint. Roche does offer a CE marked HPV screening test on the 6800 and 8800 outside the US.
Other competition for the Panther includes the NeuMoDx 288 Molecular System and the Abbott Alinity m. The former does not yet have as large a test menu — although it is aiming to build menu rapidly with partner Qiagen — while the latter is only available as a CE-marked system at this time.
The overall Panther and Fusion menu could be another differentiator. It currently has 14 assays available and six in development.
The company offers several FDA-cleared tests in the women's health and STI domain. These include tests for chlamydia and gonorrhea, Trichomonas vaginalis, herpes simplex virus 1 and 2, human papillomavirus,Mycoplasma genitalium, a test specifically for high-risk HPV subtypes 16 and 18/45, and a Group B Streptococcus test. Hologic also has an emergency use authorization for a Zika virus test.
In the infectious disease domain, Hologic has six cleared tests, including quantitative tests for HIV-1, hepatitis C virus, and hepatitis B virus; a test for parainfluenza; and two three-target assays, one for flu A, B, and respiratory syncytial virus, and one for adenovirus, human metapneumovirus, and rhinovirus.
Another factor that differentiates Hologic from its competition is the TMA chemistry, which detects RNA. It was shown to have economic and clinical advantages when combined with cytology for HPV testing, and Hologic has developed its M. genitalium test using TMA because of the added benefit of detecting mRNA in that infection, West said.
Hologic is now developing additional menu for the Panther and Fusion, including tests for bacterial vaginosis, Candida vaginitis/Trichomonas vaginalis, a qualitative claim on its HIV-1 test that would make the HIV-1 Quant test a dual claim, tests for Bordetella and cytomegalovirus, and a panel test for gastrointestinal pathogens.
And, West said Hologic also supports labs with analyte-specific reagents for smaller assays, "to provide incremental content to the lab" for tests that are perhaps less frequently used, such as tests for rare viruses that can cause infection in transplant patients.
West said Hologic offers "highly competitive pricing" and reagent rental for the Panther Fusion system.
Hologic now expects the Panther Links and Panther Trax upgrades to be of interest to customers at large labs with a testing scope akin to Quest or LabCorp, West said.
Hologic has had a contract with Quest since 2013, and West said the firm was made "the partner of choice" in women's health for Quest five years ago. That alliance was recently renewed last fall, although he declined to specify the terms of the contract.
West also said that although Hologic divested its blood bank screening-focused business, it continues to provide Grifols with instruments and the three upgrades are also something that Grifols will have access to as a residual of that relationship.