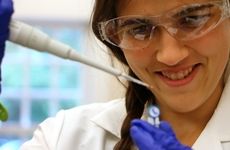 NEW YORK (GenomeWeb) – "Join the first generation of space molecular biologists" was the motto. Now, a contest to design the very first PCR-based experiments to be performed aboard the International Space Station has announced a winner.
Seventeen-year old Anna-Sophia Boguraev's experiment will be sent to ISS, where researchers will evaluate whether they can use the miniPCR thermal cycler from Amplyus to PCR amplify bisulfite-converted DNA. The project is also likely to be the first PCR experiment ever performed in space. 
"For this initial experiment we're just testing if bisulfite PCR works in the microgravity space environment," Boguraev told GenomeWeb in an interview. "We hypothesize that it will, as long as you ensure that during the bisulfite conversion all of the DNA actually comes into contact with bisulfite," she said. 
As a bonus, performing this measurement using immune cells may yield preliminary insights into a potential mediator of illness in astronauts.
The contest was sponsored by Boeing, the Center for the Advancement of Science in Space, Math for America, and miniPCR/Amplyus.
Boeing is among the firms working with NASA to vet PCR platforms amenable to extraterrestrial environs. The miniPCR thermal cycler was one such platform and its small size and low cost made it an attractive candidate, as previously reported.
For the first ISS-based experiments using the platform, the companies turned to America's young scientists.
They launched a social media campaign, #GenesInSpace, to get the word out, and last week the top five finalists presented their experiments at the ISS Research and Development Conference in Boston.
Near-patient molecular diagnostics would be useful aboard the International Space Station, and are practically essential for any long-term space missions, much less the peopling of Mars. But PCR in microgravity presents unique challenges.
Meanwhile, changes in methylation due to the space environment have been detected in a variety of organisms, Boguraev said. A study to measure differential methylation in Arabidopsis thaliana grown aboard ISS and then returned to Earth was funded last year by NASA's Space Biology program, for example. The phenomenon is also evident in human lymphocytes cultured in simulated microgravity.
Boguraev's experiment, which she noted was developed with mentoring from an MIT grad student named Holly Christensen, will assay DNA methylation in immune cells. It will take CD4+ naïve precursor cells and differentiate them into T helper 1 and T helper 2 cells, she said.
From these, three DNA regions will be assessed — the promoters of interferon gamma and interleukin 4, which are Th1- and Th2-specific cytokines, respectively, as well as Igf2r, an imprinting gene that acts as a bisulfite conversion control.
"Given that methylation is affected in space, and these genes are controlled by methylation, aberrant methylation could be related to the immune defects that we often see in astronauts in space, such as a suppressed immune system and a shift toward Th2 dominance," she said. This shift is known to cause a loss of cell-mediated immunity, and increase the risk of auto-immune disease, allergies, hypersensitivities, and other illness.
If methylation can be assessed in space, and there are epigenetic changes that presage a Th2 shift, Boguraev said she envisions a finger-stick blood test for easy-to-obtain white blood cells, detecting the process before astronauts' immune systems begin to deteriorate.
The work is also another step toward independence from Earth-based labs, which will be important if we are to establish a colony on Mars within Boguraev's lifetime, she said.
The method uses Qiagen's EpiTect Fast Bisulfite kit for the conversion, followed by PCR with miniPCR, then terrestrial gel-purification of the PCR products, cloning into a vector, and sequencing, according to a post on Twitter from miniPCR.
From a pool of over 300 applications, the four other finalists included a project to measure effects of cosmic radiation on OU-20 bacteria which can survive on the exterior of the space station, a detection system for natural and unnatural DNA for discovering extraterrestrial life, a study to quantify how shielding mechanisms prevent radiation-induced damage aboard ISS, and an assessment of the effect of the ISS environment on an astronaut's microbiome.
While in Boston, Boguraev and the other finalists were also rewarded with a day at New England Biolabs. They peeked in on the process of PCR reagent manufacture, carried out a mock investigation of food contamination aboard ISS using miniPCR, and got some advice from NEB researchers about a career in science.
"They said, 'You can do this, just follow what you love,'" Boguraev said.  
A rising senior in a high school in Bedford, New York, Boguraev is currently spending the summer interning in a lab at Columbia University Medical Center. She hopes to one day earn an MD/PhD in a biology-related field, perhaps even astrobiology. "From there I guess I'll spend the rest of my life doing research and seeing what I can change in the world," she said.
Besides having her experiment sent to ISS, Boguraev will get to attend the launch of the shuttle containing her project.
She also won a miniPCR thermal cycler, which she has already given to the AP Biology teacher at her school. "I am lucky to be in a school system where we have really good science teachers and we get a lot of resources, but one of the things that we don't have is a PCR machine," she said.
"The miniPCR is actually clear, so you can see what's going on inside … you can plug it into a phone or a computer to program all the cycles, and you get to see the amplification," she said. "I can imagine that there will be so many people who will be so excited to be able to do this."