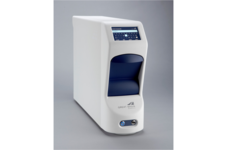 NEW YORK (GenomeWeb) – Great Basin Scientific has launched an enhanced version of its original molecular diagnostics platform, making it smaller, faster, and less expensive, according to the firm.
The company's molecular tests were also the subject of three posters presented at the American Society of Microbiology annual meeting earlier this month.
All of Great Basin's assays are compatible with the new enhanced system, Sandra Nielsen, senior vice president of sales, marketing, and human resources at Great Basin, told GenomeWeb in an interview.
The new system, called the GB550, is smaller and faster than the original platform. The height has been shrunk from around 26 inches to 18 inches, while maintaining a depth and width of 24 inches and six inches respectively, Robert Jenison, senior vice president of R&D and chief technology officer at Great Basin, said in the interview.
In addition, the speed of the system has been enhanced, from test times of about 90 to 115 minutes down to 50 to 90 minutes — and the faster test times yield a higher throughput in the GB550.
Unlike its predecessor, called the Portrait 500, the GB550 platform has an integrated touchscreen interface as opposed to a separate computer or touchscreen, and much of the cabling has also been integrated so that there is only a power cord coming out of the back of the system, Nielsen said.
Overall, "It's a nicer look, and easier for the user to put in their lab," she said.
The technology and chemistry underlying the tests is the same, so the speed improvements were enabled with other optimizations.
"We revisited design for manufacturability, and we made smarter choices on some of the materials," Jenison said. This has also enabled a decrease in manufacturing time and a lower cost, but Jenison was not at liberty to comment on specific pricing details.
The Salt Lake City-based firm brought on new staff in its engineering division to accomplish the redesign, which also included more seamless construction and reduced part count, enabling the firm to construct the platform more easily at its in house manufacturing facility.
The previous system received 510(k) clearance from the US Food and Drug Administration to run a test for Clostridium difficile in 2012. That test was later shown to be as sensitive and specific as a competing molecular test. The system has now been at customer sites for four years, Nielsen said, with 222 sites currently using one or more systems at locations all over the US.
Meanwhile, Great Basin's newer tests were the subject of three poster presentations at the ASM meeting in New Orleans earlier this month. Two posters presented data evaluating Great Basin's Staph Id/R Blood Culture Panel while a third evaluated the firm's Shiga Toxin Direct test. The Staph Id/R and Shiga Toxin assays were granted 510(k) clearance by the US Food and Drug Administration earlier this year.
Both Staph Id/R evaluations involved multiple centers. The first included authors from molecular pathology labs at Indiana University School of Medicine, Tricore Labs at the University of New Mexico, Primary Children's Medical Center and ARUP Laboratories at the University of Utah, and the Medical College of Wisconsin in Milwaukee.
It analyzed 723 positive blood culture bottles at three clinical sites, with reference assays that included biochemical tests, the Becton Dickinson Phoenix antibiotic susceptibility testing system, and MALDI-TOF MS analyses. The results showed the system compared favorably — a positive percent agreement of more than 99 and 95 percent for Staphylococcus identification and detection of the methicillin resistance-conferring gene mecA, respectively, and negative percent agreements of about 95 percent — and the authors concluded that accurate and rapid organism ID and resistance determination "could have a positive impact on patient management."
A second Staph Id/R evaluation was conducted by researchers at the University of Utah Primary Children's Medical Center and Primary Children's Hospital, and also compared the test to BD Phoenix and MALDI-TOF MS for identification, as well as a biochemical test. The group found 115 of 150 samples tested were positive for Staphylococcus. The panel showed high sensitivity and specificity versus comparator systems for Staphylococcus species identification, with 100 percent accuracy for identification of S. aureus. The researchers concluded that implementation of the system in clinical labs could enable "accurate and more rapid" identification of bloodstream infections.
Finally, an evaluation of Great Basin's Shiga Direct test — which detects E. coli harboring the Shiga Toxin stx1 or stx2 (STEC) genes — also involved multiple centers in the US, and compared 1,087 stool samples tested with a gold-standard enzyme immunoassay. The positive results were supported by sequencing and a nucleic acid amplification test, leading authors to conclude that the test was 100 percent sensitive for STEC detection compared to EIA's 33 percent sensitivity.
In addition to the engineering team growth, Great Basin has been expanding its sales force recently to support the newly cleared tests. The firm has its own direct sales force that calls on labs, primarily those serving hospitals with 400 beds or less in smaller communities and rural areas, Nielson said. FDA clearance of the two new tests from the firm has been driving sales force expansion, she added. In addition to the C. diff, Staph Id/R, and Shiga Toxin assays, the firm also has a Group B Strep test that was cleared in 2015.
The company is currently conducting clinical trials on a stool bacteria pathogen panel and a Bordetella pertussis direct test, and it is working on a Candida panel and a pre-surgical nasal screen for Staph aureus. It also plans to start a trial for a chlamydia and gonorrhea test later this year, Nielsen said.
Great Basin went public in late 2014, but the firm has faced an uphill battle with investors. Nasdaq warned of potential delisting in April, and Great Basin has since taken steps to address the compliance issues.
"We met with the Nasdaq panel earlier this month ... we have a lot of confidence in the plan we presented to them, so we're just waiting on Nasdaq right now," Nielsen said.
The firm has also had a number of funding events in the past year, and "the same bankers and investors who have been involved in earlier deals are continuing to work with us, and are confident in our business plan, the progress we've made, and our fundamentals," Nielsen added.