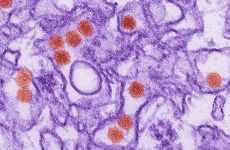 NEW YORK (GenomeWeb) – The US Food and Drug Administration today announced it has granted Emergency Use Authorization to a PCR-based assay developed by the US Centers for Disease Control and Prevention to detect Zika virus.
The Trioplex Real-time RT-PCR Assay tests patient samples for chikungunya, dengue, and Zika viruses in a single test. Symptoms of Zika, chikungunya, and dengue infection are similar and a PCR-based assay may be advantageous for early detection and because immunoassays reportedly tend to show cross-reactivity between these pathogens.
Distribution of the Trioplex test to qualified labs in the CDC's Laboratory Response Network will begin in the next two weeks, but the test will not be available in US hospitals or other primary care settings, the agency said in a statement.
Earlier this month the US Secretary of Health and Human Services declared that circumstances exist justifying authorization of the emergency use of in vitro diagnostic tests for detection of Zika virus, and an immunoassay from the CDC was the first test to be granted EUA.
The CDC also offers a PCR-based test for Zika alone, and state and local labs that are qualified to run the agency's West Nile assay or have passed a proficiency panel can perform that Zika test, as previously reported.