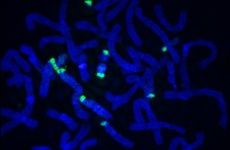 NEW YORK (GenomeWeb) – A research team from the Stowers Institute for Medical Research in Kansas City has found that cancer cells might streamline their genomes by reducing the copy numbers in their ribosomal DNA (rDNA) in order to proliferate more easily.
"In addition to its role in ribosome biogenesis, the rDNA has many extra-ribosome functions, such as regulating gene expression, chromosome organization, and titrating chromatin factors," the researchers wrote in their study, published today in PLoS Genetics. "Despite the importance of rDNA for cellular function, we know virtually nothing about what governs its copy number stability, and sequence in the mammalian genome due to challenges associated with mapping and analysis."
However, the team added, recent technological developments such as droplet digital PCR (ddPCR) may change this dynamic.
The researchers acquired 15 tissue samples from different organs isolated from three mouse strains — C57BL/6, DBA/2J, and CD1 — and extracted purified genome DNA. They then measured rDNA copy numbers using ddPCR per Bio-Rad protocol.
The investigators first measured how copy numbers varied across the different strains. They found the average copy number for the C57BL/6 mouse strain was 156 (based on 57 tissue measurements from eight mice), and was 123 for DBA/2J (based on two mice). The mean copy number for CD-1 was similar (145 based on 5 mice), but the variation between individuals was much higher, as much as twofold in the individuals tested. The researchers then looked at different tissues and organ samples and found that changes reported in mtDNA copy numbers in various tissues are not mirrored by equivalent changes reported in rDNA copy number.
To confirm that their findings were relevant to cancer in humans, the team obtained whole-genome sequencing data from 162 individuals across eight tumor types — childhood acute lymphoblastic leukemia, medulloblastoma, acute myeloid leukemia, prostatic neoplasm, AIDS-related lymphoma, intestinal neoplasm, osteosarcoma, and esophageal adenocarcinoma — from the database of Genotypes and Phenotypes. The researchers used computational PCR analysis to measure rDNA copy number. They also analyzed rDNA copy number in whole-genome sequencing data derived from 143 normal individuals for a control.
The researchers reported a statistically significant reduction in copy number for the tumor genomes in osteosarcoma, AIDS-related lymphoma, and esophageal adenocarcinoma samples. They noted that this suggests that "over the course of tumor development a lower copy number at the rDNA is selected in some cancers." They didn't find significant changes in the other five cancer samples.
Based on these observations, the researchers wanted to specifically address whether high mTOR function, which affects the loss of the tumor suppressor PTEN, could influence rDNA copy number. They used a mouse model for Pten-I- leukemia to assess rDNA copies in hematopoietic stem cells (HSCs), which they did by sequencing and ddPCR analysis of the samples.
The researchers verified that loss of Pten in HSCs results in a pathway signature indicative of mTOR activation, including higher levels of phosphorylated mTOR, Rps6, and S6K1. Most importantly, their findings suggest that HSC cells, cell growth, and ribosome genesis can occur robustly with approximately 30 to 40 fewer rDNA repeats.
"In summary, the rDNA copy number and sequence can change in cancer, with high mTOR activity associated with contractions and DNA damage sensitivity," the researchers wrote. "We speculate that this single copy number measurement could be used as a proxy detector for the variety of mutations that can occur in the PI3K-AKT-mTOR pathway in cancer and a predictor of whether DNA damaging drugs would selectively target the cancer stem cells."
Jennifer Gerton, senior author and an investigator at the Stowers Institute, said in a statement that the study results "suggest that off-loading copies of ribosomal DNA could create instability in the genome that makes cells particularly susceptible to chemotherapy with DNA-damaging drugs."
Gerton and her colleagues also noted the need for future studies that analyze the mechanisms and functional consequences of genomic alterations at the rDNA in mammals.